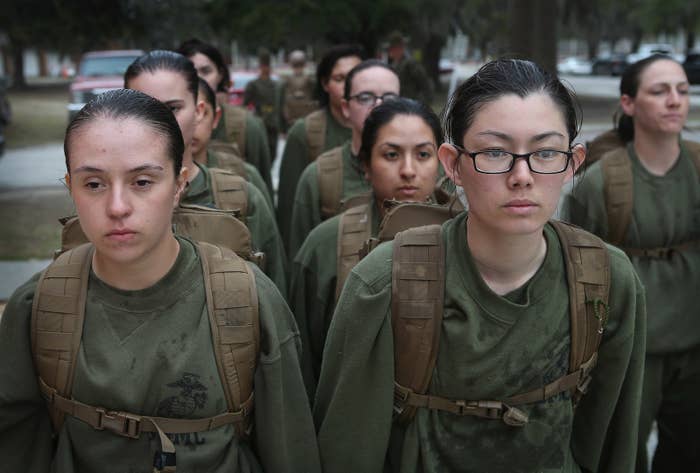 An amendment ensuring that all members of the military and their dependents will have free access to birth control, even if they are not on active duty, is likely to become law, after it was tacked onto the National Defense Authorization Act and passed the Senate Armed Services Committee on Wednesday.

Currently, only women on active duty are able to access free birth control under Tricare, the military's health insurance program. Under the new amendment, women in the National Guard and military reserves, as well as the dependents of members in any branch of the military, would also be able to access birth control pills, intrauterine devices, and other kinds of contraceptives without a co-pay or any other kind of fee. The amendment also ensures that women who choose to get an IUD will have the insertion and removal of the device, as well as any appointment to discuss contraception options, covered by their health plan.
Should President Donald Trump's administration follow through on his promise to repeal the Obamacare rule requiring all employers and insurance companies to provide free contraceptives, the amendment means that any women dependent on military health insurance would remain covered.
The Senate Armed Services Committee, led by Republican Sen. John McCain, passed the amendment sponsored by Democratic Sen. Jeanne Shaheen of New Hampshire out of committee by a voice vote on Wednesday. It will now head to the Senate floor later this year as an amendment to the NDAA, an annual must-pass bill that lays out budget priorities for the Defense Department for the next fiscal year. The current NDAA expires at the end of September.
California Rep. Jackie Speier, another Democrat, introduced a similar bill in the House in April, and is now working to have the same language included in the House's version of the NDAA, which will have to be reconciled with the Senate's bill before it can become law.
"It's unacceptable that military women don't have the same protections and access to comprehensive health care as the women that they serve to protect," Shaheen told BuzzFeed News in a statement.
"I'm pleased this legislation includes my amendment to ensure all non-active servicemembers and their dependents have birth control coverage without cost sharing," she added. "Access to basic preventive health care like contraception is critical to promote both military readiness and quality of life."
Shaheen's office pointed to a study conducted by Ibis Reproductive Health in 2011, showing that women in the military are 63% more likely to have unexpected pregnancies than civilians.