First, there was Kristin's admission that she contemplated divorce "every day for two years" before the split and the revelation that the production crew behind her show, Very Cavallari, had captured the reality of their marriage in scenes they decided never to air for the sake of the pair's three children.
Most recently, the pair have both been linked with other people — but even this wasn't without its complications.
Last week, the former couple got into a very public feud with Southern Charm star, Madison LeCroy. Back in December, Kristin was linked to Madison's ex, Austen Kroll, while Jay and Madison were rumored to be dating last month.
After Madison posted an Instagram Live where she mocked Kristin and made disparaging comments about her parenting skills, Kristin and Jay posted selfies with matching captions.
"The world is full of users. 10 years. Can't break that," they wrote alongside the selfie in apparent reference to Madison and the strength of their bond after a decade together.
Madison fired back with some "receipts" of her own, including two screenshots of messages between her and Jay in which she apparently revealed that the pair had indeed been dating.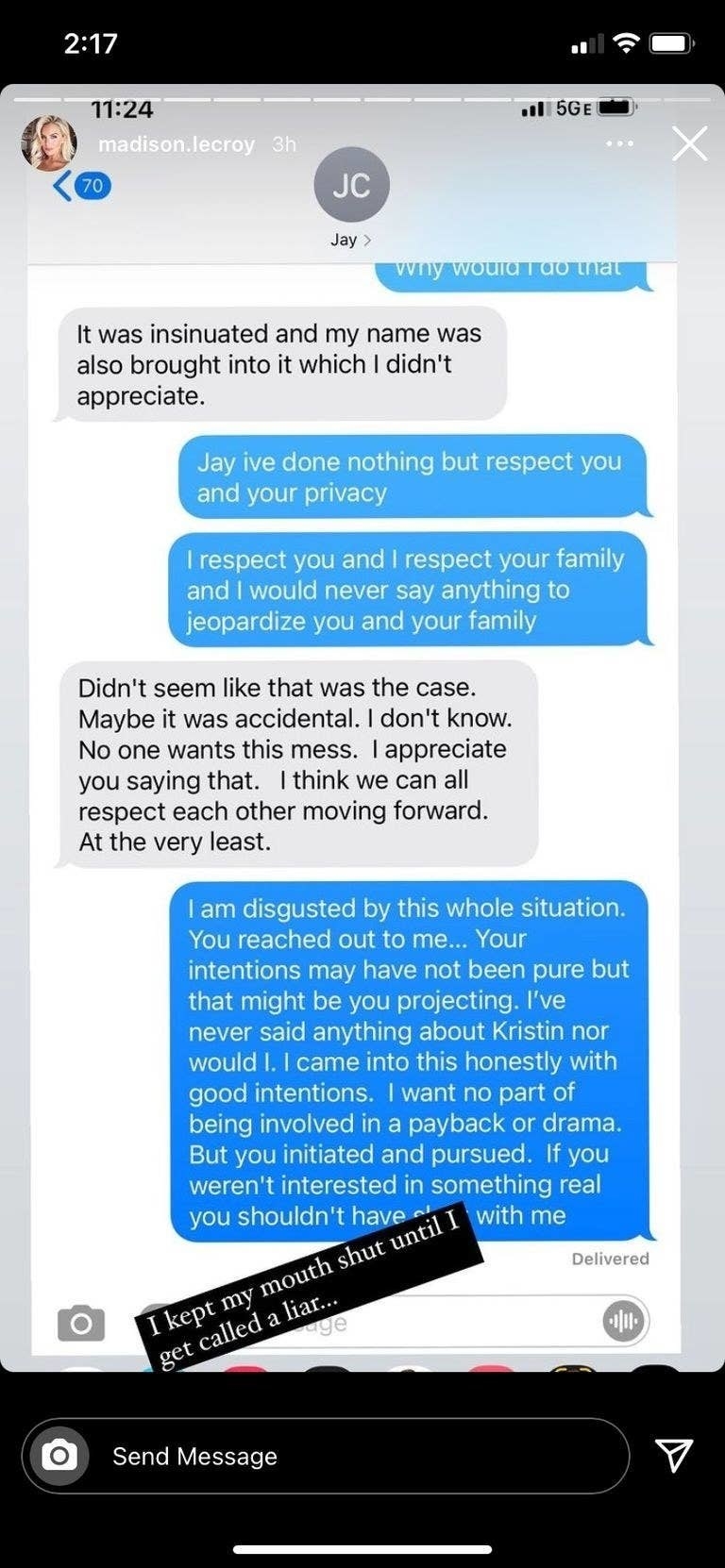 Then Kristin's BFF, Justin Anderson, got involved. He posted a bunch of TikToks describing Madison as "fucking low" and "trash" for sharing her private text messages with Jay.
However, Kristin now appears to have put the drama firmly behind her. And, despite fans hoping that her selfie with Jay signaled that the pair might be getting back together, she's now all but confirmed a new romance with a different guy.
Back in October, Kristin was linked to comedian Jeff Dye after they were spotted sharing a kiss in Chicago. Two months later, they were photographed dancing and kissing at a pool party in Cabo.
At the time, sources suggested that while the pair were "enjoying each other's company," Kristin wasn't "looking for anything serious." But that seems to have changed...
On Tuesday, Kristin hopped onto Instagram stories to repost a Valentine's Day template originally created by her company, Uncommon James, and filled in the blanks with a message to a mystery "J."
"Dear J," the note read. "You can skip the chocolate this year. I want Tequila, a beach, and Secret Rose candle at Uncommon James. XOXO KC. P.S. T minus 12 days. You've got this."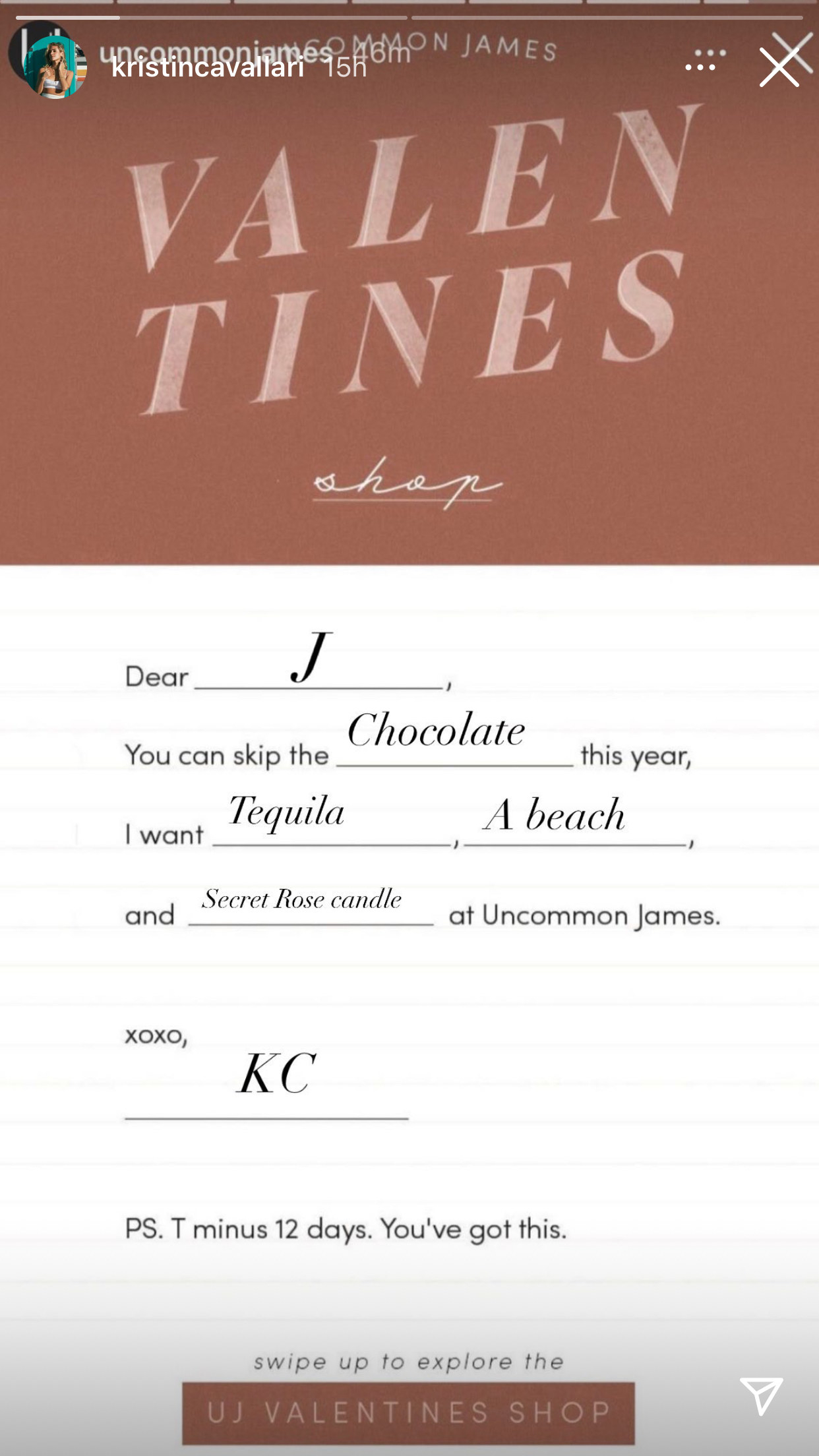 At first, some fans wondered whether the "J" in question was Jay Cutler. However, just an hour after Kristin shared her note, Jeff came online and apparently responded by filling in his own template.
"Dear K," he wrote. "You can skip the distance this year, I want drinks and dancing and you from Uncommon James. XOXO Jeffy."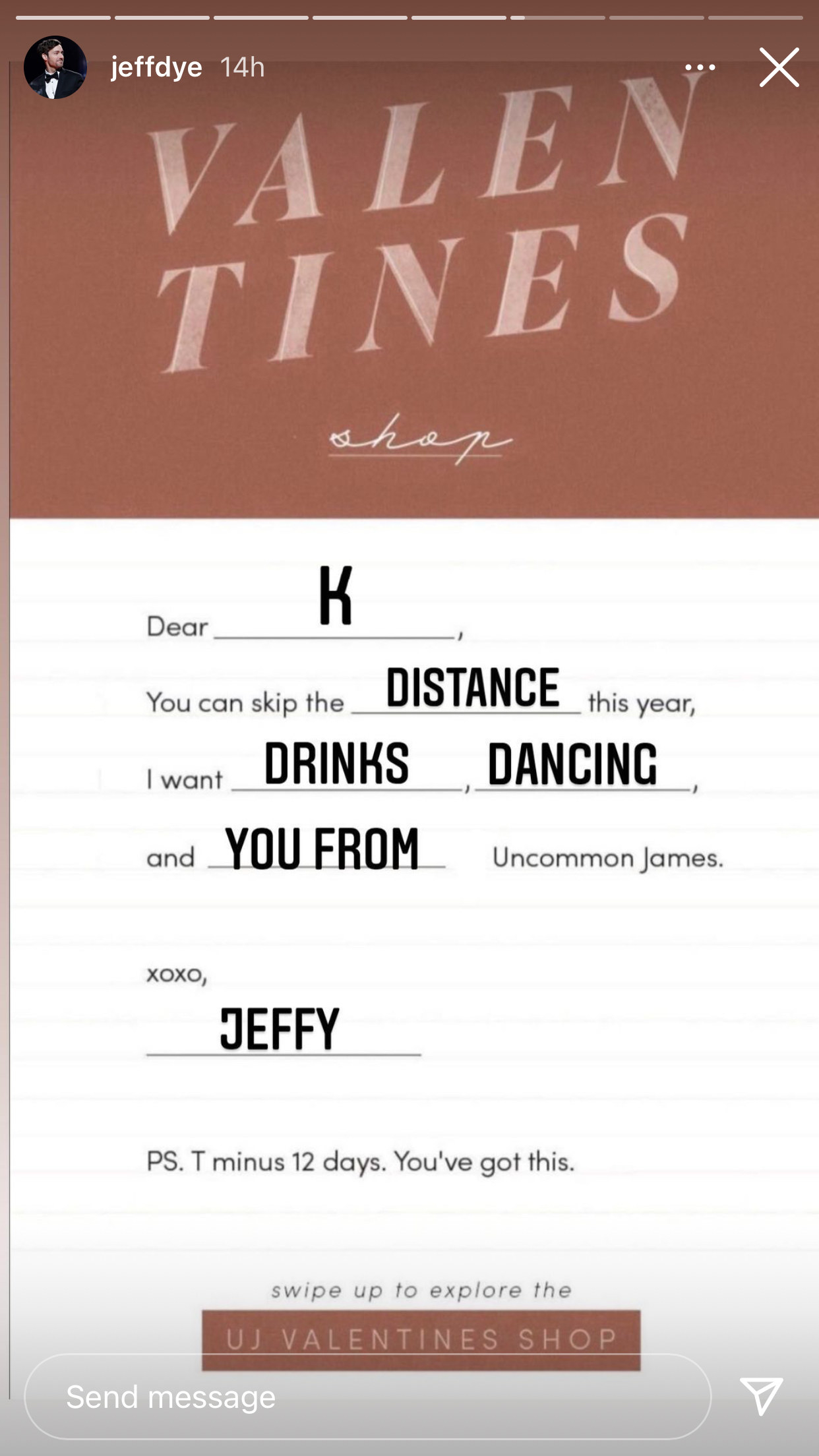 So it looks as though Kristin has well and truly moved on from all the drama. Roll on Valentine's Day...