The chapel's owner, Marty Frierson, went on to tell People that the couple had presented a marriage license and were super affectionate throughout the ceremony.
"There was a lot of that — kissing and hugging. They barely came up for air!" he said. "They just seemed totally in love."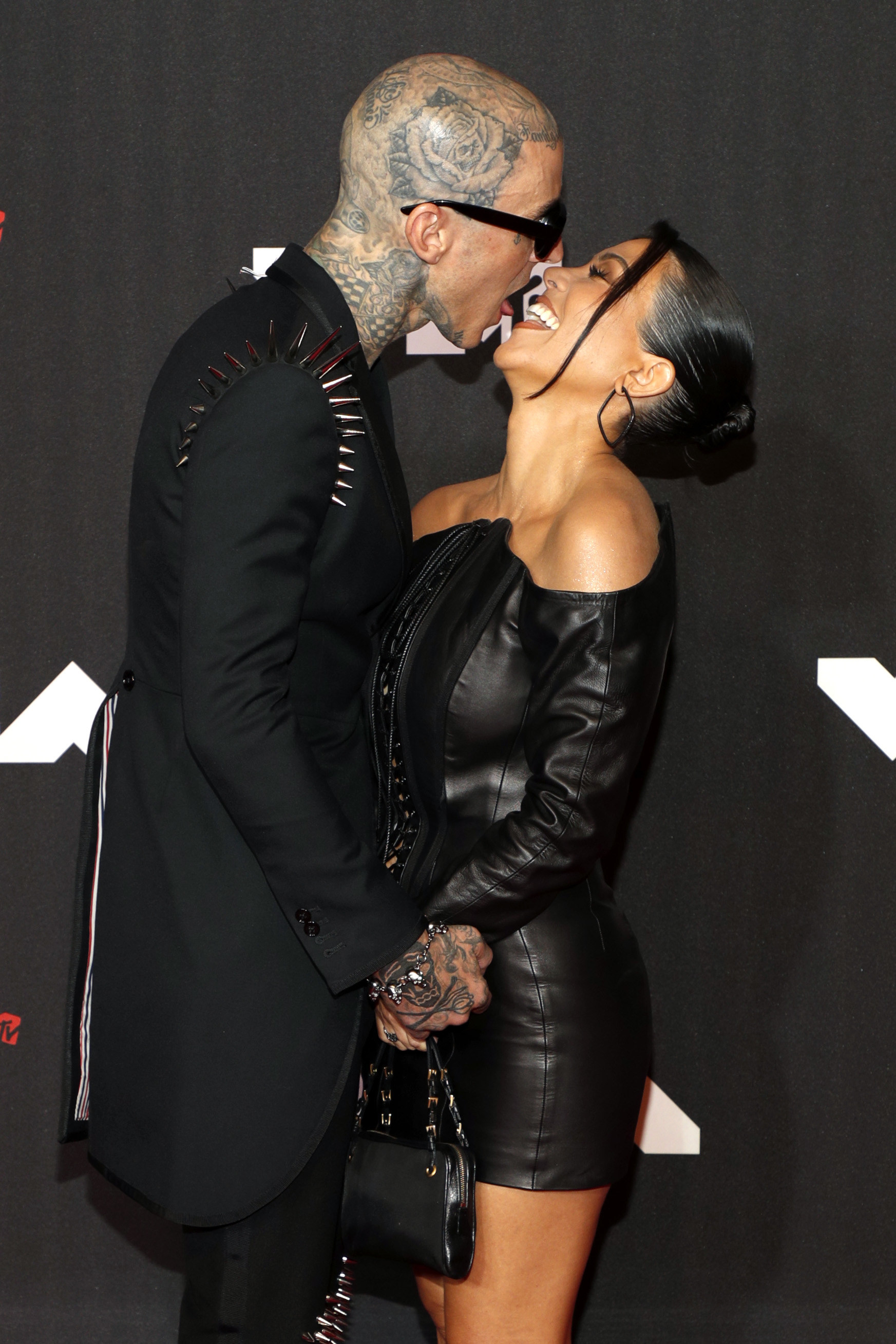 "They all had iPhones, taking pictures and videos from every angle," he added. "I don't know if they were the friends or their social media team. They filmed everything from the time they walked in, to the time they walked out. The vows, the kiss, the rose bouquet toss, the dancing. I usually take pictures for the chapel but they wanted to handle it all themselves."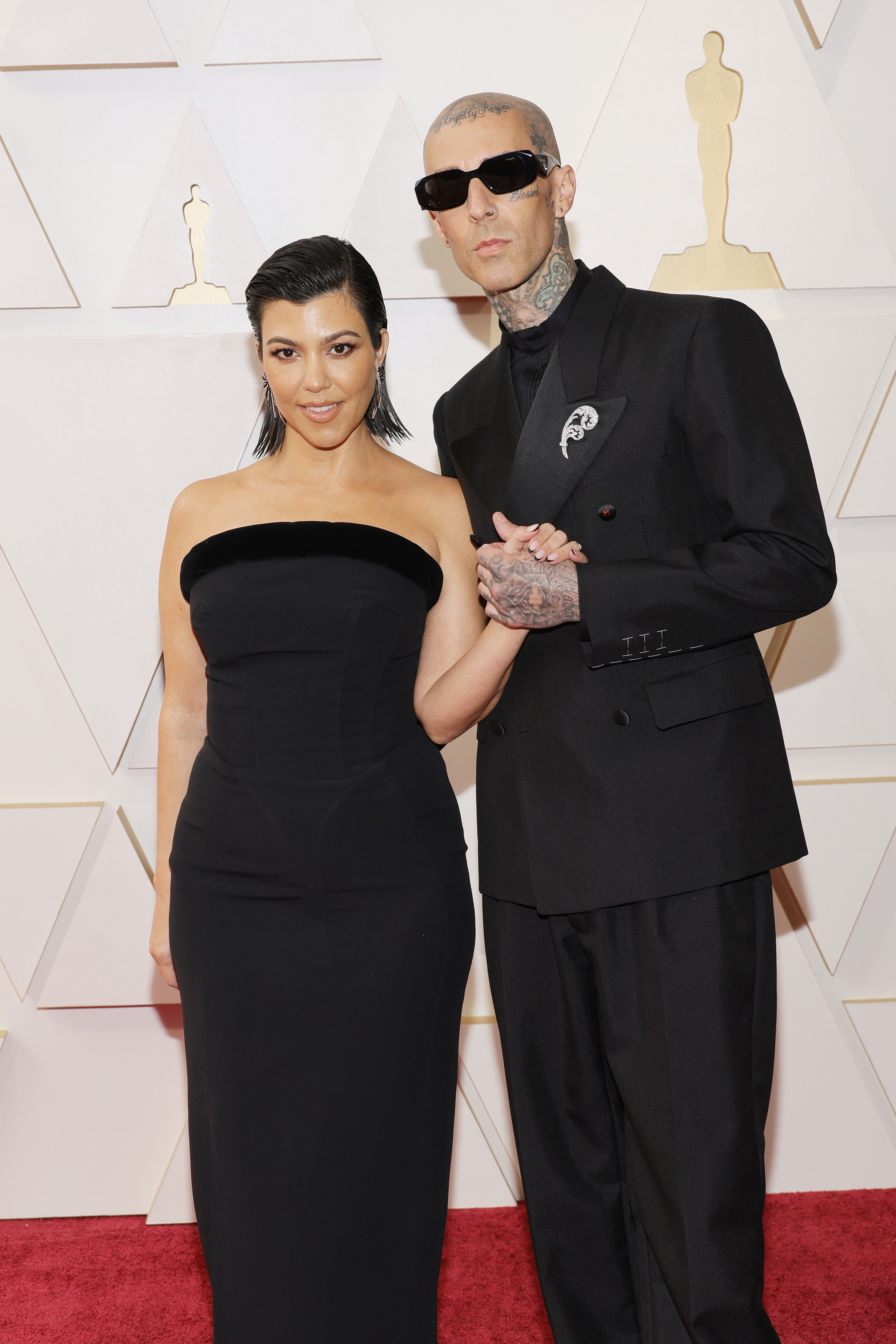 However, just hours after the news of their nuptials broke, it was subsequently reported that the wedding wasn't legal and only held "for fun," because they didn't actually have a marriage license.
"A source at the chapel where they had the ceremony tells us they'll only perform it with a marriage license, but a source close to Travis and Kourtney tells us they hadn't gotten a license and only did it for fun," TMZ posted two hours after the initial news broke.
"They had a ceremony, but on paper it's not legal yet," another insider told Page Six shortly afterward.
Well, Kourtney has now cleared things up once and for all. On Instagram, the reality star shared a series of candid photos from the ceremony, before confirming in a lengthy caption that it wasn't legal but rather a good practice run for when they do make it to the altar.
"Found these in my camera roll," she wrote, alongside 10 photos of her and Travis kissing and laughing together inside the chapel.
"Once upon a time in a land far, far away (Las Vegas) at 2am, after an epic night and a little tequila, a queen and her handsome king ventured out to the only open chapel with an Elvis and got married (with no license). Practice makes perfect," she added.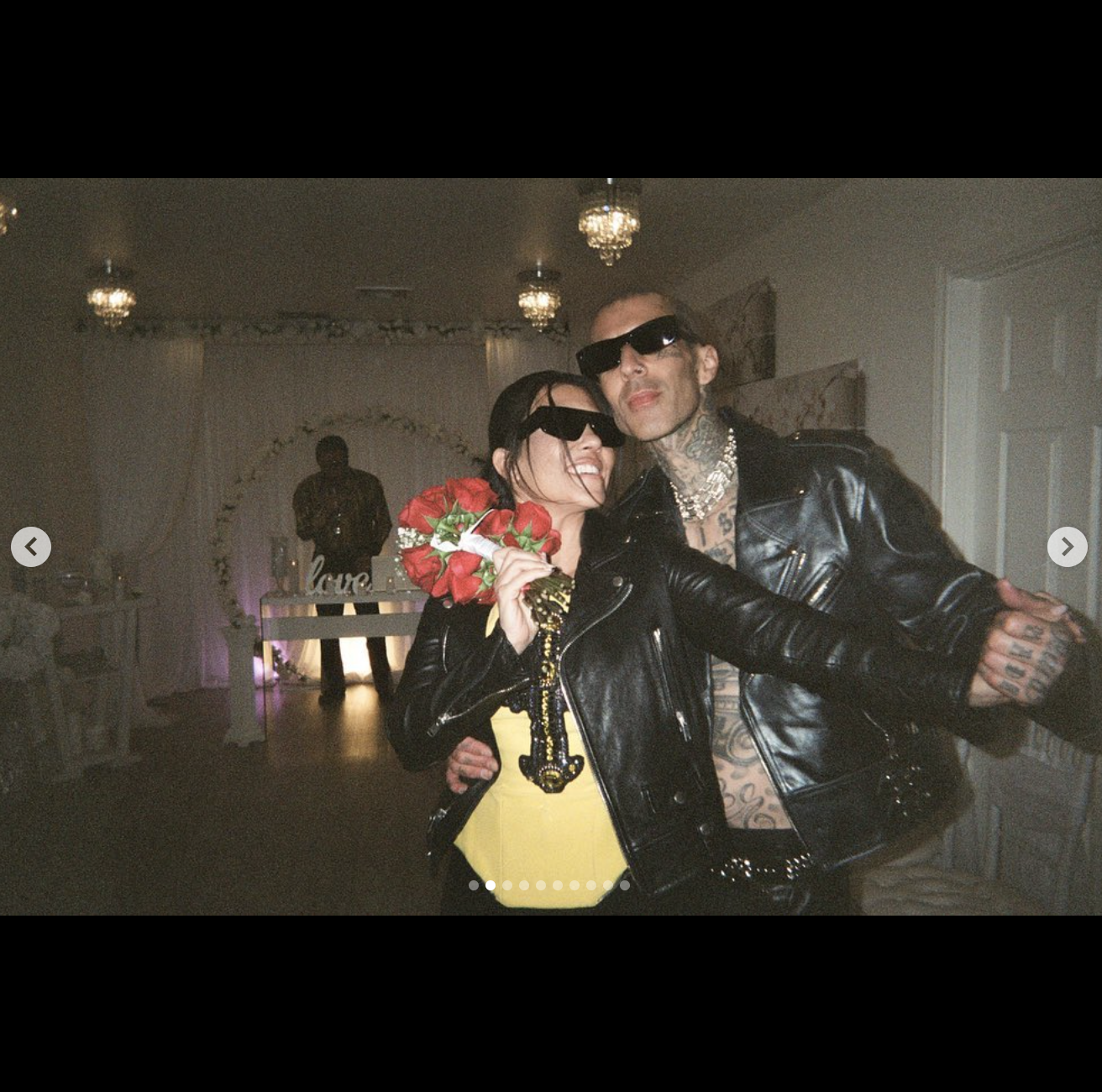 Kourtney's friends and family were quick to leave messages of support on the post, including her sister Kim Kardashian as well as close friend Simon Huck, who said that the Vegas ceremony was a good "dress rehearsal" ahead of their future nuptials.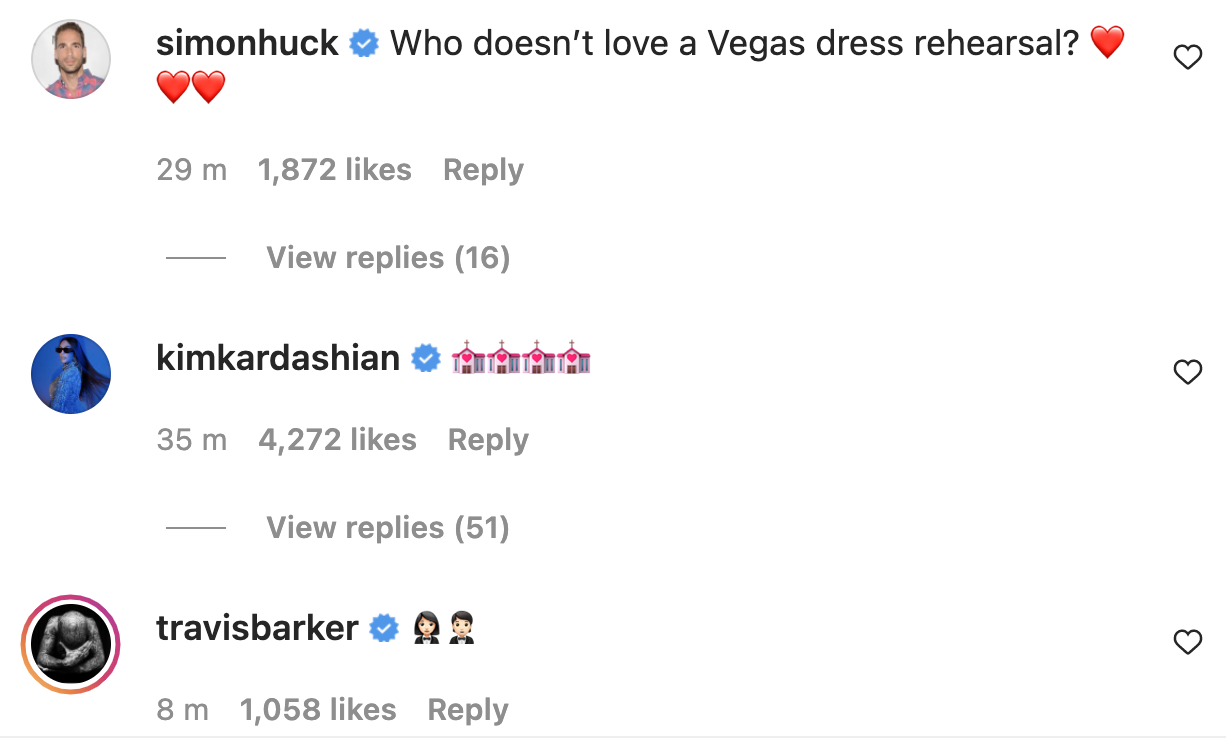 It's been reported that Kourtney and Travis — who also recently revealed they're trying to have a baby together — are actually planning a series of marriage celebrations "with lots of fanfare."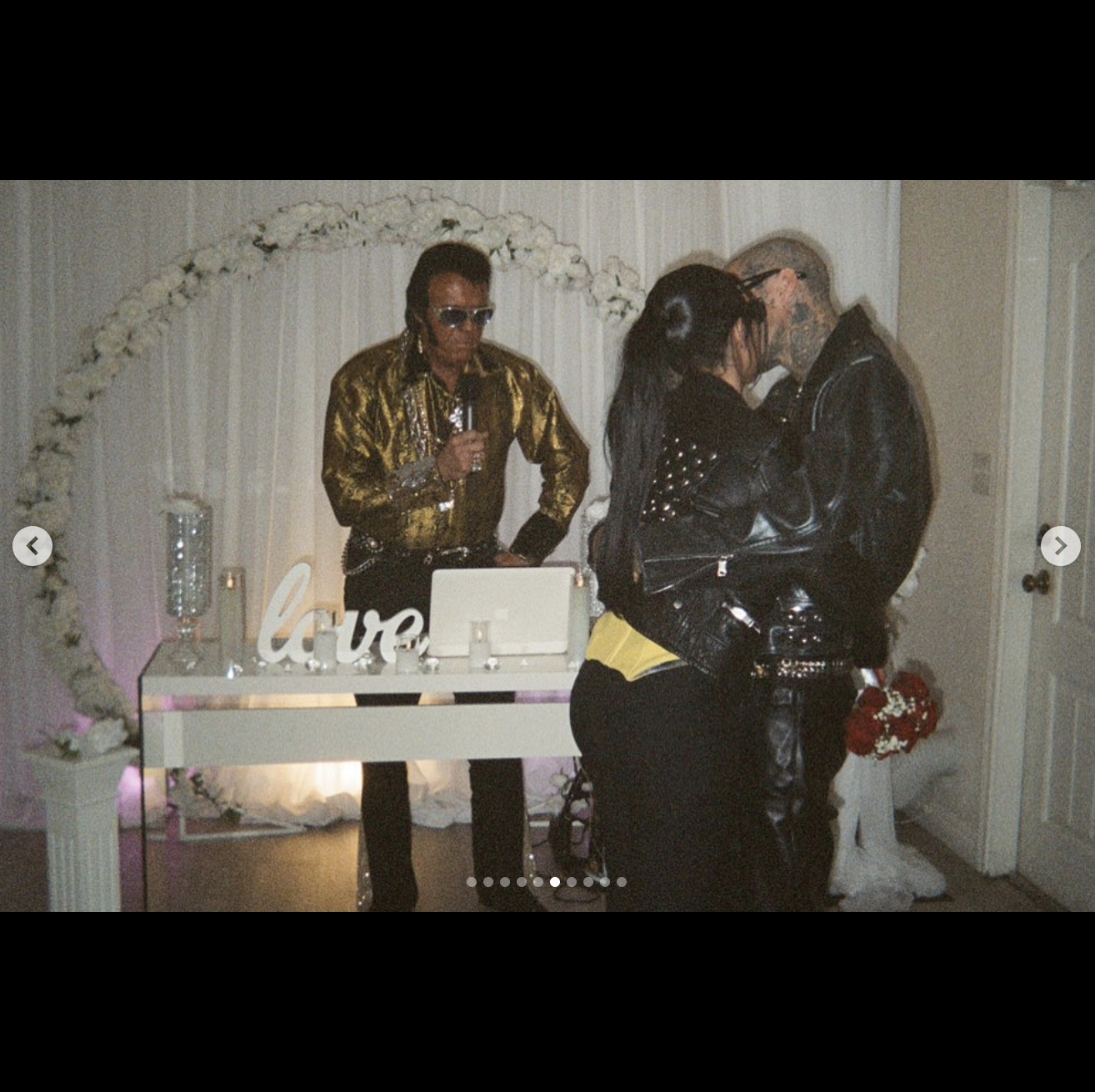 And with just a week to go until the Kardashians' new show airs on Hulu, hopefully we won't have to wait too long for more details on when the official ceremony will take place.