Khloé Kardashian has responded to a commenter who branded her "insecure" on Instagram weeks after she attracted controversy over that leaked photo.
In case you somehow missed the news, two weeks ago Khloé became the subject of online pandemonium when an unedited photo of her in a bikini was posted to social media — and then began circulating — without her consent.
Within hours of the image finding its way online, the Kardashians' team began making legal threats to prevent it from spreading further.
"The color edited photo was taken of Khloé during a private family gathering and posted to social media without permission by mistake by an assistant," Tracy Romulus, chief marketing officer for KKW Brands, told Page Six. "Khloé looks beautiful but it is within the right of the copyright owner to not want an image not intended to be published taken down."
Days later, Khloé shared an Instagram post with a series of photos showing her in various states of undress to prove how her body looks "without photoshop."
"It's almost unbearable trying to live up to the impossible standards that the public have all set for me," she wrote in the caption. "You never quite get used to being judged and pulled apart and told how unattractive one is. But I will say, if you hear anything enough then you start to believe it. This is an example of how I have been conditioned to feel, that I am not beautiful enough just being me."
The leaked photo was just the latest in a long line of examples of Khloé's appearance being dissected and analyzed online. Last year, a photo pointing out the differences between a heavily filtered Instagram selfie and a still from Keeping Up With the Kardashians went viral.
Months later, certain portions of the media as well as Twitter users joked about her "changing appearance" and said Khloé had become "unrecognizable" over recent years.
Khloé went on to like several tweets suggesting the media and public's "bullying" of her could be damaging to her mental health.
And most recently, Khloé confirmed during the latest season of KUWTK that the constant focus on her appearance had led to her deciding to limit what she shares with the public.
"My soul is at a breaking point in regards to the public thinking they're allowed to talk about my weight, my face, my personal life," she said. "Actually, I don't want to hear this anymore."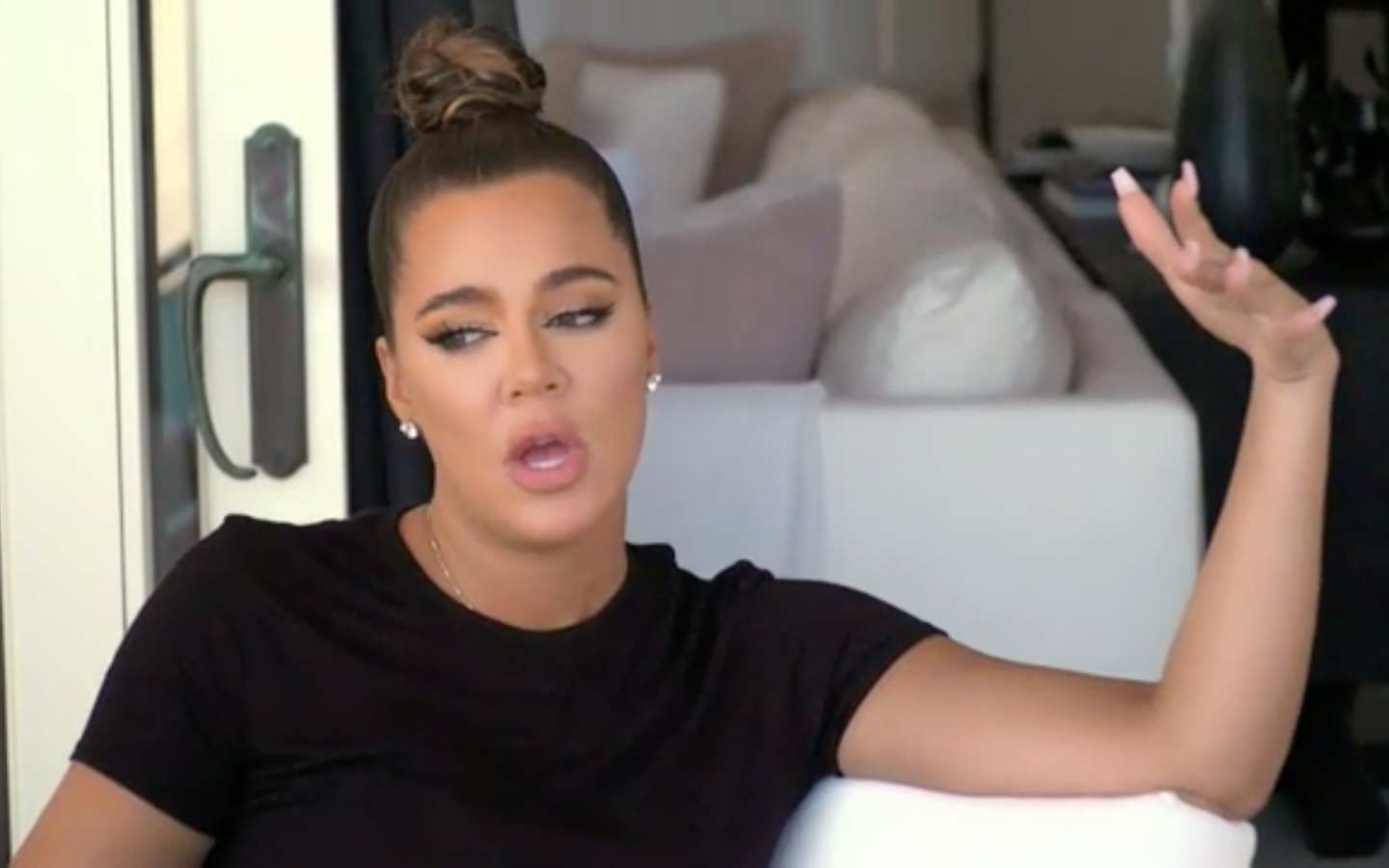 Well, Khloé is now defending herself once again from online commenters after posting a series of photos of herself celebrating Kourtney Kardashian's recent 42nd birthday.
After seeing the images, one commenter decided to leave a message suggesting Khloé's changing appearance was the result of insecurity.
"If insecurity was a person," they wrote alongside a crying emoji.

However, Khloé wasted no time in responding and said the negative comment likely stemmed from the commenter's own insecurity.
"Baby girl, you have to look in the mirror," she wrote. "Only insecure people tear other people down."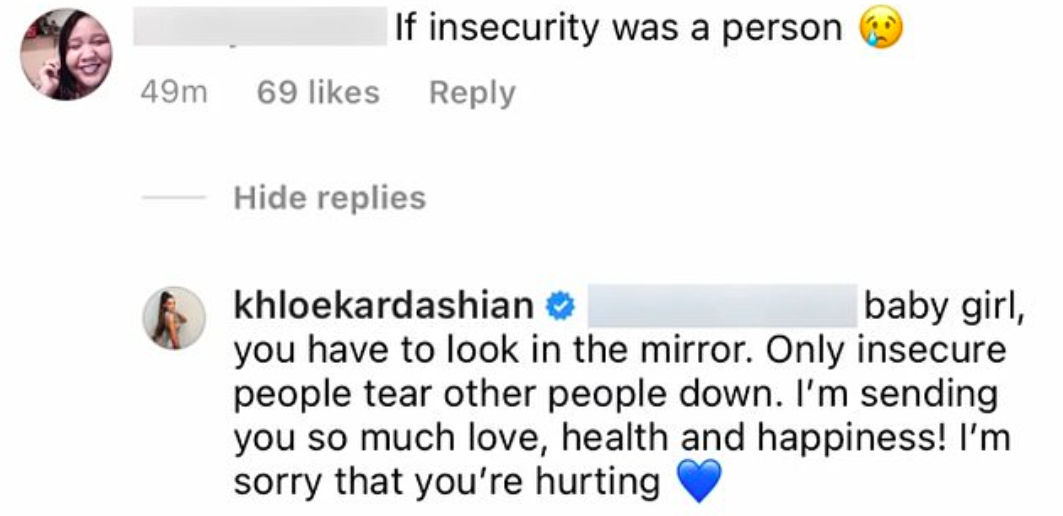 "I'm sending you so much love, health and happiness!" she added. "I'm sorry that you're hurting."
To receive a newsletter dedicated to KUWTK's 20th and final season every week, sign up below! And make sure you check your inbox; you'll receive an email asking you to confirm your sign-up in order to receive the newsletters.