Demi Lovato has opened up about how body-shaming comments almost led to her relapsing immediately after her 2018 near-fatal overdose.
Lovato was hospitalized in July 2018, three months after initially relapsing following six years of sobriety. The singer recently admitted she'd been using hard drugs for weeks in the run-up to the overdose.
She also recently revealed that she believes it was an untreated eating disorder that led to her relapse, after feeling "tired of running [herself] into the ground with workouts and extreme dieting."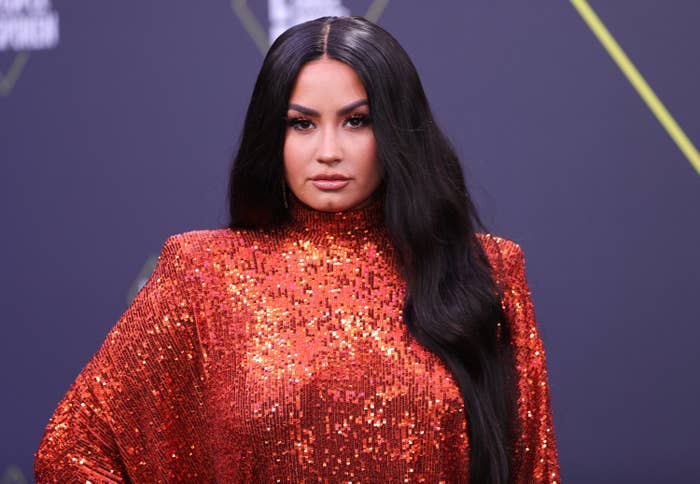 During an appearance on the Pretty Big Deal podcast in February 2020, Lovato explained that while she thought she was recovering from her eating disorder in the lead-up to her overdose, she was actually "just completely falling into it."
"I think when you have certain people around you that are telling you certain things, that you should look a certain way, it makes it harder," she explained. "I was in that situation, and I was just running myself into the ground."
"I honestly think that's what led to everything happening," she went on. "It was just me thinking I found recovery when I didn't, and then living this lie and trying to tell the world I was happy with myself when I really wasn't."
Well, Lovato has now said that she almost immediately relapsed when she read "triggering" comments about her body after leaving the rehab facility she entered straight from the hospital.
"It was right after I got out of rehab in 2018," she told Paper magazine. "I saw an article somewhere that said I was morbidly obese. That's the most triggering thing that you could possibly write about somebody with an eating disorder."
"That sucked," she added. "I wanted to quit [sobriety.] I wanted to use. I wanted to give up."
However, Lovato went on to explain that she decided to stop looking at any negative media coverage in a bid to protect herself and her sobriety.
"I just realized that if I don't look at those things then they can't affect me," she said. "So I stopped looking and I just really try not to look at anything negative. I think the positives outweigh the negatives. If they didn't, I wouldn't be doing this."
The comments came just days before the release of Lovato's new YouTube documentary series, Dancing With The Devil, which is set to explore her overdose in detail for the first time.
In recently released clips from the film, Lovato claimed she was sexually assaulted and "left for dead" by her drug dealer on the night of the overdose.
She also said that she suffered three strokes and a heart attack, and is still experiencing brain impairment as well as blind spots in her vision.