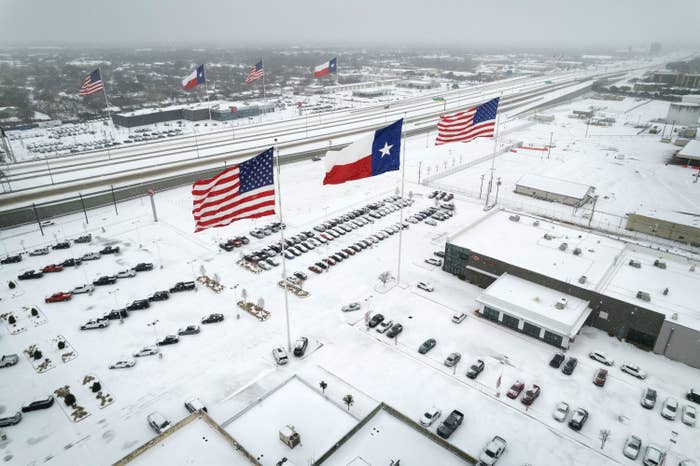 As tens of thousands of Texans lose power due to a winter storm blasting through the region, some are sharing their survival and preparation techniques on social media, skills acquired after a similar storm left hundreds dead in the state nearly a year ago.

The storm — dubbed Landon by the Weather Channel — has brought snow, freezing rain, sleet, and other dangerous conditions to the central and southeastern areas of the United States this week. The National Weather Service issued a winter storm warning for Central Texas until 6 p.m. Thursday. State officials have also been urging residents all week to get ready for the storm's impact.
In a news briefing Tuesday, Gov. Greg Abbott said officials had learned from the disastrous response to the dangerous ice, snow, and sleet that swept through the state and decimated the power grid in February 2021.
"Every state agency is in close communication and coordination to provide resources and valuable information to keep Texans safe during these winter weather conditions," Abbott said.

Some Texas residents, however, are wary of relying on their state's infrastructure after last year's crisis and are taking matters into their own hands, using TikTok and other social media platforms to share their experiences, as well as tips on how to stay warm and get through power outages and cold conditions.
Tiffany Holloway, who has more than 185,000 followers on TikTok, where she posts as @wildfiresmile, uses the app to share "prepper" content, which she says she began learning about when she was forced to live without power during the 2021 storm.
Holloway, a resident of Galveston, was forced to flee her home with her children last year when temperatures got so low that glasses of water were freezing inside her house, she told Nature World News in 2021. They were luckier than many at the time and were able to find a hotel to stay in until power was restored.
Holloway said she wants her videos to help people other Texans get ready for dangerous freezing situations because the state's residents are unprepared for low temperatures.
"Texas isn't constructed for cold," she said. "Our houses aren't insulated. Our roads don't have giant salt trucks driving around to battle the ice that forms on the roads. We don't have North Face coats and other items offered in our local stores. We don't have a method to handle the cold because Texas isn't constructed for it."
This week's storm is providing a real-time test on whether the state's power grid is in fact more prepared for the cold weather compared to February 2021.

The state's infrastructure was unequipped to deal with the freezing temperatures brought by last year's storm. The Electric Reliability Council of Texas (ERCOT), which manages the state's power grid, had been warned many times that its system was vulnerable to cold weather, but no changes were made. At one point, state officials said they were "seconds and minutes" away from an uncontrolled blackout.
Earlier this year, Texas officials recently released an updated death toll for February 2021 storm and resulting power outage crisis, identifying 246 victims. A BuzzFeed News analysis suggests the true number of deaths is likely more than 750 people.
Currently, the winter storm is causing transportation difficulties for the whole country, not just the South, as thousands of flights have been canceled out of safety concerns. Texas is the home of two major airline hubs; according to FlightAware.com, as of midday Thursday more than 4,700 flights within, into, or out of the US have been canceled. American Airlines and Southwest Airlines flights have been hit the hardest.
However, some experts say that there is still more to do if Texas wants to protect itself. Michael Webber, an energy resources professor at the University of Texas at Austin, told BuzzFeed News that over the past year the state has failed to winterize its natural gas system, which provides half of Texas's power.
"We learned some lessons, but not enough," he said of last year's crisis.
Webber added that the current storm, which is still raging in his Austin suburb, is not as severe as last year's and that it has a positive aspect that sets it apart even more.
"Last year it was a cloudy, windless storm," he said. "This year, there's wind."
In other words, the state's wind-powered energy sources are able to operate, hopefully preventing mass-scale blackouts.
Webber said that his home temperature got down to the upper 40s last year. He and his wife were without power for more than two days and without heat for six and a half days.
Texans, he said, were "traumatized" by last year's storm, but he cautioned those in the path of the current conditions not to take any drastic action. Prepare, he said, but do not set fires where they do not belong.
"Do not burn things in the house to warm things," he said, noting that carbon monoxide and smoke poisoning were the causes of some of the storm-related deaths last year. He also said that the worst home damage during cold weather comes from frozen and burst pipes, so he advised residents to "think the most about the water in your house."

The storm is expected to continue moving across the eastern US and finally wind down on Friday night.

Update: This story has been updated to clarify that Landon is an informal name given to the storm by the Weather Channel rather than NOAA and the National Weather Service, which do not name winter storms.