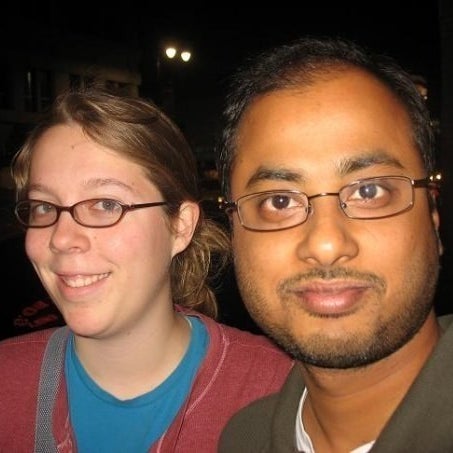 Mainak Sarkar, the gunman who fatally shot a professor Wednesday at UCLA before killing himself, had a hit list of victims and is suspected of killing a Minnesota woman before the campus attack.
Officials said Sarkar left behind a so-called kill list that included professor William Klug, the name of another UCLA professor who was unharmed, and the Minnesota woman, who is reported to be Ashley Hasti, 31.
A marriage license obtained by CBS Minnesota shows that Sarkar and Hasti were married in 2011.
Los Angeles Police Department Chief Charlie Beck said Thursday that detectives found a note near the bodies of Klug and Sarkar inside the professor's office where the shootings took place. The note listed Sarkar's address in Minnesota and asked someone to "check on [his] cat."
The LAPD made contact with Minnesota police, who searched Sarkar's home and found the list and extra ammunition. Officials then went to Hasti's address, where they found her dead of an apparent gunshot wound.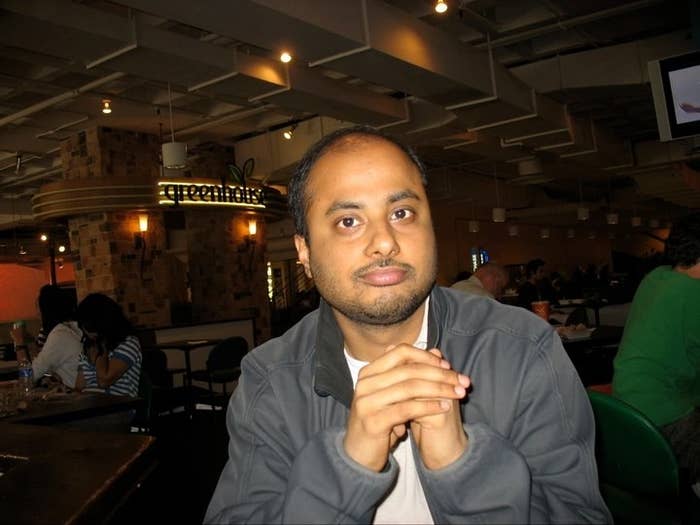 Sarkar graduated from the Indian Institute of Technology Kharagpur in 2000 with a degree in aerospace engineering. He moved to the United States in 2001 to continue his studies and worked as a research assistant at the University of Texas, Arlington, while pursuing an advanced engineering degree.
His CV indicates that he transferred to Stanford University in 2003 and graduated with an M.S. degree in aeronautics and astronautics in 2005.
According to Sarkar's now-deleted LinkedIn profile and Klug's research group website, he was a mechanical engineering Ph.D. student at UCLA from 2006 to 2013. Sarkar was also a teaching assistant in the department for two of those years.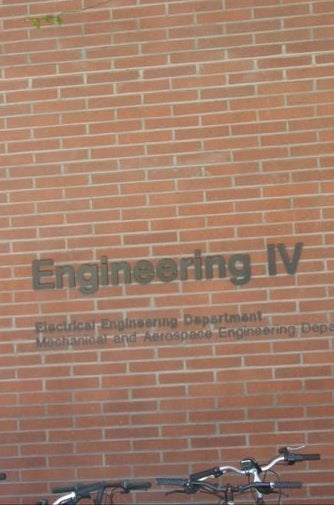 Hasti's photos from 2011 show Sarkar working in UCLA's engineering department.
Klug was Sarkar's doctoral adviser at UCLA. A university source told the Los Angeles Times that Sarkar was "a subpar student" and Klug worked closely with him to help him finish his dissertation and graduate (which he did, in 2014).
Sarkar thanked Klug in his dissertation "for all his help and support" and referred to the professor as his mentor.
Sarkar appears to have moved to Minnesota after graduating from UCLA in 2014.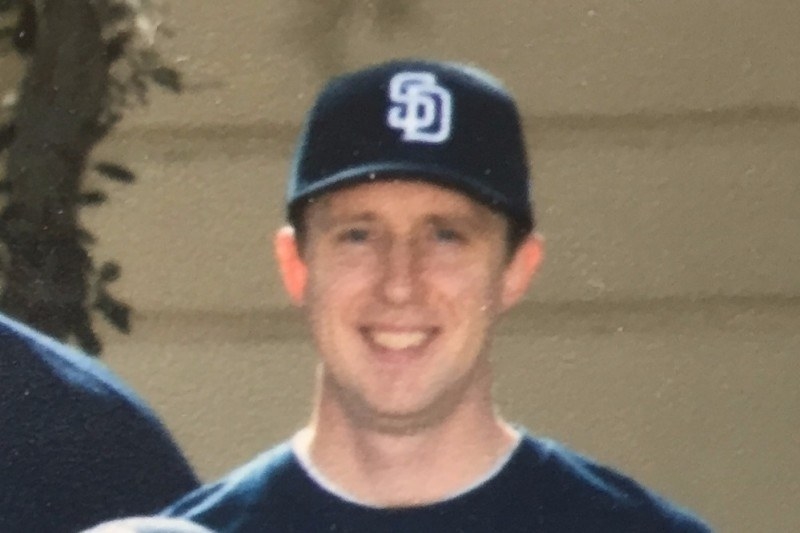 Klug, 39, is survived by his wife, Mary Elise. The couple both attended Westmont College and UCLA. They had two children, 9-year-old Timothy and 7-year-old Rosemary. A GoFundMe page has been set up for his family.
In a statement issued through UCLA, Mary Elise Klug referred to her husband's death as "an indescribable loss:"
During this extremely difficult time for our family, we are grateful for the tremendous outpouring of support. This is an indescribable loss. Bill was so much more than my soulmate.

I will miss him every day for the rest of my life. Knowing that so many others share our family's sorrow has provided a measure of comfort.

That said, we are a very private family, and we need time to heal and recover from this senseless tragedy.

At this time, we ask the media to please respect our family's privacy in and around our home, school and local community during the days and weeks ahead, especially for the sake of my children.
Klug was known by his colleagues as dedicated and caring, UCLA officials said. He became a faculty member in 2003, and over his 13 years with the university he earned awards including the National Science Foundation Career Award. He was recently also working on the UCLA Cardiac Modeling Group, which had received a $4.3 million grant to study the electromechanics of the heart.
"This is a terrible moment," said Tsu-Chin Tsao, chair of the department of mechanical and aerospace engineering. "We lost a professor who cared a lot about his students and who was on a very positive trajectory. My heart goes out to his family right now."
While it is unclear whether Klug had any contact with Sarkar after his graduation, the relationship between professor and student appears to have deteriorated at some point earlier this year. In a now-deleted blog post from March, Sarkar accused Klug of stealing "all of [Sarkar's] code," calling the professor "a sick person."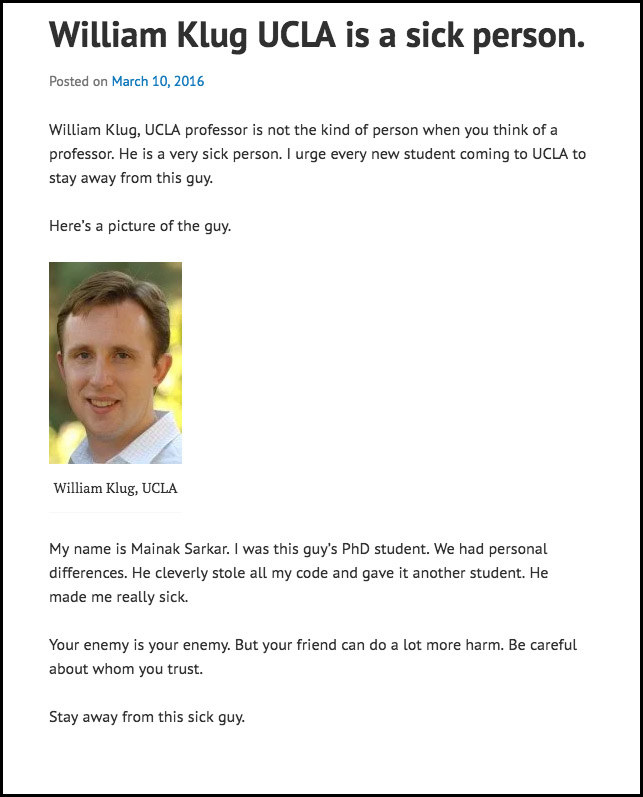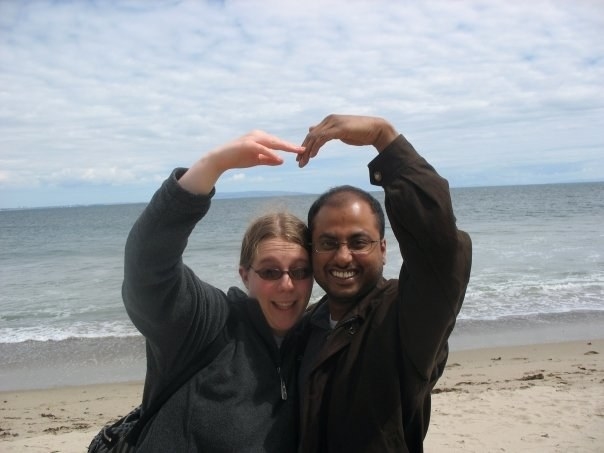 Sarkar appears to have met Ashley Hasti in late 2007 or early 2008, based on photos from their Facebook pages.
Hasti, 31, was a resident physician at the University of Minnesota Medical School, where she had been studying since 2012. She graduated magna cum laude from the University of Minnesota with degrees in Asian languages and literatures and anthropology in December 2008.
Sarkar and Hasti were married on June 14, 2011. It is unclear whether the two were still married at the time of the shooting.