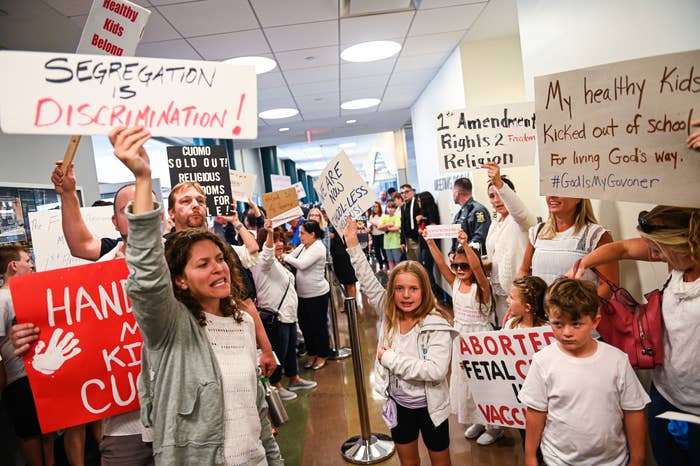 Furious anti-vax parents in New York this week are posting memes and images of sad children — and have shown up in person to protest the governor — because a new law prohibiting unvaccinated children from attending school went into effect.
The mandate, enacted in June, "prohibits a school from permitting any child to be admitted to such school, or to attend such school, in excess of 14 days without sufficient evidence that the child has received all age appropriate required vaccinations," according an official publication from the New York Department of Health, Office of Children and Family Services, and the State Education Department.
Those 14-day grace periods started expiring this week, which meant school officials barred students from going to class or began removing them from schools, to be picked up by their parents. (To be clear, the students could return to school if their parents had them vaccinated.)
State health officials told BuzzFeed News that 26,217 unvaccinated New York children in public schools, private schools, parochial schools, daycare centers, and prekindergarten programs claimed religious exemptions during the 2017–18 school year. New York ended religious exemptions for vaccines in June, following the worst measles outbreaks the state had seen in decades.

There is rampant misinformation about vaccines that in part influences anti-vax parents. There is an overwhelming amount of scientific evidence that shows vaccines work and do not cause disorders such as autism — a claim that has been repeatedly debunked. The claims continue to frustrate many autistic people, as people spread vaccine misinformation to play on fears and prejudices.

"Immunizations give children the best protection from serious childhood diseases and the science is crystal clear that vaccines are safe and effective," the New York Health Department said in a statement to BuzzFeed News on Friday.

On Tuesday, a group of parents protested — and livestreamed — outside Lloyd Harbor Elementary School in Long Island as they waited to collect their children from their 14th and last day of school until they were vaccinated.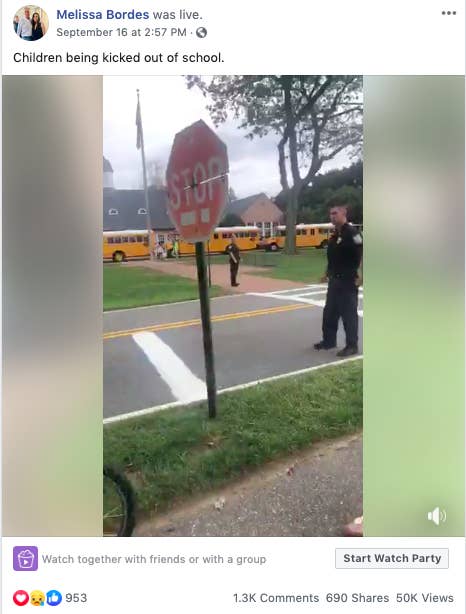 Paris Pappas, 43, told Newsday that the ban left local parents in "absolute hell."

"We're just watching everybody else's school life go on, and my life has stopped, basically," she said, adding that she plans to homeschool her daughters, ages 14, 12, and 6.

Faced with no other options — except vaccinating their children — other New York parents also posted about beginning to homeschool their children.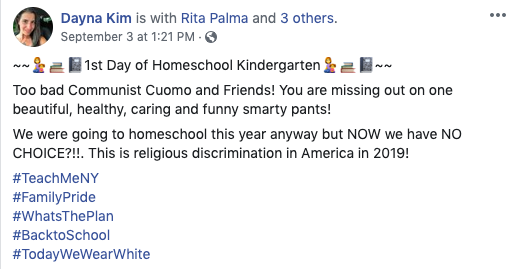 Up until the new law was passed, unvaccinated children could be enrolled in school or childcare centers if their parent or guardian held "genuine and sincere religious beliefs" against immunization. Medical exemptions are still allowed, but a physician with a New York license must first certify "that such immunization may be detrimental to a child's health."
"I understand freedom of religion. We all do. We respect it. I've heard the anti-vaxxers' theory, but I believe both are overwhelmed by the public health risk," New York Gov. Andrew Cuomo told reporters after signing the bill June 13.

On Wednesday, approximately 100 anti-vaxxers protested outside Farmingdale State College in Nassau County as Cuomo delivered a speech.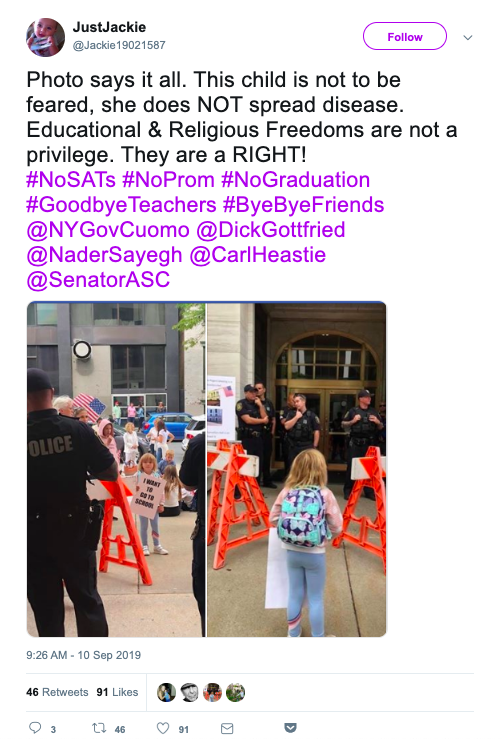 Among parents' most-shared pictures are images of the children who can no longer attend schools because of their parents' decisions.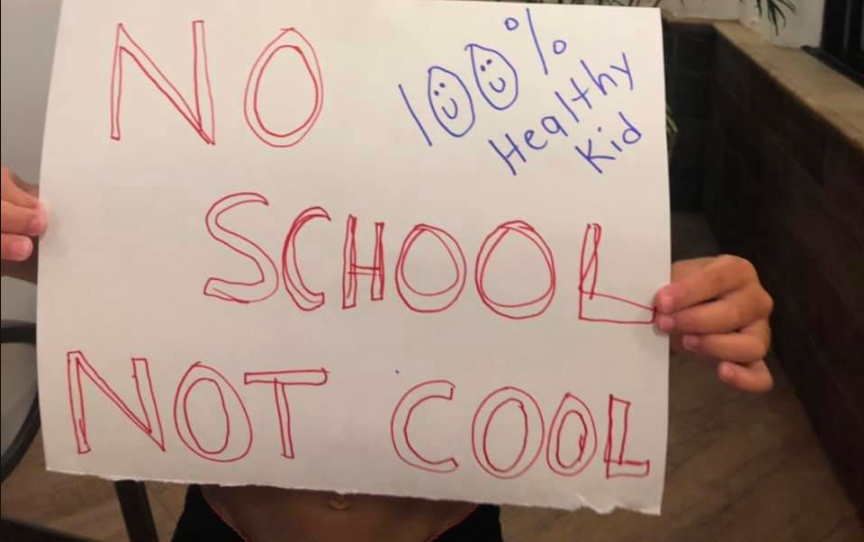 A photo of a crying first-grader holding a goodbye card signed by his teacher and classmates has been shared nearly 2,000 times on Facebook as an example of the human cost of the new law.

"This little boy can't go back to school. Why? Because our state legislature thinks we're a bunch of ignorant pariahs," Rita Palma, founder of the anti-vax group My Kids, My Choice, wrote in the photo's caption. "So the sensible thing to do is deprive children who want to go to school of an education. Makes perfect sense, right? This is so horribly wrong."

BuzzFeed News has reached out to Palma for comment and more information about the boy in the photograph.

Palma and other New York anti-vaxxers have been comparing the new law banning religious exemptions to the Jim Crow laws and segregation of white and black people in America.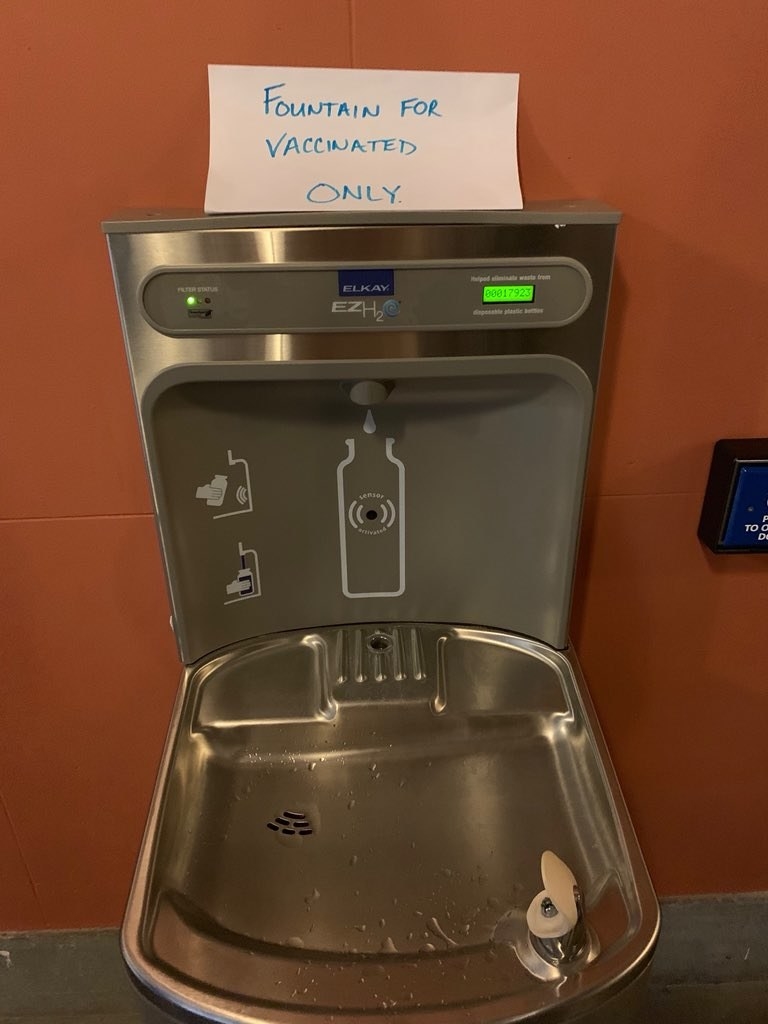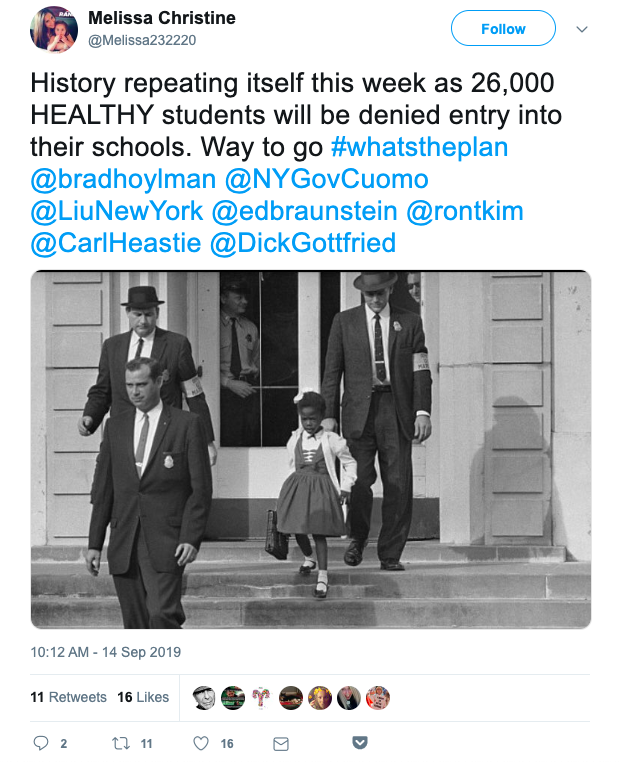 Like Cuomo, state Sen. Brad Hoylman, the bill's sponsor, has been memed on Twitter as the grace period came to an end.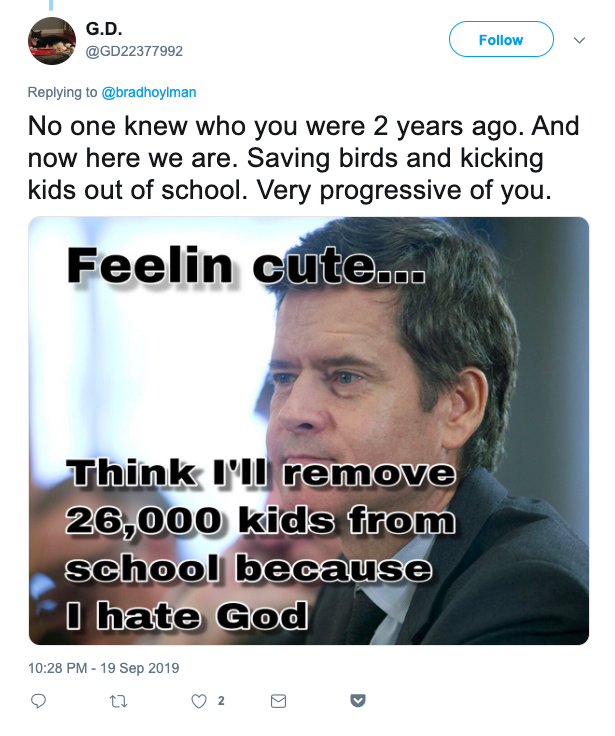 One person took to comparing the new law to Anne Frank — who was killed by Nazis — in a tweet that read, in part, "Anne Frank was denied an education and forced to home-school."
That prompted Hoylman to respond, "One of these is not like the other. Shame on you for daring to compare antivaxxing to the Holocaust."
CORRECTION
Rita Palma's name was misstated in an earlier version of this post.