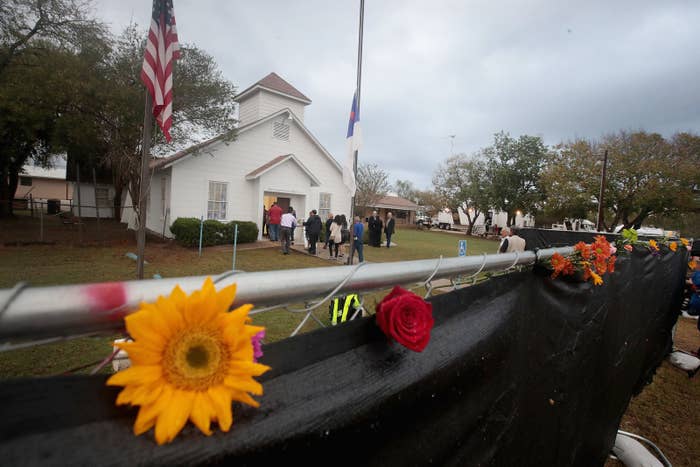 Two mass shooting conspiracy theorists were arrested Monday in Texas after spending months allegedly harassing survivors of the Nov. 5 shooting in Sutherland Springs that left 26 people dead.
Robert Ussery, 54, who calls himself "Side Thorn" online and runs the conspiracy website Side Thorn Journalism, and partner Jodi Mann, 56, who goes by "Conspiracy Granny," were arrested Monday at First Baptist Church of Sutherland Springs, the site of the shooting.
Per the Side Thorn website, the pair believe that all recent mass shootings and bombings in the United States and around the world are "drills" and hoaxes arranged by the government. The website's homepage offers a $100,000 reward for proof of death of any of the victims of a list of 33 "staged events" that includes the shooting at Marjory Stoneman Douglas High School in Parkland, Florida, the Manchester Arena bombing, and the Las Vegas concert shooting.
"They are all drills using crisis actors that were sold to the public as real. NO DEAD, NO WOUNDED," the website states.
Those killed in the church ranged in age from 18 months to 77 years old. Authorities also included the unborn fetus of a pregnant woman in the death toll, per state fetal homicide law. The woman also died.
Pastor Frank Pomeroy, whose 14-year-old daughter Annabelle was killed in the Sutherland Springs shooting, told the San Antonio Express News that Ussery and Mann have been harassing members of the congregation for months.
On Monday, four months to the date after the shooting, Pomeroy told the newspaper Ussery and Mann approached the church while filming and began yelling at him when he stopped Mann from writing "the truth will set you free" on a poster outside the church left for well-wishers to sign.
When Pomeroy asked them to leave, Ussery "continually yelled and screamed and hollered and told me he was gonna hang me from a tree, and pee on me while I'm hanging," he added.
The Wilson County Sheriff's Department confirmed to BuzzFeed News that Ussery and Mann were released Tuesday on bond. Ussery has been charged with resisting arrest, criminal trespass, making a terroristic threat, and possession of marijuana less than 2 oz. Mann has been charged with resisting arrest and criminal trespass.
In an interview with KTSA FM radio Tuesday, Pomeroy said that Ussery yelled at him that his dead daughter "never existed" and demanded her birth and death certificates.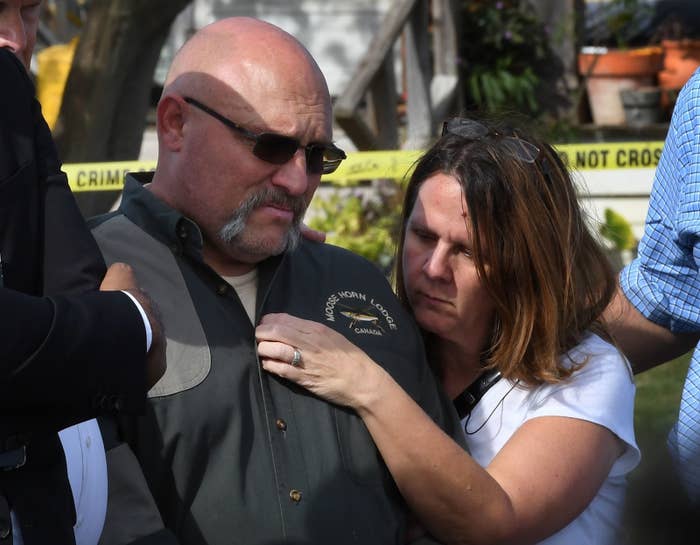 "First he said my daughter never even existed, he kept screaming at me to present him a birth certificate, and then he said, 'Well if she really was real then present me a death certificate,'" he told the station. "He kept hollering, 'I'll give you $100,000 if you can prove anything to me.'
"We had to verbally ask him to stay off the property with his shenanigans that he's been doing for the past four months before we could get any restraining order or criminal trespass warning placed against him."
Pomeroy added that the congregation has started the process of obtaining protective orders now that Ussery and Mann have an arrest record.
"This guy, we've had to hire security, we've had to hire people to sit in the parking lot, he has had the congregation scared to death, especially after Parkland, because he shows all the signs of not being stable and living in an alternate reality," he said.
Videos posted on Ussery's website, Sidethorn.com, show that the pair have been harassing the Sutherland Springs community since December, weeks after the shooting.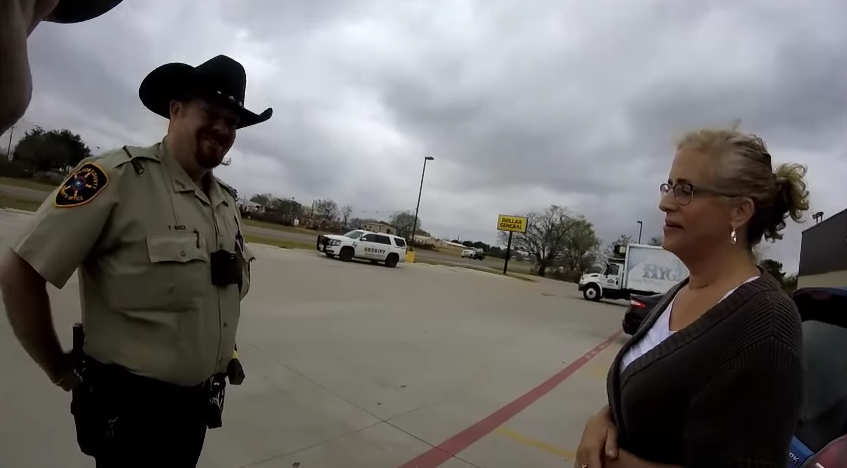 In a 24-minute video shot Dec. 22, Ussery and Mann are shown confronting Terrie Smith, who witnessed the shooting, and demanding she "tell the truth" about the "drill."
"This was no damn drill, this was evil," Smith said. "I lost my loved ones and I lost all my friends and I witnessed this evil thing. And whatever conspiracy thing or whatever crap that is out there —"
"You mean the truth?" Ussery said.
"It's crap, it's not the truth," she responded.
"Yes it is, ma'am," Ussery said, before Smith asked told him to get off her property.
In a video posted in January, Ussery is heard laughing as a family member of a shooting victim screams at him to stop harassing her family.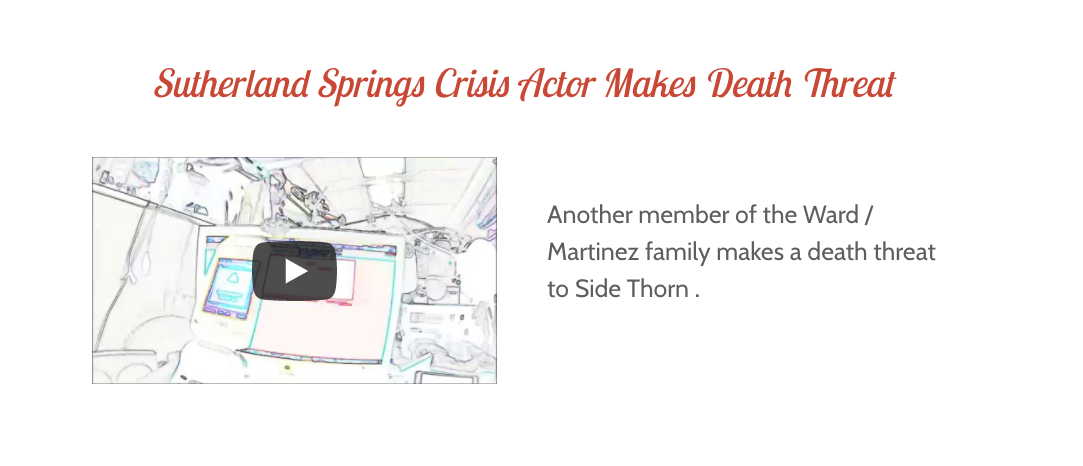 "You need to stop harassing my family," the woman told Ussery. "My niece and my sister, because we have been going through so much shit in the past few months and you're just stirring shit up and you need to fucking cut it out because I will motherfucking find you and I will fucking kill you. Do you fucking understand me, you stupid-ass motherfucker?"
In the video captions, Ussery identifies the woman, who does not give her name, as a relative of Joann Ward, a 30-year-old woman who reportedly used her body to shield her four children from gunfire when the shooting began.
Ward and her 5-year-old daughter Brooke Ward died in the attack; her 7-year-old daughter Emily Garcia died at the hospital.
"I guarantee I will fucking find you," the woman on the phone said as Ussery laughed. "You goddamn motherfucker. We lost our family in that Sutherland Springs shooting."
In a video posted Feb. 2, Ussery stands in front of a makeshift memorial outside the church and uses a bullhorn to offer $100,000 for "proof of death for any of the 26 victims of the fake hoax shooting."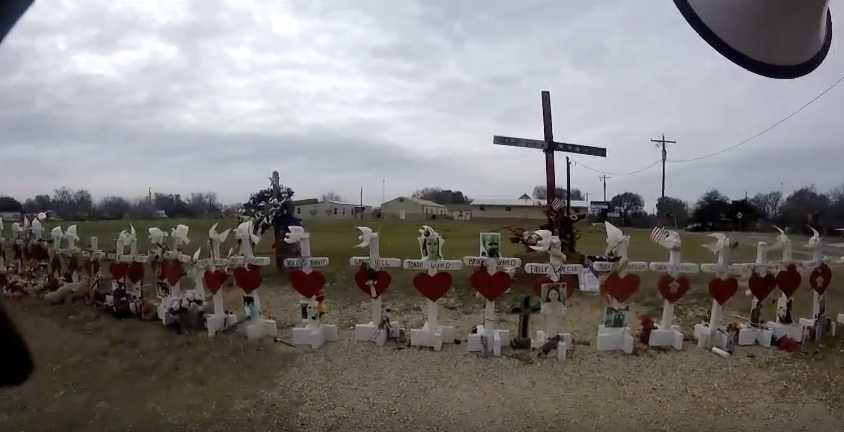 "This was a hoax, this was a drill," he said. "This was a Department of Homeland Security FEMA Capstone exercise. Look it up — $100,000 reward for proof of one death."
Ussery told BuzzFeed News via email Wednesday that he and Mann "are 100% innocent of all charges, expect the possession of marijuana charge, which we proudly accept."
Ussery said they did not resist arrest, nor did they make any specific threats toward Pomeroy, whom he called a "lying paid actor," or anyone else, for that matter.
"The only thing we said was that for the lies [Pomeroy] has told, we hoped one day to see the people hang those involved for their treason against the American people for participating in the Department Of Homeland Security Capstone Exercises (community drills)," Ussery said.
Pomeroy has told local media he believes the pair delusional.
"You can see in their eyes that [Ussery and Mann] just don't have a grip on reality," Pomeroy told KTSA FM.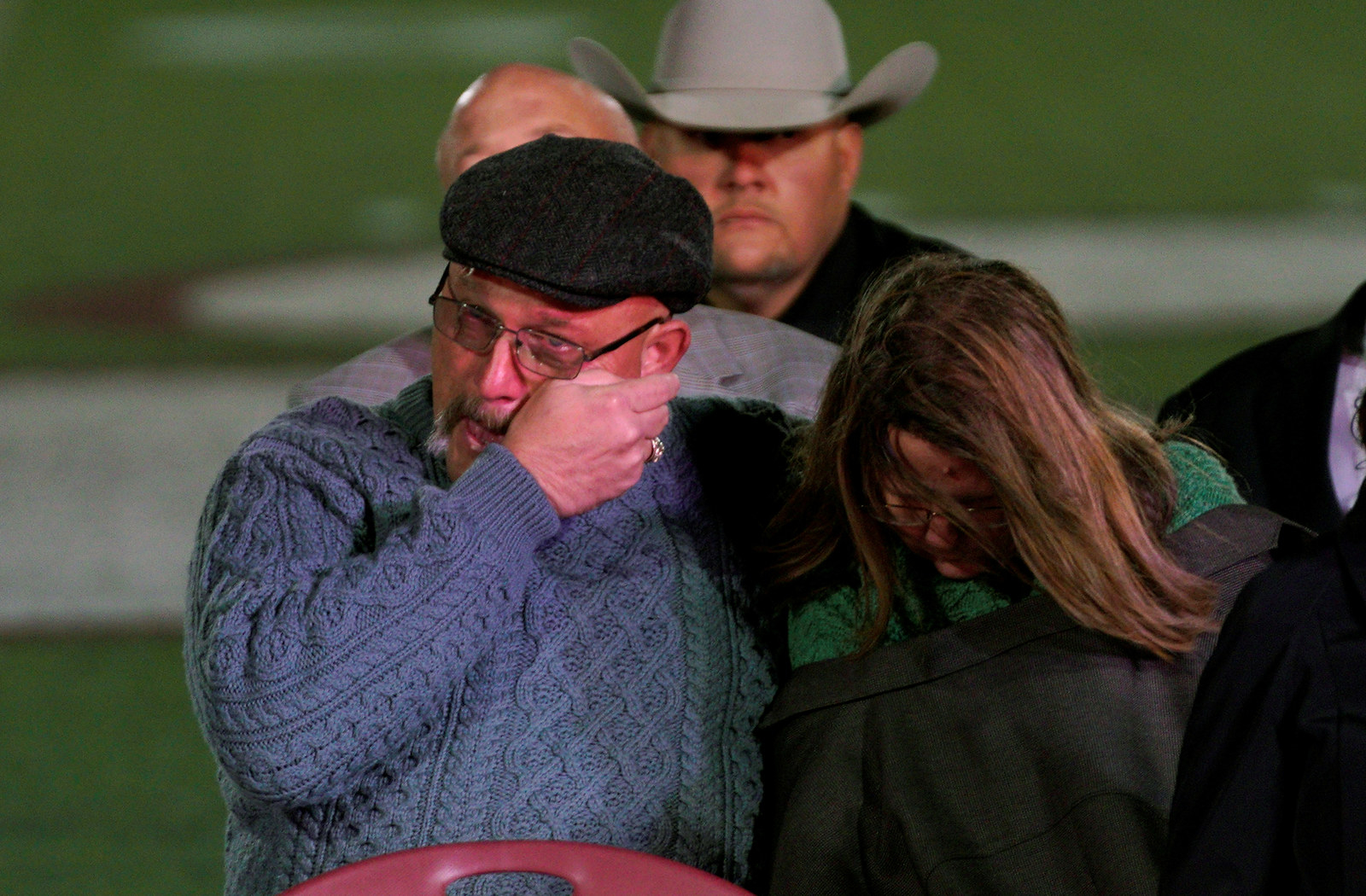 "He would purposefully call the victims and bait them. He's just really profane in the way he likes to stick a knife into open wounds and twist it," Pomeroy said. "It's just very demented.
"We're going to pray that he stays away [after he's released].
"[The authorities] think that he's got enough against him that he won't retaliate. However, the fear we have now is that's kinda what they said about the last guy, that he wouldn't come back around."