People Are Loving This Story Of An American Student Who Celebrated Passover With Strangers In London
"A stranger restored my faith that no matter where you are in the world, even thousands of miles away from home, you can always find a friend."
An American college student studying abroad in London was able to celebrate Passover with a British family thanks to the magic of Twitter.
Samantha Gross told BuzzFeed News that she's a Boston University student studying abroad for a semester in London. Gross is currently an intern for the London Evening Standard, a UK newspaper.
A seder is a ritual meal that marks the beginning of the Jewish holiday of Passover. The 15-step traditional feast, meant to be celebrated with extended family members, tells the story of the first Passover, where the Israelites were freed from slavery in Egypt.
Gross told BuzzFeed News that she hasn't had the opportunity to celebrate any Jewish holidays since she's been in London.
People loved her story so much that it became a Twitter moment.
Gross said that her father sent Masters an "equal parts embarrassing and sweet" Facebook message thanking him for taking care of his daughter after learning about the Passover celebration.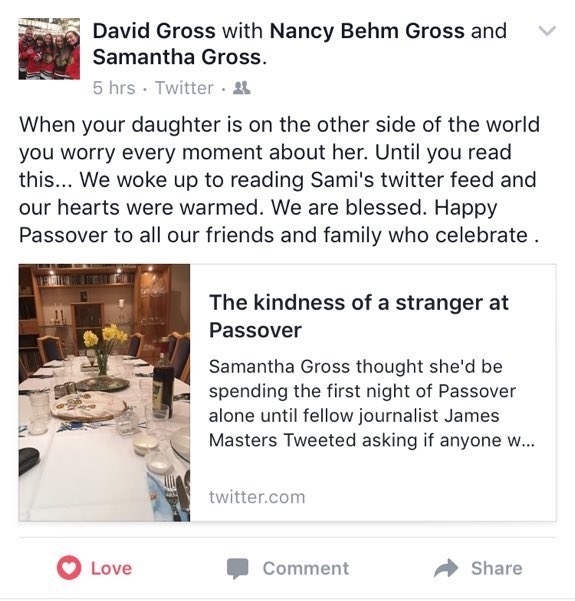 "I hope that those who read my story are inspired to bring a little positivity into a negative space, whether it be on Twitter or in the real world," Gross said. "You never know the impact you might have."