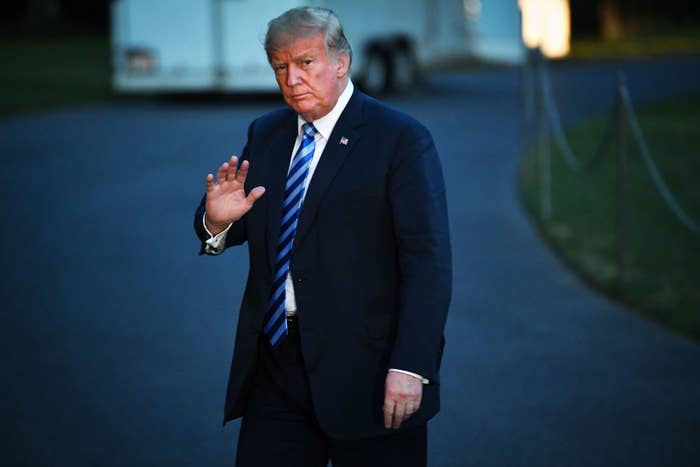 President Trump has revoked the security clearance of one of his most vocal critics, ex–CIA director John Brennan, and is reviewing whether to do the same to other former officials and one current official.
The move, announced Wednesday by White House press secretary Sarah Huckabee Sanders, immediately raised questions about whether it was political in nature given that the list of other clearances under review also belong to former officials who have been critical of Trump, including former FBI director James Comey, former deputy FBI director Andrew McCabe, and former director of national intelligence James Clapper.
It's common for former intelligence officials to retain their clearances in order to consult with government agencies who may need their expertise or historical knowledge later down the road. But in revoking Brennan's security clearance, Trump said in a statement that "any benefits that senior officials might glean from consultations with Mr. Brennan are now outweighed by the risks posed by his erratic conduct and behavior. Second, that conduct and behavior has tested and far exceeded the limits of any professional courtesy that may have been due to him."
Brennan has been critical of Trump on his preferred platform, Twitter, calling him out last month for his meeting with Russian President Vladimir Putin in Helsinki, Finland, and more recently on Tuesday, for his attacks on former White House aide Omarosa Manigault Newman.
In his statement, Trump accused Brennan of using his status "as a former high-ranking official with access to highly sensitive information" to make a series of "unfounded and outrageous allegations — wild outbursts on the internet and television — about this administration."
"Mr. Brennan's lying and recent conduct, characterized by increasingly frenzied commentary, is wholly inconsistent with access to the nation's most closely held secrets and facilitates the very aim of our adversaries, which is to sow division and chaos," Trump added.
The president also said Brennan's status "raises larger questions" about the practice of former officials maintaining security clearances long after their time in government has ended.
"Such access is particularly inappropriate when former officials have transitioned into highly partisan positions and seek to use real or perceived access to sensitive information to validate their political attacks," Trump said.
The other former officials whose clearances are being reviewed include ex–National Security Agency and CIA director Michael Hayden; Obama-era NSA adviser Susan Rice; former acting attorney general Sally Yates; FBI attorney Lisa Page; and former FBI agent Peter Strzok.
Appearing on MSNBC Wednesday afternoon, Brennan said he believed Trump revoked his clearance as part of a series of actions "to try to intimidate and suppress any criticism of him or his administration," and that it was the president's way of "trying to get back at [him]."
"I am very worried about the message that it appears that Mr. Trump is trying to send to others, including those that currently hold security clearances within the government," Brennan said.
He noted that one of the individuals on Trump's "review" list, Bruce Ohr, is a current Justice Department official.
"I've seen this type of behavior and actions on the part of foreign tyrants ... and autocrats in my national security career," he said. "I never thought I would see it here in the United States."
He also reinforced what he tweeted after the announcement: "If Mr. Trump believes this is going to lead me to just go away and be quiet, he is very badly mistaken."
When asked by reporters if Trump's action was retaliatory or political in nature, Sanders insisted the president wasn't going after his opponents.
"If there were others that weren't [on the list] that we deemed necessary, we would certainly take a look and review those as well," she said.
But the initial statement released by the White House raised more questions about the timing of the announcement Wednesday. It was dated July 26, roughly three weeks ago, before Manigault Newman started releasing secret recordings of Trump and other administration officials in tandem with her new memoir, sparking a firestorm news cycle that has left the White House spinning.
Brennan also said on MSNBC that he had received no word about Trump's action and only found out while watching Sanders' press briefing.
Revoking security clearances won't preclude anyone from speaking out against the Trump administration, and in fact spawned a fresh wave of criticism. McCabe's attorney referred to the names being reviewed as "an enemies list."
Others on the list also responded to the news of Brennan's security clearance being revoked and the fact that their own were "under review."
Hayden told CNN that losing his security clearance "will have no impact on what I think, say or write."
Comey said in a statement on Twitter that the clearances "should not be used as pawns in a petty political game to distract voters from even bigger problems."
Clapper also told CNN that he couldn't recall anything like this even happening in the past.
"Will the republic stand or fall on whether John [Brennan] retains his access to classified information, or mine, or any others that were named? Of course not," he said. "The larger issue here, to me, throughout, has been an infringement of First Amendment rights. And I think people ought to think seriously about that."
CORRECTION
Bruce Ohr is a Justice Department lawyer. A previous version of this post misspelled his name and misstated his job title.