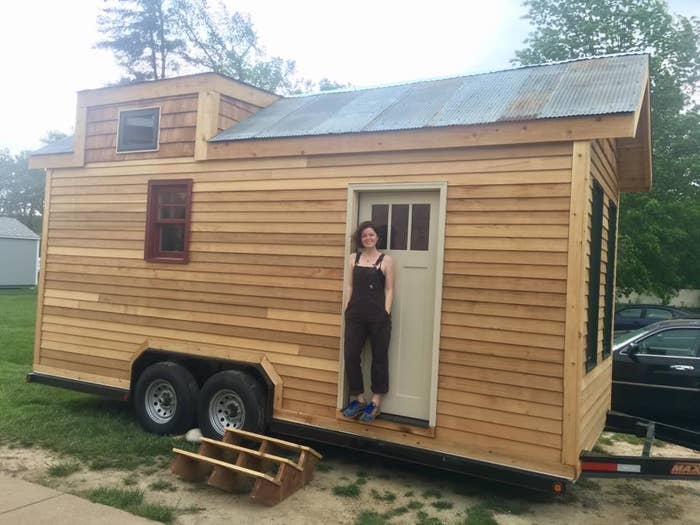 Meghan Panu of St. Louis has spent the last two years — and an estimated $20,000 — building a tiny house and documenting the process on her Facebook page, St. Louis Tiny Living.

"I've always wanted to figure out what it's like to live without a lot of stuff instead of being tied down to material possessions and all these things that I don't really need," Panu said in an interview with her university's newspaper in January 2017, when she began the project.

A sustainability student at Webster University, Panu wrote on her crowdfunding campaign page that she set up when she began the project that she wanted to apply her education "to build a home that requires a fraction of the energy that the average home uses, and takes up a tenth of the space" for her senior thesis project.
The tiny house's structure and outside were completed in May; in August, Panu wrote on her Facebook page that she was looking for a place to park the trailer holding the tiny house while she set up the electrical and plumbing systems.

On Friday night, she parked the 8-by10-foot tiny house in its usual place, but when she returned on Saturday morning, it was gone.
Panu immediately put out a call on the Facebook and Instagram pages devoted to her project, which have more than 1,000 followers combined.

Immediately, people began messaging her with sightings of the tiny house, including pictures and locations.

"Let's hope whoever took the house wasn't anticipating the reaction from the community and decides to ditch it in one piece," Panu wrote on Instagram on Saturday. "I just want to say I love you all and appreciate the kind messages. We're going to figure this out. Keep looking, it takes a village."

Panu also talked to local television stations, in the hope that people watching the news would see her tiny house and report it to police.

Panu told KMOV4 in an interview Monday that she was most concerned with ensuring the safe return of her tiny house. "It's tempting to take, but I put a lot of love and passion and effort into this project, so I just want it back."

Fortunately, the tiny house was found in House Springs, Missouri — approximately 30 miles from St. Louis — on Wednesday.
Jefferson County Sheriff Dave Marshak put out a call on social media to find Panu after detectives located the abandoned tiny house.

After she was identified as the owner, the sheriff delivered some additional good news — a local towing company would return the tiny house to St. Louis free of charge, as an early Christmas present.
Panu told BuzzFeed News Wednesday afternoon that it had been "a crazy few days" and that she would be available to talk after she and her tiny house were back home.