This is an excerpt from The Royal Tea, BuzzFeed News' newsletter about the British royal family, featuring royal news and analysis, served piping hot. You can sign up here.

After weeks of speculation and dubiously sourced reports, it has finally been confirmed that Prince Harry, Meghan Markle, and their children, Archie and Lilibet, met with other members of the royal family while the Sussex family was in the UK for the Queen's Platinum Jubilee celebrations.
Specifically, little Archie and Lili (as she is nicknamed) saw their grandfather, Prince Charles. As multiple media outlets reported on Wednesday and Thursday, a "royal source" (or "senior royal source," depending on the publication) speaking at a Clarence House press briefing told a room full of reporters how happy Charles was to see his grandchildren earlier that month.
"It was fantastic to see them. It was wonderful to have them back in Britain," the royal source said of the Sussexes, according to the BBC, NBC, Metro, People, Harper's Bazaar, Town and Country, and Sky News, to name a few. "The Prince and the Duchess [of Cornwall] were absolutely thrilled to see them.
"The Prince, of course, hasn't seen his grandson Archie for a bit of time, and so it was very, very, very special to have some time with him," the royal source said, as quoted by the media outlets. "He hadn't met Lilibet, his granddaughter, and so to meet her for the first time was, I think, very emotional — a very wonderful thing."
The Telegraph and Newsweek had one extra quote from that royal source that's absent from the other reports: "What grandparent wouldn't think that was a good day all round?"

It should be noted that this wasn't a news conference about Mountbatten-Windsor family relations. It was a financial review — a briefing about how much taxpayer money Clarence House/Prince Charles had spent in the past fiscal year ahead of the publication of the Sovereign Grant Annual Report.
And although we have no idea who this "senior royal source" is, we know for certain that he (all of the stories used male pronouns) was speaking at a Clarence House press briefing in front of dozens of reporters. Whatever he said was officially approved by Charles's media team.
This is the first time that anyone has confirmed that Lilibet "Lili" Mountbatten-Windsor met her royal relatives. The Sussexes have never commented on it, and neither has Buckingham Palace. All the stories reporting it cite anonymous sources using words like "the Sun understands" instead of naming the person who shared this information.
For the record, I reached out to the Sussex press team about these family reunion reports and they declined to comment.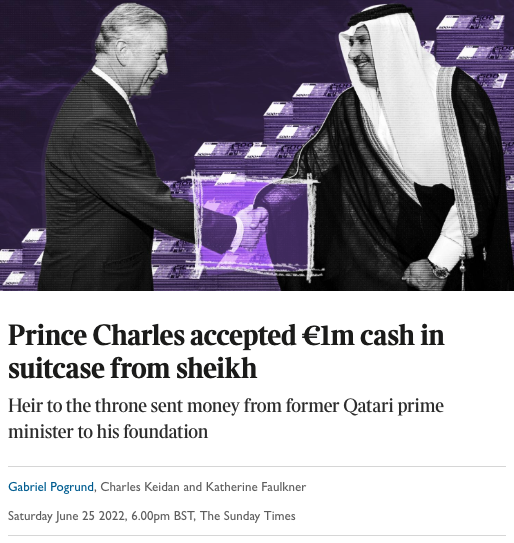 So we're left with this question: Why would Clarence House go on the record to confirm that Charles met up with his son, daughter-in-law, and grandchildren almost a month after the meeting itself happened?
Let's examine the timing of the announcement. The confirmation came on Wednesday, three days after the Sunday Times broke the news that Charles had reportedly accepted $3.1 million in a suitcase and a few shopping bags from a Qatari politician.

The financial report, which was the actual topic of the Clarence House press briefing, was released on Thursday and showed a 17% increase in royal spending over the past fiscal year, bringing the total amount over £100 million for the first time in history. The report also showed that Charles — a known champion of environmental causes — had taken more than 20 private flights within the UK over the past year. And his trip to Barbados for the handover ceremony where it transitioned from a monarchy to a republic cost a staggering £138,457 ($167,498) (although that's admittedly less than the Duke and Duchess of Cambridge's controversial Caribbean royal tour, which cost £226,383 ($273,867).
In another odd coincidence, the other big royal story of the week was also not about royal finances, but about the Sussexes. This was the news — delivered by yet another (or possibly the same) "royal source" at a different press briefing about the Sovereign Grant report — that Buckingham Palace would not be releasing a report into how it handled allegations that Meghan bullied staffers during her time as a working member of the royal family.

A quick search of royal headlines on Friday shows far more coverage about the so-called bullying report, and Charles's meeting with Lilibet, and his relationship with the Sussexes than news about royal spending or the "cash in bags" scandal.
This is not the first time that a story focusing on the Sussexes has hit the press at a time of what could be perceived as negative press coverage about other members of the royal family. Indeed, the story that first reported the allegations that Meghan bullied staffers was published five days before Harry and Meghan's interview with Oprah Winfrey aired — something that the couple's spokesperson made sure to highlight in their response to the story.
I, for one, have always found it interesting that one of the biggest negative media cycles of Meghan and Harry's time as working royals — the relentless coverage of their use of private jets for travel in August and September 2019 — kicked off right after Prince Andrew's friend and sex offender Jeffrey Epstein killed himself in a New York federal prison while awaiting his trial for federal sex trafficking charges. Especially because the first big exclusive story about Meghan and Harry's "eco-warrior hypocrisy" appeared in the UK tabloid the Sun on the same day that the Mail on Sunday exclusively published new pictures of Andrew at Epstein's Manhattan home in December 2010.
What do you think about all of this? Coincidence or not?
Timing. Such an interesting thing.