Facebook Says Charlie Hebdo Attacker Page Is Fake
UPDATE: The Facebook page was a hoax. A spokesman for Facebook said that the page, which appeared to belong to the eldest of two brothers suspected in the attack on Charlie Hebdo, was created by someone who intentionally altered timestamps.
Two spokespeople for Facebook told BuzzFeed News that a Facebook page appearing to belong to Said Kouachi, one of the men wanted in the Charlie Hebdo attacks, was only on the website for 12 hours and was deleted early Thursday morning.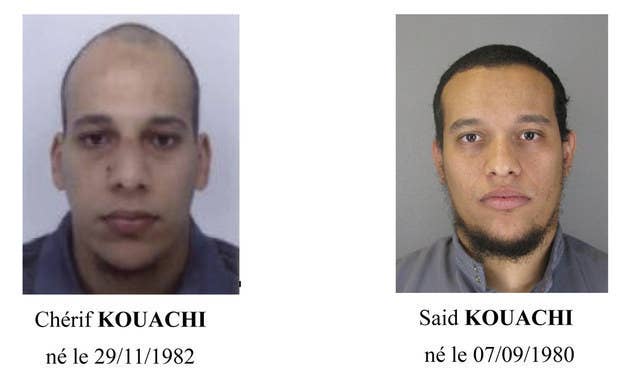 BuzzFeed News had reached out to Facebook to find out why the page had been deleted. Spokesperson Andrew Sauvall said the page violated their policy of supporting terrorist groups. He also said BuzzFeed News's post was "wrong" and asked for its deletion.

The information section of the page — a community page, not a personal one — stated that it was created on April 19, 2014, but Souvall told BuzzFeed News it was created Wednesday afternoon and deleted by Facebook on Thursday morning.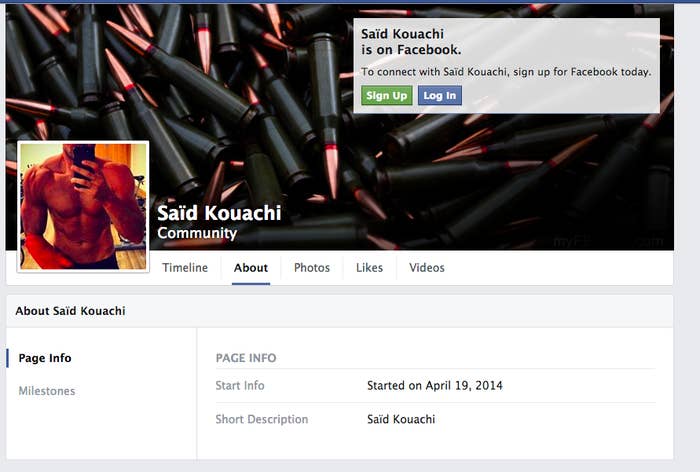 One of the photos, seemingly uploaded in May 2014, featured a man holding a gun, with the caption "le frero" — French slang for "the brother." The image appeared to resemble that of Cherif Kouachi.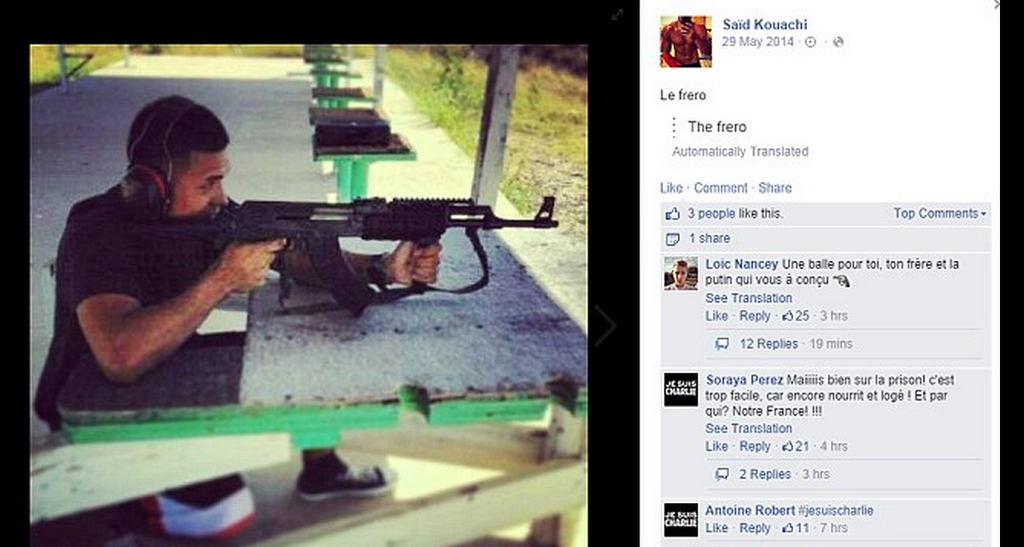 When BuzzFeed News later asked about the discrepancies between the timestamps and Facebook's timeline, Sauvall said that the posts and photos on the page had been "backdated."
Facebook's Timeline feature, he said, allows administrators to change the date of items on their page. This feature is intended for listing dates of significance. The only indication that a post or photo has been changed is a small clock symbol that appears next to the modified date.
Sauvall initially said that this feature was only available on pages, as opposed to personal profiles, but by this time BuzzFeed News editors had been able to change the dates on images and posts on their personal profiles. Sauvall was surprised to hear that this was the case and referred BuzzFeed News to another spokesperson.
Johnny Thaw, another Facebook spokesperson, confirmed that backdating of posts and images was available for personal timelines as well as pages. When the previous interaction with Sauvall was relayed, Thaw said that his colleague "was mistaken" about how the feature worked.
Thaw said that all posts that had been backdated displayed a clock next to the modified time, regardless of whether the date has been changed by an hour, day, or year. Hovering over the clock reveals the time the post or image was actually uploaded.

When asked if this feature might make Facebook harder to source for news posts, especially in deleted and cached Facebook pages, Thaw said he had not heard of any situation that had been confused by the feature.
"I haven't ever personally heard of that situation but it may have happened," he said.
In another photo on the page, a man's figure could be seen raising the index finger of his left hand.
The same gesture was noticed in a video shot just outside the Charlie Hebdo offices, in which the gunman also raised his left-hand finger following a shoot-out with police.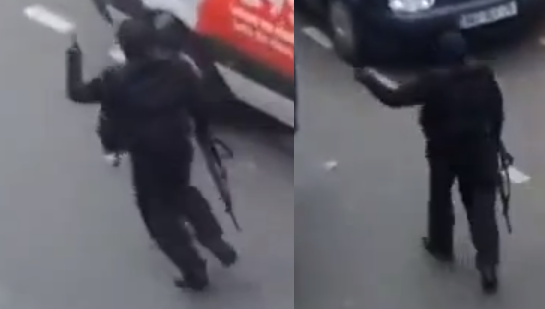 The gesture is common among Islamic fighters, who raise the finger to allude to the tawhid, the belief in the oneness of God. The tawhid comprises the first half of the shahada, a daily prayer which confirms, "There is no god but Allah, Muhammad is the messenger of Allah."
The salute, however, is normally done with the right hand, as many devout Muslims consider the left hand unclean. In the video, as in the Facebook photo, it is the left hand that is used.
The gesture is also commonly used by militaries across the globe to signal to fighters that they should regroup.
Another image showed a hand holding a 9mm bullet.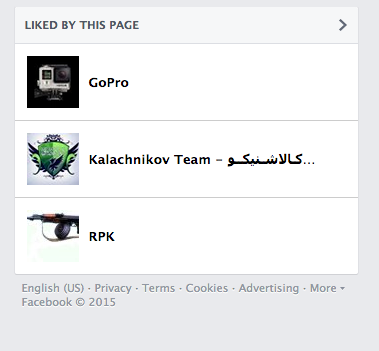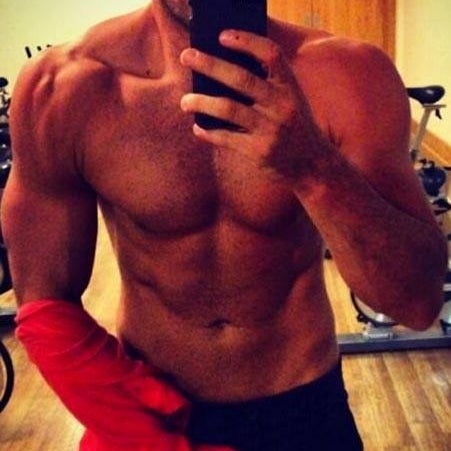 This page had appeared to lend credence to the brothers' earlier records.
French Court records show that Cherif Kouachi was detained by police in 2005, as he attempted to board a plane for Syria. In 2008, he was sentenced to three years in prison, of which he served only 18 months for his role in the "Buttes-Chaumont network" that helped send would-be jihadists to fight for al-Qaeda in Iraq.
Kouachi told the court that the evidence of abuse and torture at the Abu Ghraib prison and the influence of the Imam Benyettou had convinced him to give up rapping in favor of an Islamic, jihadist life.
In 2010, Cherif was named in connection to a plot to help Islamist Smain Ait Ali Belkacem from French prison. His brother, Said, was also named in that plot, but neither brother was prosecuted due to lack of evidence.
On Thursday, reports emerged that Said Kouachi has spent "a few months" in a militant training camp in Yemen. Citing unnamed senior U.S. officials, the New York Times said the elder Kouachi had traveled to Yemen in 2011, and received training from local, al-Qaeda-affiliated militants, before returning to France.
This post has been updated with comment from Facebook.
Sheera Frenkel is a cybersecurity correspondent for BuzzFeed News based in San Francisco. She has reported from Israel, Egypt, Jordan and across the Middle East. Her secure PGP fingerprint is 4A53 A35C 06BE 5339 E9B6 D54E 73A6 0F6A E252 A50F

Contact Sheera Frenkel at sheera.frenkel@buzzfeed.com.