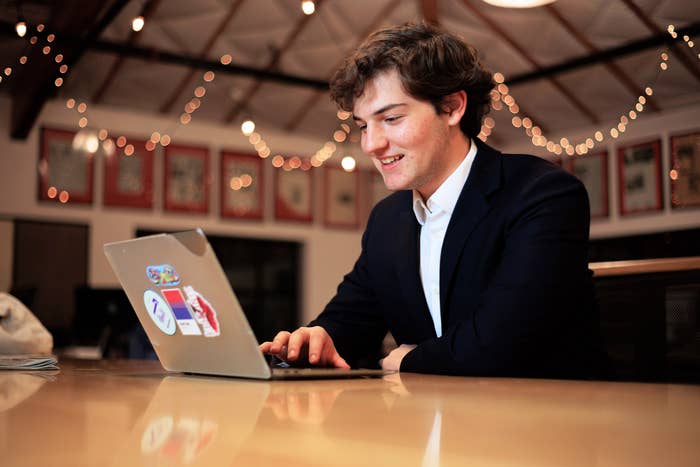 The youngest-ever recipient of one of the most prestigious awards in journalism still isn't sure whether he wants to be a reporter when he graduates from college in three years. He hasn't even decided on his major yet. "I take a lot of different courses in computer science, but also English, history, and philosophy," said Theo Baker, an 18-year-old first-year Stanford University student from Washington, DC. "So I'm a little torn. I'm very bad at making up my mind."
If Baker, currently the investigations editor for the independent student-run Stanford Daily newspaper, does go into journalism, he'd be following in his parents' distinguished footsteps: His father is New York Times chief White House correspondent Peter Baker, and his mother is New Yorker staff writer Susan Glasser. (And yes, he's heard the "nepo baby" talk.)

On Feb. 20, Theo became the first-ever college journalist to win a George Polk Award. The Polk Awards recognize "the intrepid, bold, and influential work of the reporters themselves, placing a premium on investigative work that is original, resourceful, and thought-provoking," according to its official website. (BuzzFeed News also won a Polk this year, for an investigation into a chain of group homes for people with disabilities purchased by private equity firm KKR, by Kendall Taggart, John Templon, Anthony Cormier, and Jason Leopold.)
Baker merited a "special award" for his series looking into allegations that scientific papers coauthored by Stanford President Marc Tessier-Lavigne, a noted neuroscientist, contained manipulated imagery. It marked the first time that a student-run paper has won a Polk Award.
"The word that they used was moxie," Baker said, describing the moment he received the call from the award committee, right when he was arriving at a class. "They liked that our reporting had so much moxie." He continued, "It was not completely unexpected in the sense that we had received word that they were considering our complete coverage and they asked [the Stanford Daily] to submit a cover letter, which we did. It was entirely unexpected in the sense that, well, who the hell expects to win?"
The first story in the paper's investigation into Tessier-Lavigne's body of work was published Nov. 29, and it immediately caused a sensation within Stanford and the wider scientific community. As to how he uncovered the story? "I got texted a link to a Medium post, which had a link to a [scientific publication] forum, where there was a singular reference to [Tessier-Lavigne], and I just decided to poke further from there. I found a number of discussions in online forums about some of his work. I took that and I went to actual experts. I got them to review some papers and moved on from there."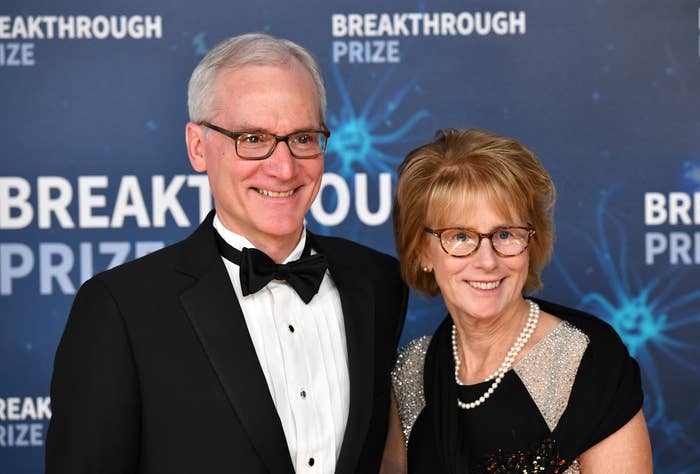 The same day as the story's publication, the university launched an investigation into Tessier-Lavigne's research and the seven years of alleged scientific misconduct detailed in the Stanford Daily's story.
"It was pretty astonishing," Stanford Daily editor-in-chief Sam Catania said. "I can't say I was expecting the board of trustees to act quickly." But the launch of the investigation, he said, "just became another news event for us." Baker continued to cover the story, revealing possible image manipulation in additional papers coauthored by Tessier-Lavigne. He also reported on calls for the university president to step down and the expansion of the group of individuals who would be investigating the allegations of scientific misconduct. (You can read all of the Stanford Daily's coverage here.)
On Feb. 17, three days before the Polk Award winners were announced, Baker published another massive story revealing accusations that Tessier-Lavigne had failed to make public findings of falsified data in a 2009 paper that identified a potential cause of brain degeneration in Alzheimer's patients (for which he was senior author).
His one in-person interaction with Tessier-Lavigne was brief, Baker said. He approached the university president shortly after sending him an email requesting comment for the story about the alleged cover-up of the falsified Alzheimer's data. "I walked up to him. I just said, 'Hi,' and he said, "Oh yes, yes. I have received your letter. I look forward to being in touch. I'm in a hurry.'
"I started to say something, and he closed his car door in the middle of my sentence," Baker continued. "And of course, he did not get back to us. His lawyer did."
Soon after the publication of the Alzheimer's story, Tessier-Lavigne sent a letter to Stanford faculty and staff attacking the student paper's reporting, calling it "replete with falsehoods."
Tessier-Lavigne's letter solidified Baker's conviction that his stories would never have been published if the Stanford Daily weren't an organization operating outside the control of the academic institution. (The paper celebrates the 50th anniversary of its independence from the university this year.) "The stakes are just too high," Baker said. "The person that we're writing about is literally in charge of all of us."
Both the Stanford Daily reporter and editor-in-chief shy away from questions about the impact that their investigation might have on Tessier-Lavigne's tenure as the university's president.
"We just want to report the facts and we want to get it right. That's what's most important to us," Catania said. "You know, whatever happens, if at the end of the day, we were fair, we were accurate, and we were thorough. To me, that will be 'mission accomplished' on the part of the Daily."
For his part, Baker said he just wants to get "to the bottom of exactly what happened." He added, "I try not to think too much about what's going to happen based on all of this. The thing that I've spent the most time thinking about is making sure we get it right, and making sure we get it as comprehensive as possible. I'm not in charge of making the judgments; other people will come to their conclusions. So my only job here is just to keep going and figure out what's actually there."
Baker, speaking to BuzzFeed News via video chat, smiled good-naturedly when asked about a hot topic in pop culture at the moment — nepo babies, and whether they owe their success to their established parents.
"I'm actually really lucky in the sense that I've had great role models," Baker said. "So yes, I have a huge leg up in that I know what good journalism looks like." His high-profile parents, however, are kept "entirely separate" from his work as a reporter. "I've always fought for my stories myself, edited and written them myself. Found my sources myself."
Many of his sources, he said, were unaware of his famous parents until after the Polk winners were announced. "I was really intent from the start with my parents — I very clearly delineated — that you are going to have no hand in this, and it's going to stay that way. And they've respected that, and I'm really happy about that because I do get to take ownership of this work."
Baker said, in fact, it was his late maternal grandfather's love of student journalism (whom Baker described as a "lawyer by trade but journalist by disposition") that drove him to join the Stanford Daily.
"Just before I started school, my grandpa passed away," Baker said. "He was really a phenomenal human being. I used to spend a lot of time with him, and I have never heard anyone in my entire life talk about student journalism as much as he did." Baker said that his grandfather would tell him stories about reporting, "and so when I came here, it just felt right to [join the paper] and do that in his memory."
Catania said the "nepo baby" conversation has made its way to on-campus discussions about Baker and his award-winning work. "It makes me sad," he said. "Theo is a phenomenal journalist on his own, full stop," he said. "I didn't even understand who his parents were when he reported his first story."
In at least one regard, Baker has distinguished himself from his mom and dad. "You know," Baker pointed out, "neither of my parents have won a Polk."
Correction: Tessier-Lavigne was accused of not revealing publicly that there was falsified data in the paper (for which he was the senior author). An earlier version of this story suggested that he falsified the data himself.