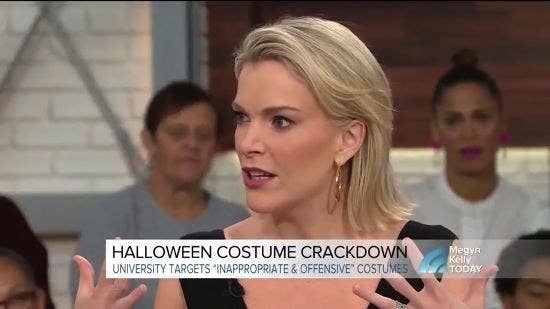 The cast of NBC's Today did not hold back their criticism of colleague Megyn Kelly's controversial remarks about blackface during a segment on the popular morning show on Wednesday.

To recap, Kelly suggested that blackface was acceptable "as long as you were dressing up as, like, a character" during a roundtable discussion with an all-white panel about Halloween costumes on her show Megyn Kelly Today on Tuesday morning.

Later that day, she issued an apology to her "friends and teammates" at NBC News for her remarks via email.

"It is uncomfortable, obviously, because Megyn is a colleague at NBC News," said Savannah Guthrie, following a packaged story about Kelly's remarks that included clips of blackface.

"Look, the fact is, while she apologized to the staff, she owes a bigger apology to folks of color around the country," Al Roker said. "Because this is a history going back to the 1830s minstrel shows to demean and denigrate a race — it wasn't right.

"I'm old enough to have lived through Amos 'n' Andy, where you had white people in blackface playing two black characters, magnifying the worst stereotypes about black people. And that's what the big problem is. That's what the issue is."

Craig Melvin, the show's news anchor, added that he felt if was "silly" and "disingenuous" to call the blowback "political correctness run amok," adding that "it's just as ignorant and racist as the statement itself."

"In addition to [Kelly] being a colleague, she's a friend," Melvin said. "She said something stupid. She said something indefensible. And the fact is, a lot of folks don't realize that Jim Crow — shorthand for the racist laws that existed in this country for much of the last century, especially in the Deep South — the term 'Jim Crow' is from a minstrel show in the 1830s.

"So, I guess it was an opportunity for us to learn a little bit more about blackface, but I think a lot of people knew about blackface before yesterday."

"You know, you know that no good comes of it," Roker agreed. "It's just not right."

Continuing the fallout internally, NBC News Chairman Andy Lack said during a town hall meeting with employees that there is "no place on our air or in this workplace" for Kelly's comments, the Daily Beast reported, citing a transcript that was provided by a source.

"There is no other way to put this, but I condemn those remarks," Lack reportedly said.

NBC News did not immediately respond to requests for comment or the transcript.