The man who forced his ex-girlfriend to walk naked down a New York City street while berating and filming her has been sentenced to two to seven years in prison, prosecutors announced Wednesday.

Jasson Melo, 26, was convicted of coercion, assault, menacing, endangering the welfare of a child, and aggravated harassment on Dec. 15.

"In this egregious case of domestic violence, Jasson Melo repeatedly assaulted the mother of his two-month-old child, forced her to walk outside in January naked, filmed his act of utter humiliation, and then disseminated it in a manner that caused it to go viral," Manhattan District Attorney Cyrus R. Vance said. "It is my hope that anyone who is suffering from domestic violence and abuse knows that there is help available."

On Jan. 17, 2016, at around 5 a.m., Melo entered the Harlem apartment he shared with his ex-girlfriend and their two-month-old daughter after a night out and began to argue with the woman about text messages she had received from another man, even though, as she later told authorities, their relationship was over and she was in the process of moving.

"Over the course of the next two hours the defendant struck the victim repeatedly on her face and body, punching her in the ribs, stomach, and genital area," prosecutors said in a statement. "He also threatened to throw her down the stairs and strike her with a statue."

At around 8 a.m., the ex-girlfriend told police Melo forced her to leave the apartment wearing only a towel and threatened to kill her if she did not comply. Melo then made her walk down West 142nd Street as he filmed her on his cell phone and berated her.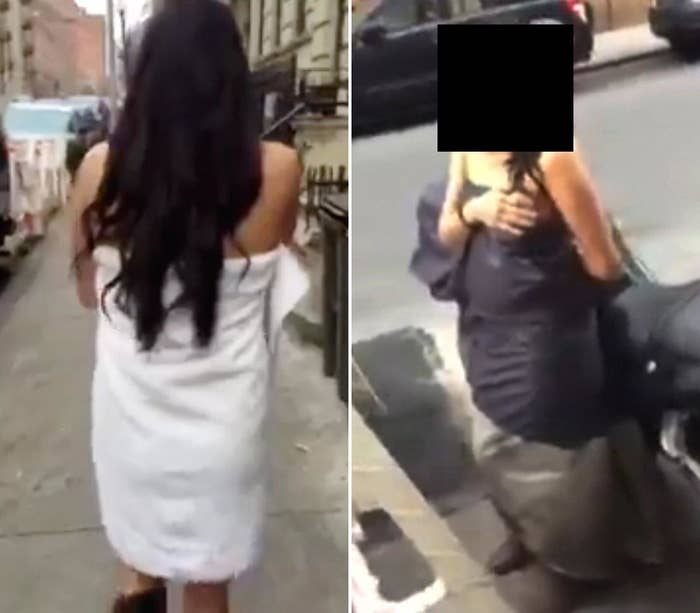 In the video originally posted to Instagram, Melo follows his ex-girlfriend as he forces her to walk down the street. At one point, as she passes garbage cans, Melo pulls the towel away from her, leaving her naked in frigid temperatures.
"You're going to pay the price like a whore, right there by the trash," he says in the now-deleted video. "Pose with your trash."

The ex-girlfriend, whose name has not been released by law enforcement, testified in December that she had to relocate to Florida after the video went viral on social media because she feared for her and her child's safety.

"I was devastated about everything. It was really hard," she testified. "It's still hard to get over it. It's something that I'm going to have to live with forever."