One of the most visible female ISIS members on Twitter is a woman who goes by the name Umm Khattab al-Britaniyyaa, and claims to be an 18-year-old from the United Kingdom. Recently, she has been posting on her blog about the death of her husband.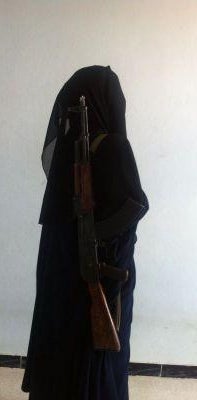 According to her account, Umm Khattab's husband was killed in Kobani on Oct. 27. She says they were married for four months and two weeks, but Umm Khattab has written that they only spent about two months of this time together.

On her blog, Umm Khattab describes the moment she heard of her husband's death.
On the 28th of October, a sister came to me and asked if my husband was Abu Khattab Al Swedi. I said, "yeah," and she said, "Mabrook [congratulations], he's shaheed [martyred]."

I didn't know how to react because I didn't believe it, so I laughed and was just like, "Really, LOL?" So when it hit me the sisters told me to do sujood, but I wanted to do It in my house. When I got home I did my sujood and all my emotions came out because it hit me that my husband had FINALLY made it, Inshallah after a more then a year in Shaam [Syria]. Although I was very happy for my husband, I was also sad because I wouldnt see him till akirah [the afterlife]."
Despite the short relationship, she writes that she deeply loved her husband.
Although I miss my husband dearly, I guess I'm learning to live with the fact his gone. He was my family, you know, my zawji [husband] and the dearest thing to me. It's the little things I will miss from him. Even though he wasn't with me for long I can truly say he took my heart.
Umm Khattab has been tweeting about her husband's death and her happiness and pride in him.
Her friends — who appear to be other women living in ISIS-controlled territory — have been tweeting their congratulations to her as well.