Ted Cruz's Hometown Paper Retracts Endorsement
UPDATE: The Houston Chronicle's editorial board has published a statement clarifying their stance on the senator from Texas. "Cruz has been part of the problem," writes the Houston Chronicle editorial board.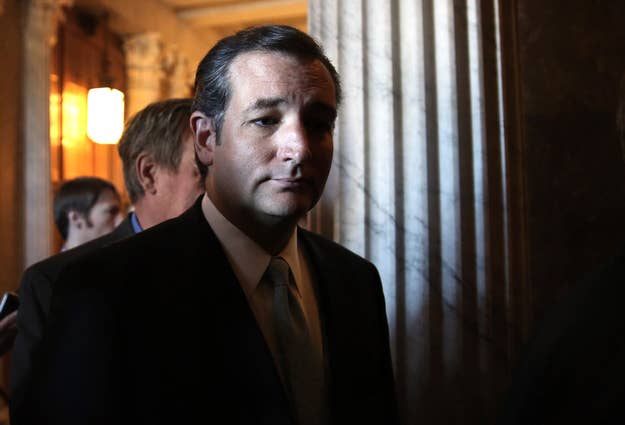 Sen. Ted Cruz's hometown newspaper, the Houston Chronicle, has retracted the endorsement it gave the politician in the November 2012 election. In a piece published today, the paper's editorial board wrote that it misses Cruz's predecessor, Republican Sen. Kay Bailey Hutchison.
"When we endorsed Ted Cruz in last November's general election, we did so with many reservations and at least one specific recommendation - that he follow Hutchison's example in his conduct as a senator," the Chronicle said. "Obviously, he has not done so. Cruz has been part of the problem in specific situations where Hutchison would have been part of the solution."
The editorial board wrote wistfully of Hutchison's influence and bipartisanship in Congress. "We miss her extraordinary understanding of the importance of reaching across the aisle when necessary. Neither sitting Texas senator has displayed that useful skill, and both the state and the Congress are the poorer for it."
"One reason we particularly believe that Hutchison would make a difference in these hectic days is that if she had kept her seat, Cruz would not be in the Senate."
Update - 6:20 p.m. ET: The Houston Chronicle has published a follow-up statement clarifying the position expressed in the editorial:
Some news outlets earlier today inaccurately characterized our Wednesday editorial offering tribute to the statesman-like ways of former U.S. Sen. Kay Bailey Hutchison. We did not pull our endorsement of U.S. Sen. Ted Cruz. Our references to Cruz served to provide context to the Hutchison tribute by emphasizing her ability to reach across the aisle when necessary. When we endorsed Cruz in October 2012, we also pointed to Hutchison as an exemplary role model for Texas lawmakers in Washington and suggested that he emulate the Texas statesmen who had come before him. Our editorial today simply referred back to that recommendation.

It is not unusual, and certainly not extraordinary, for newspaper editorial boards to constructively reflect on the tenures of elected officials whom the panel has endorsed and criticize their performances when we deem it necessary. Our evaluation of elected officials' work is an active, ongoing process. An endorsement does not preclude sharp criticism.
chron.com
Things surely would look far different with Sen. Hutchison in office in the nation's capital.