Updated – Tuesday, Dec. 2, 12:40 a.m.
As they took the field for Sunday's home game against the Raiders, several St. Louis Rams players raised their hands over their heads in the "Hands Up, Don't Shoot" gesture that has become the rallying cry of Ferguson protesters.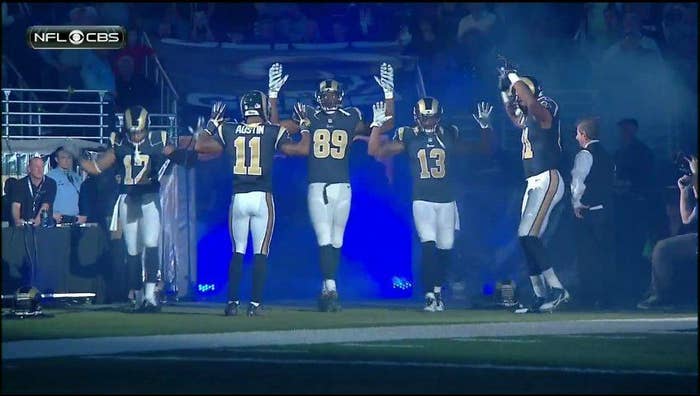 Players Tavon Austin, Stedman Bailey, Kenny Britt, Chris Givens, and Jared Cook made the sign as they ran onto the field.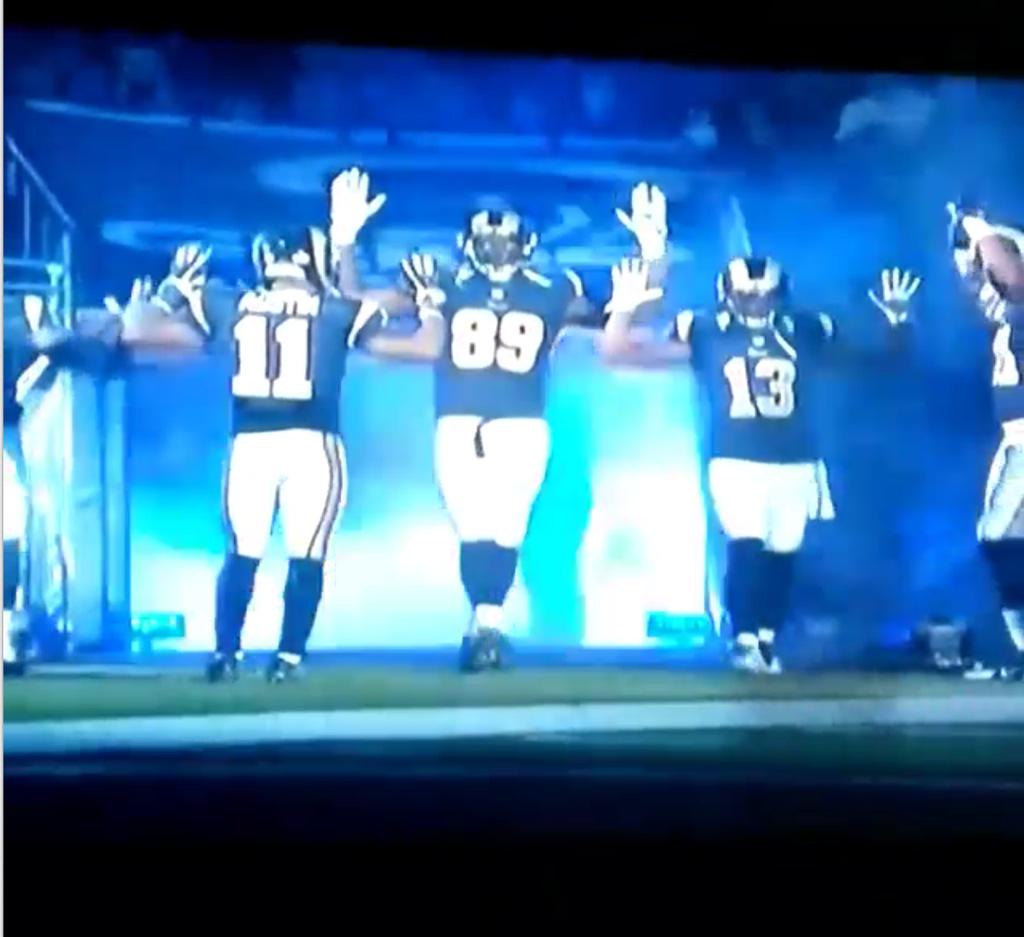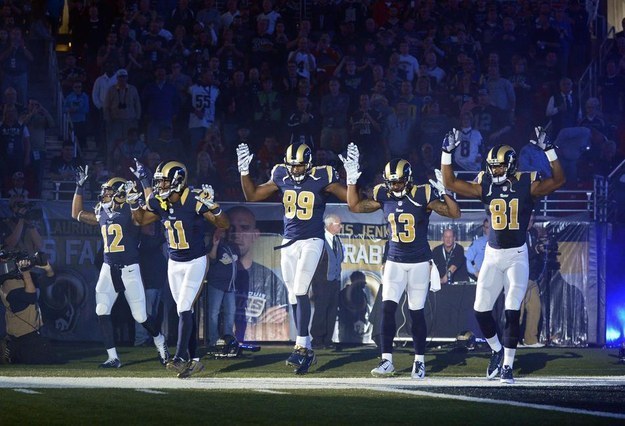 The team also took a moment during the National Anthem to show support for their community.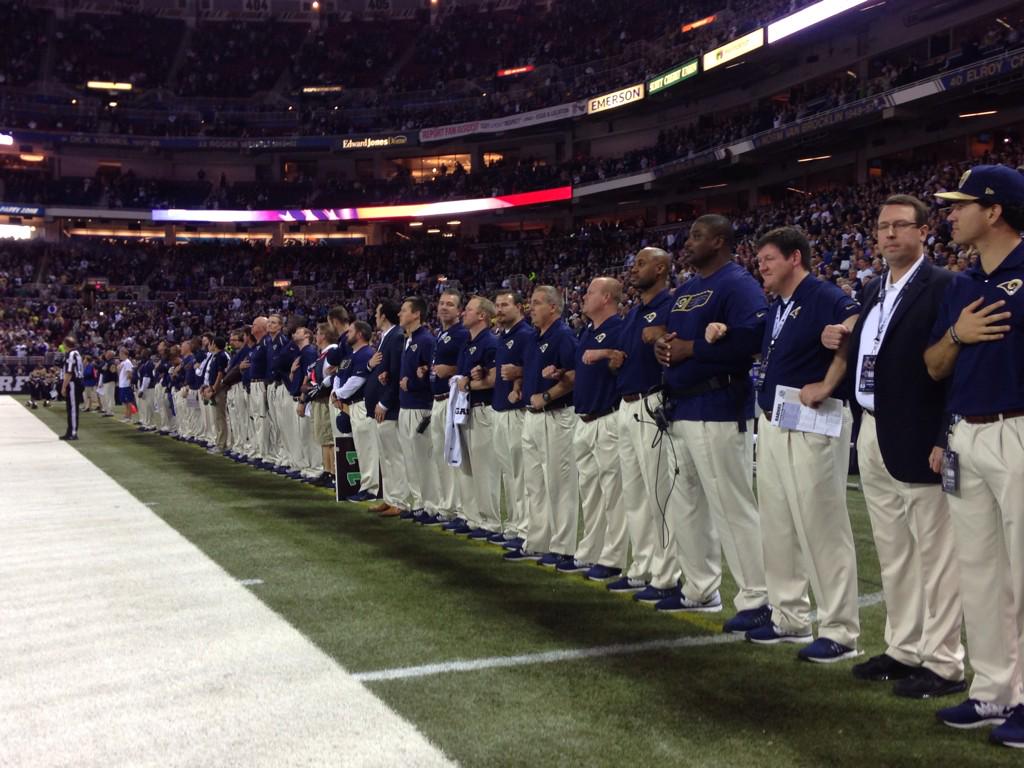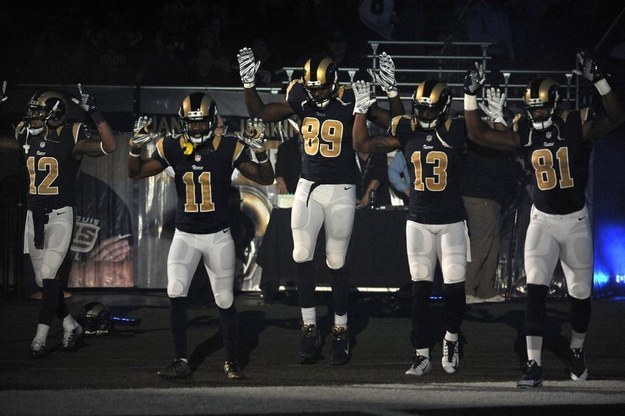 The St. Louis Police Officers Association is calling for the players to be disciplined and for the Rams to apologize.
The union released this statement, as KSDK-TV reported:
The St. Louis Police Officers Association is profoundly disappointed with the members of the St. Louis Rams football team who chose to ignore the mountains of evidence released from the St. Louis County Grand Jury this week and engage in a display that police officers around the nation found tasteless, offensive and inflammatory.

...

"The SLPOA is calling for the players involved to be disciplined and for the Rams and the NFL to deliver a very public apology. [SLPOA Business Manager Jeff] Roorda said he planned to speak to the NFL and the Rams to voice his organization's displeasure tomorrow.
Head coach Jeff Fisher told reporters Monday that he will have private conversations with the players, but they will not be disciplined for their actions.
It's my personal opinion, and I firmly believe, that it's important that I keep sports and politics separate. I'm a head coach. I'm not a politician, an activist or an expert on societal issues. So I'm going to answer questions about the game.
St. Louis Police and Rams disagree over "apology" for the gesture.
St. Louis Police Chief Jon Belmar said Monday a Rams executive apologized for players' "hands up" gesture before Sunday's game. In an email sent to staff, and obtained by the St. Louis Post-Dispatch, Belmar said Rams vice president of football operations, Kevin Demoff made the apology during a phone call.
Members of the Department,

I received a very nice call this morning from Mr. Kevin Demoff of the St. Louis Rams who wanted to take the opportunity to apologize to our department on behalf of the Rams for the "Hands Up" gesture that some players took the field with yesterday.

Mr. Demoff clearly regretted that any members of the Ram's organization would act in a way that minimized the outstanding work that police officers and departments carry out each and every day. My impression of the call was that it was heartfelt and I assured him that I would share it with my staff.

Thank you for your hard work, ... one night to go. Stay safe.

Belmar
The Rams executive later denied making the apology.
"In none of these conversations did I apologize for our players' actions," Demoff told the Post-Dispatch. "I did say in each conversation that I regretted any offense their officers may have taken. We do believe it is possible to both support our players' First Amendment rights and support the efforts of local law enforcement as our community begins the process of healing.
"Chief Belmar's assertion that our conversation was heartfelt is accurate, and I would characterize our conversation as productive. Our organization wants to find ways to use football to bring our community together," he said.
Taking issue with Demoff's assertion there was no apology, the St. Louis County police sent this tweet.