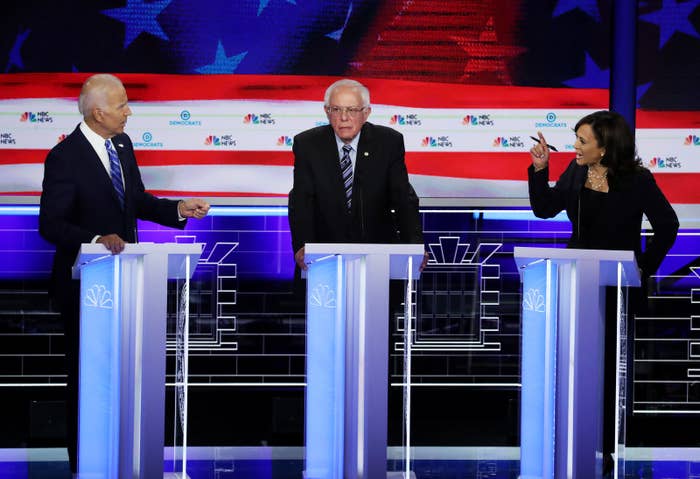 Sen. Kamala Harris and former vice president Joe Biden had a significant back-and-forth on Biden's record on race at Thursday night's debate — easily the most consequential moment of the two evenings so far.

"Vice president Biden, I do not believe you are a racist," Harris began, then lashed into Biden about his having worked with segregationist lawmakers on the issue of school busing — saying she personally was discriminated against. Biden defended himself and said busing was a local decision.

The moment set up Harris, and this isn't said lightly, as the clear winner of the debate. She had an empathetic response to the immigrant crisis, she stopped a generational squabble between two candidates, and she largely avoided attacks.

Biden, who went into the evening as the frontrunner, started with his usual cool composure but began to trip up under criticism from Harris, California Rep. Eric Swalwell, and the moderators asking him to defend parts of Obamacare and the Obama administration's immigration policies.

Mayor of South Bend, Indiana, Pete Buttigieg also didn't break through until he took responsibility for having a police force that isn't as diverse as his city, which is reeling after an officer killed a black man.


People became sort of obsessed with self-help author Marianne Williamson.

And, of course, here are the best tweets.
Harris took on Biden on his record on race. She started with, "I do not believe you are a racist..."
Sen. Kamala Harris particularly hit former vice president Joe Biden on his decision decades ago not to support a federal plan to use busing to integrate schools.
As a child in Berkeley, California, Harris said she was among the first black students to be taken by bus from their neighborhoods to attend what had been predominantly white schools. Though school segregation officially ended in 1954, communities across the US continued to effectively divide black and white children.
"I do not believe you are a racist. I agree with you when you commit yourself to the importance of finding common ground, but I also believe, and it's personal, and it was hurtful, to hear you talk about the reputations of two United States senators who built their reputations and career on the segregation of race in this country. It was not only that, but you also worked with them to oppose busing," Harris said.
"There was a little girl in California who was part of the second class to integrate her public schools and she was bused to school every day. That little girl was me. So I will tell you that on this subject, it cannot be an intellectual debate among Democrats. We have to take it seriously. We have to act swiftly," she added.

Biden said he believed the issue should have been up to individual communities, not the federal government.
"I did not oppose busing in America," he said. "What I opposed is busing ordered by the Department of Education."
The exchange was essentially Harris showing how she would take on Trump, BuzzFeed News reporter Molly Hensley-Clancy wrote.
Harris tweeted this after the exchange:

Sanders said taxes will go up for the middle class if he's elected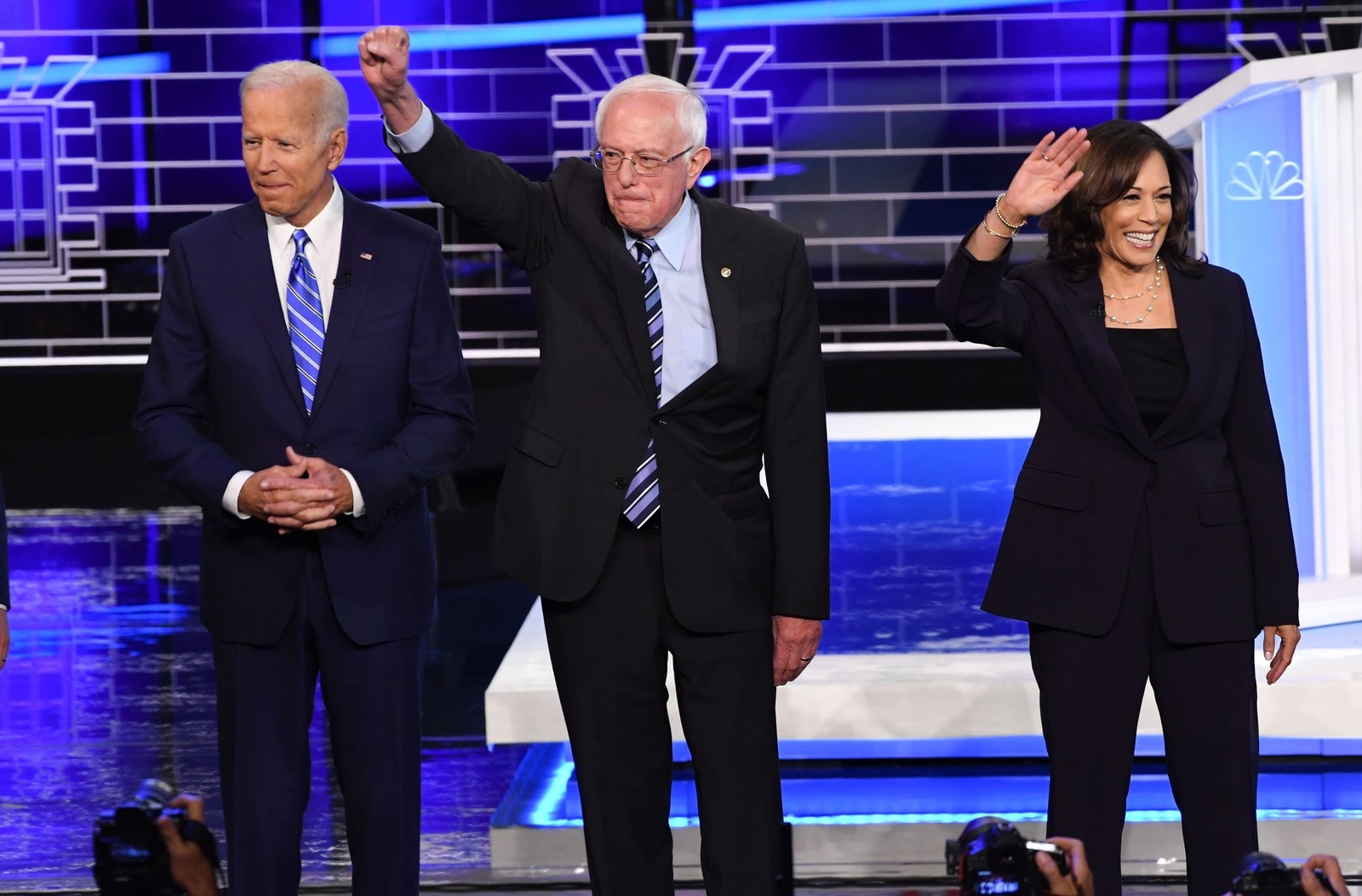 The first question of the night was to Vermont Sen. Bernie Sanders: "Will taxes go up for the middle class in a Sanders administration and if so, how do you sell that to voters?"
After a long answer that was pretty much his stump speech, the moderator asked the same question again. Sanders' answer:
People who have health care under Medicare for All will have no premiums, no deductibles and copayments, and no out-of-pockets. Yes, they will pay more in taxes and less in health care for what they get.
Question: Who would give up their private health insurance for a government-run plan? Answer: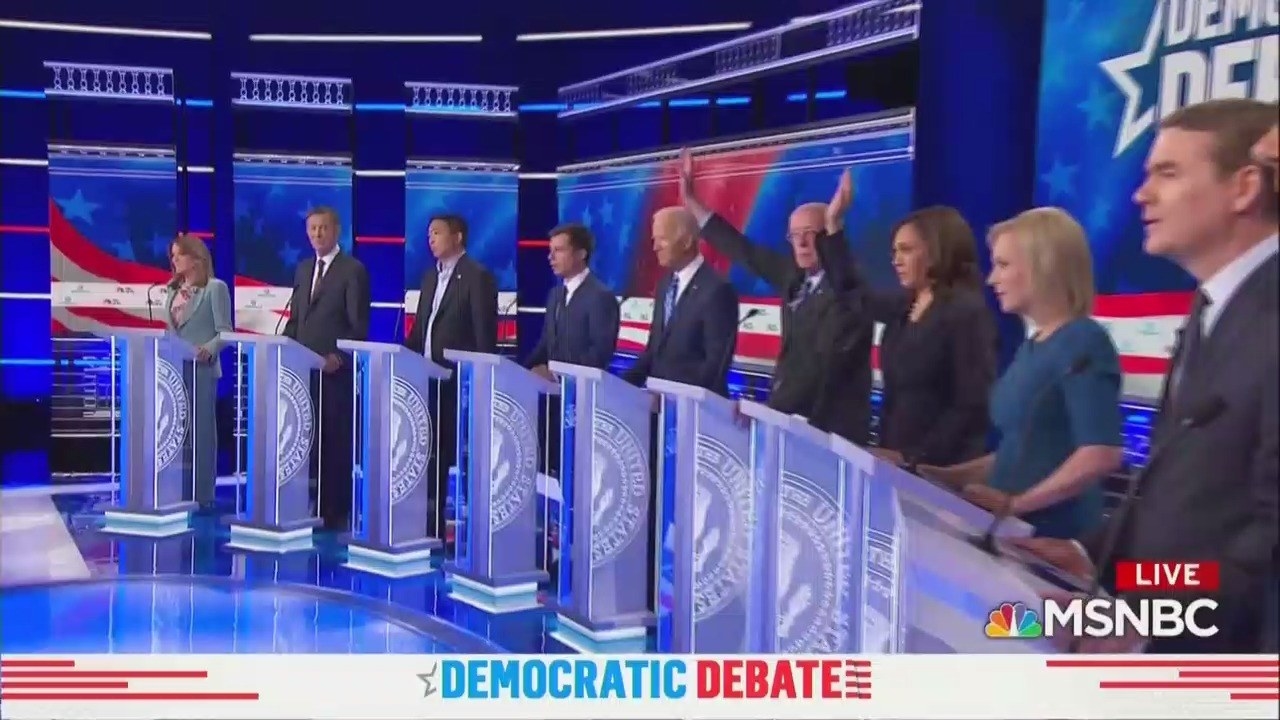 That was Sens. Bernie Sanders and Kamala Harris.
And a follow up: "Raise your hand if your government plan would provide coverage for undocumented immigrants."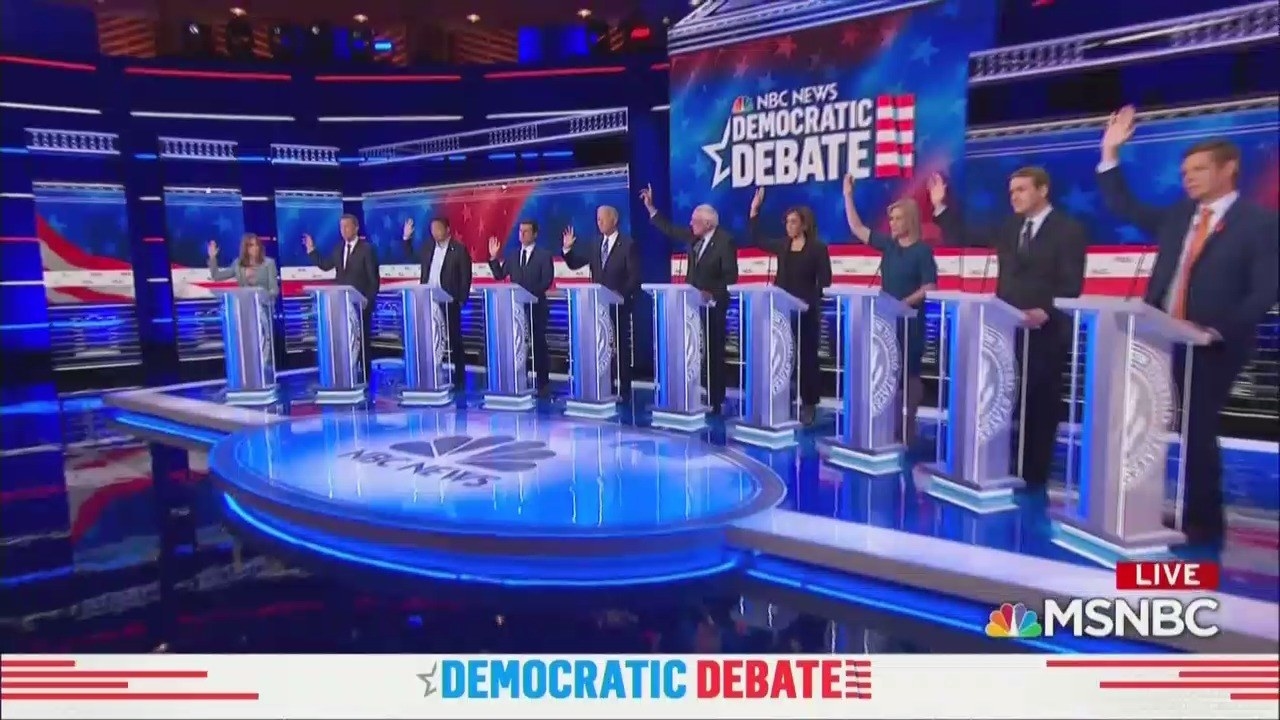 That's all the candidates.
As South Bend Mayor Pete Buttigieg put it, "our country is healthier when everybody is healthier."
"They pay sales taxes. They pay property taxes directly or indirectly. This is not about a handout," Buttigieg added. "This is an insurance program. And we do ourselves no favor by having 11 million undocumented people in our country be unable to access healthcare."
Biden agreed that "people who are sick, no matter where they come from, no matter what their status" should be covered. "You can't do that, it's got to be taken care of. Period."
"You have to, it's a human thing to do," he said, adding that undocumented immigrants "in fact, contribute to the well-being of the country."
Almost immediately, President Trump, who is attending the G-20 summit in Japan, responded on Twitter: "All Democrats just raised their hands for giving millions of illegal aliens unlimited healthcare. How about taking care of American Citizens first!? That's the end of that race!"
Candidates came out strong against President Trump's handling of the immigration crisis along the southern border.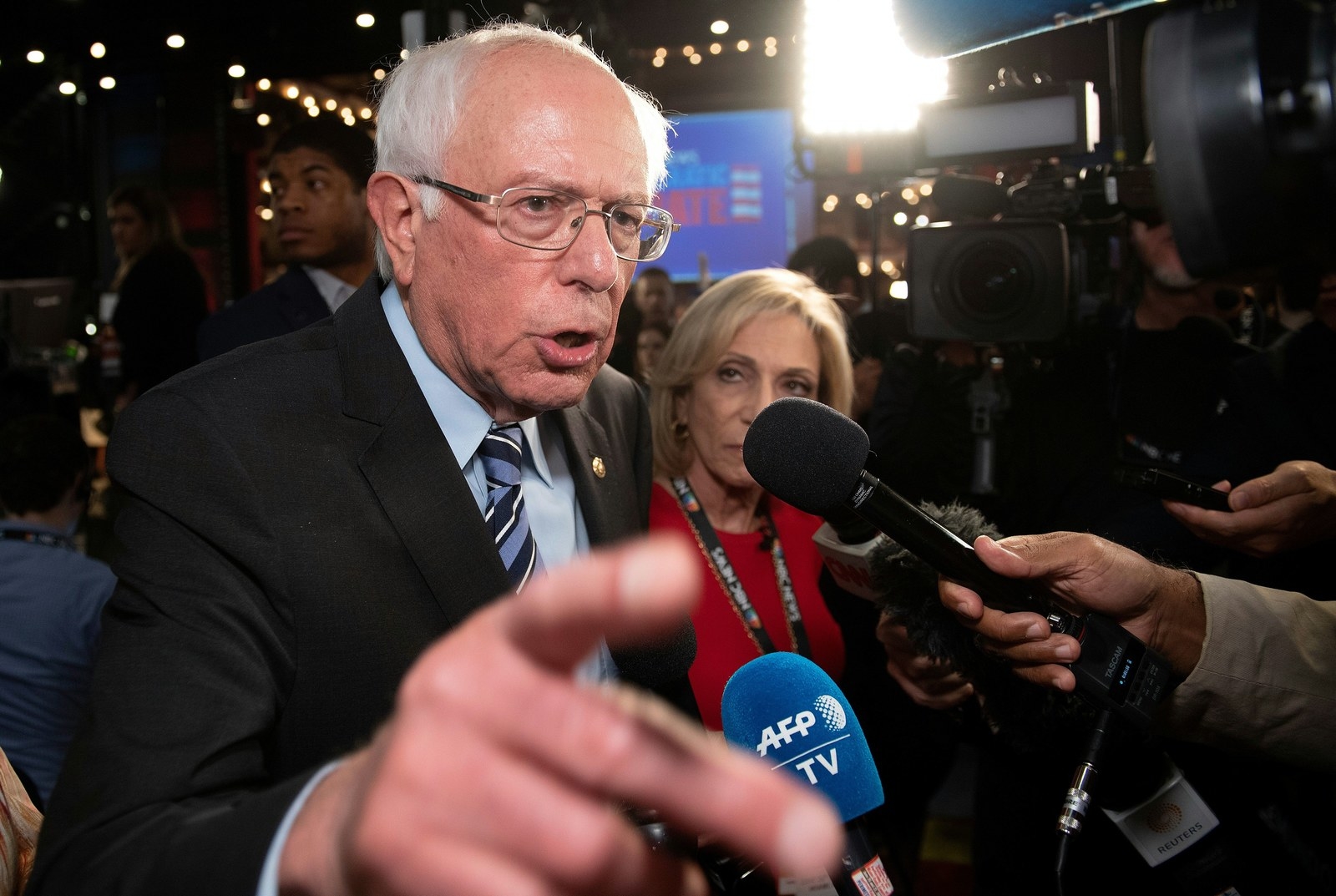 Candidates said that on their first day in the White House they would work to undo President Trump's policies for handling immigrants crossing over the souther border.
"I will release children from cages, I will get rid of the private detention centers, and I will ensure that this microphone that the president of the United States holds in her hand is used in a way that is about reflecting the values of our country and not about locking children up," Harris said.
Extending Deferred Action for Childhood Arrivals (DACA) for younger immigrants and protecting their parents from deportation would also be among the executive actions the senator from California said she'd take on day one.
Former Colorado Gov. John Hickenlooper also said he'd take aim at immigration on his first day, referencing the picture of the father and daughter who drowned trying to cross the Rio Grande, calling it a humanitarian crisis.
"We have to make sure we provide not just shelter, but food and clothing and access to medical care" to immigrants, he said.
Sen. Kirsten Gillibrand said she would immediately look toward immigration reform that offers a path to citizenship and making sure asylum-seekers are provided attorneys.
Sen. Bernie Sanders, meanwhile, offered one action aimed at the Trump administration.
"On day one," he said, "we take out our executive pen and we rescind every damn thing on this issue that Trump has done."
Question: What will be the first issue you tackle as president?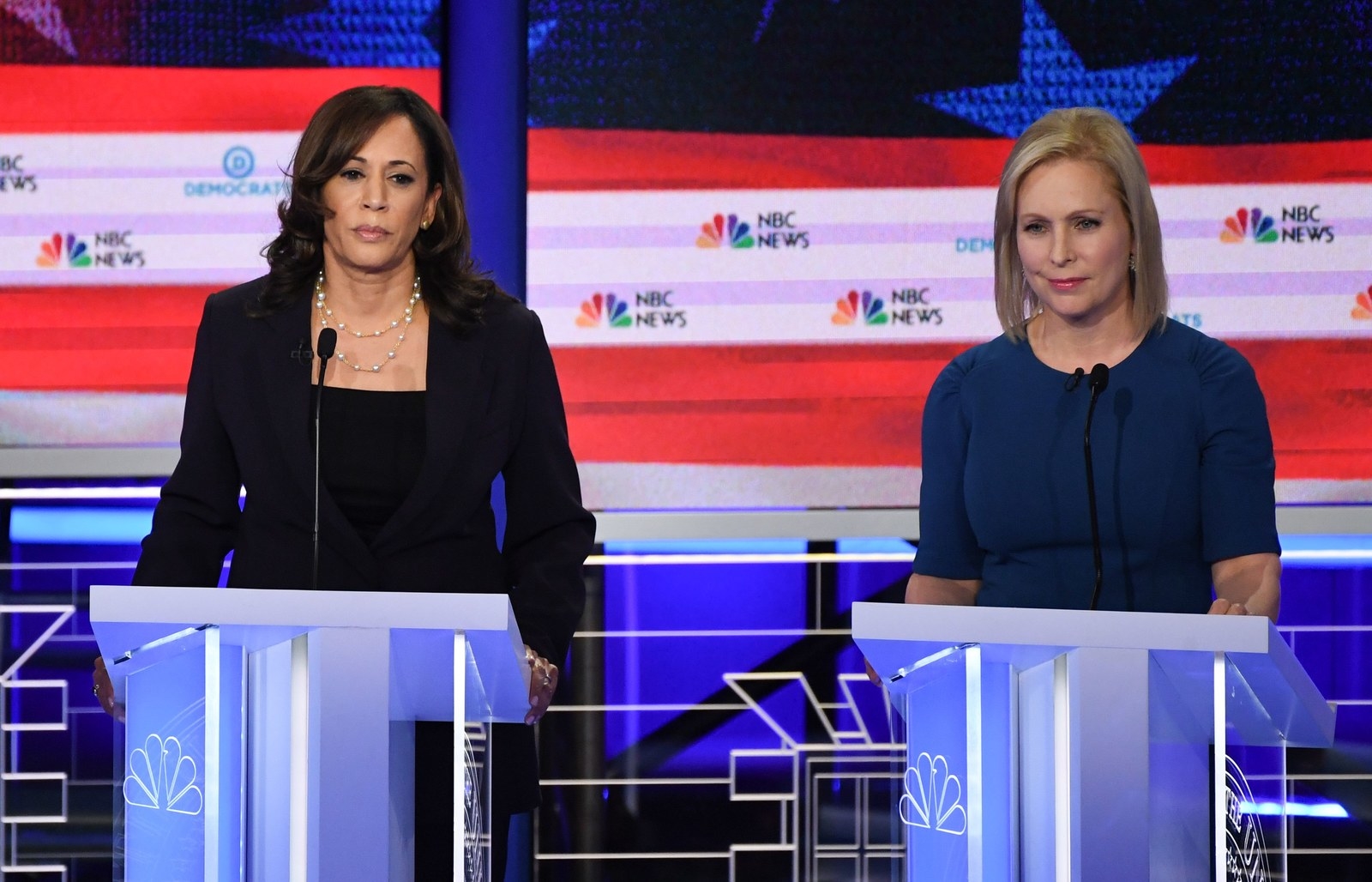 Eric Swalwell: "For Parkland, for Orlando, every community affected by gun violence — ending gun violence."
Michael Bennet: "Climate change and the lack of economic mobility Bernie talks about."
Kirsten Gillibrand: "Passing a family bill of rights that includes a national paid leave plan, universal pre-K, affordable daycare, and making sure that women and families can thrive in the workplace no matter who they are."
Kamala Harris: "So, passing a middle-class working families tax cut, DACA, guns."
Bernie Sanders: "The premise that there is one or two issues out there — this is an enormous crisis. We need a political revolution. People have to stand up and take on the special interests. We can transform this country."
Joe Biden: "I think you are so underestimating what Barack Obama did. He's the first man to bring together the entire world, 196 nations to commit to deal with climate change ... But the first thing I would do is make sure that we defeat Donald Trump, period."
Pete Buttigieg: "We got to fix our democracy before it's too late. Get that right, climate, immigration, taxes, and every other issue gets done."
Andrew Yang: "I would pass a $1,000 Freedom Dividend for every adult at age 18, which would speed us up on climate change — if you get the boot off people's throats, they'll focus on climate change much more clearly."
John Hickenlooper: "I would do a collaborative approach to climate change and I would pronounce it well before the election so we don't reelect the worst president in American history."
Marianne Williamson: "My first call is to the prime minister of New Zealand, who said her goal is to make New Zealand the best place in the world for a child to grow up. But I would tell her, 'Girlfriend, you are so on,' because the United States of America is going to be the best place in the world for a child to grow up."
Buttigieg said his city's police force should be more diverse — and he got hammered over an officer-involved shooting.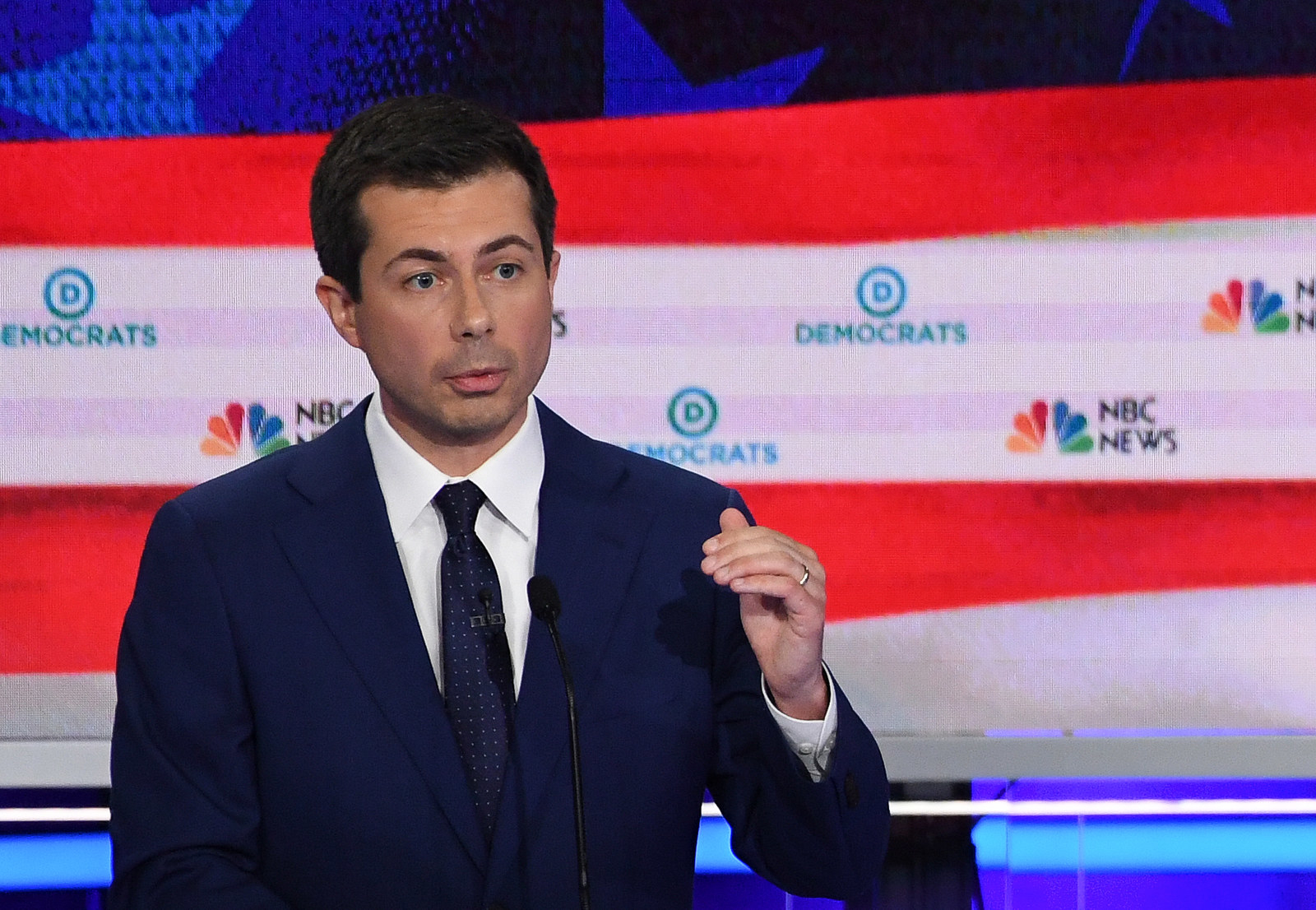 Here was the question: "In the last five years, civil rights activists led a national debate over race and the criminal justice system. Your community of South Bend, Indiana, has recently been in uproar over an officer-involved shooting. The police force in South Bend is now 6% black in a city that is 26% black. Why has that not improved over your two terms as mayor?"
Buttigieg: "Because I couldn't get it done. My community is in anguish right now because of an officer-involved shooting. A black man, Eric Logan, killed by a white officer. And I'm not allowed to take sides until the investigation comes back. The officer said he was attacked with a knife, but he didn't have his body camera on. It's a mess. And we are hurting. I could walk you through all of the things we have done as a community. All of the steps we took, from bias training to deescalation, but it didn't save the life of Eric Logan. And when I look into his mother's eyes, I have to face the fact that nothing that I say will bring him back."
Swalwell jumped in: "If the camera wasn't on...you should fire the chief."
Buttigieg: "So under Indiana law this will be investigated. And there will be accountability for the officer involved."
Swallwell: "But you are the mayor, you should fire the chief. If that's the policy and someone died."
As BuzzFeed News reporter Addy Baird wrote in this definitive piece, Buttigieg's comments are "a side step of responsibility that has activists and black leaders in the city seriously frustrated with their mayor, and one that demonstrates the gap between the story Buttigieg is selling on the campaign trail and the realities at home."

Swalwell also told Biden he's from an older generation and that he should "pass the torch."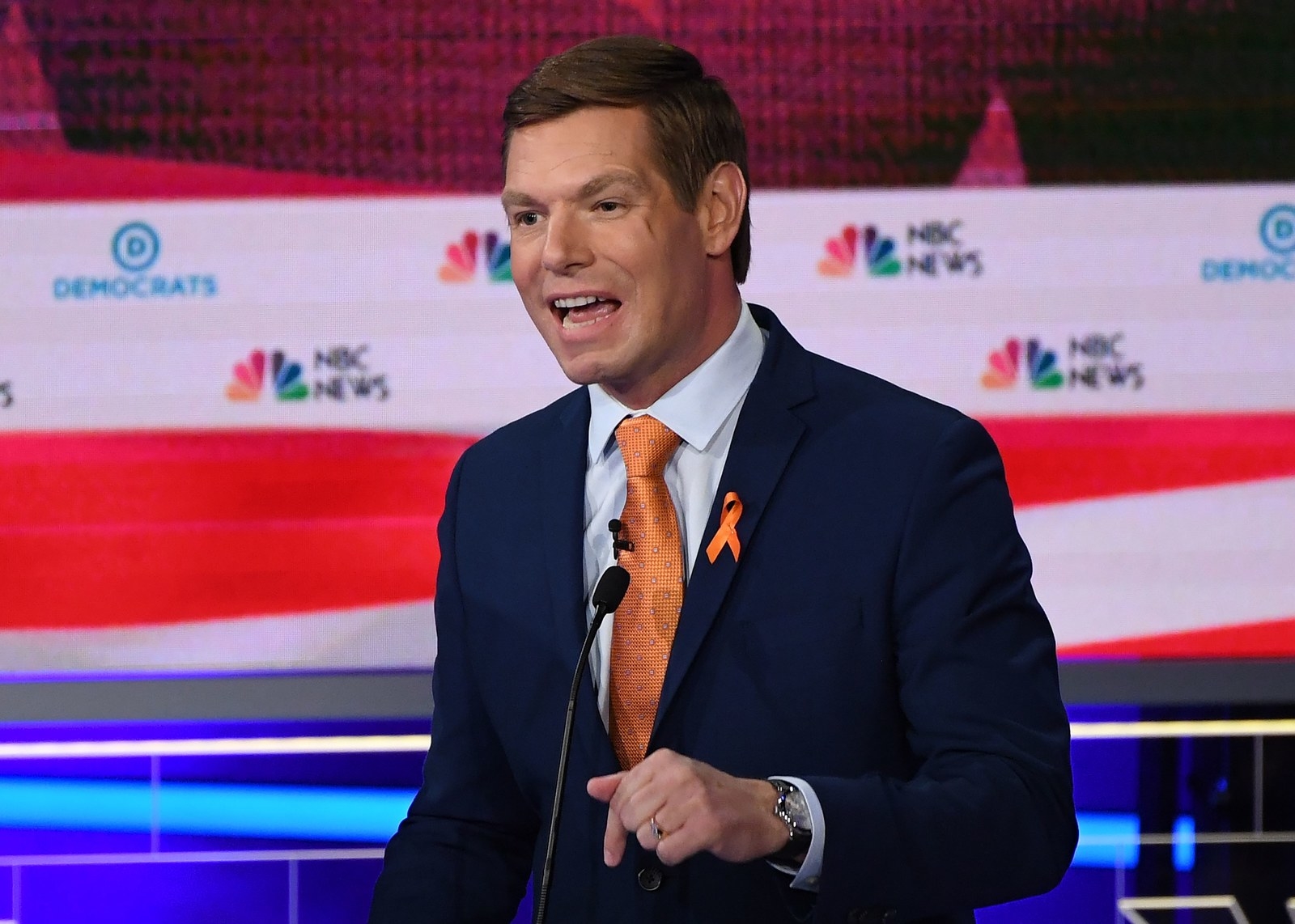 Rep. Eric Swalwell urged the older politicians onstage to "pass the torch" to the younger generation, quoting a line from vice president Joe Biden's campaign speech at the 1987 California State Democratic Convention.

"I was 6 years old when a presidential candidate came to the California Democratic Convention and said it's time to pass the torch to a new generation of Americans," Swalwell said. "That candidate was then-senator Joe Biden."
"Joe Biden was right when he said that 32 years ago. He is still right today. If we are going to solve the issues, pass the torch. If we are going to solve climate chaos, pass the torch. If we want to end gun violence and solve student debt, pass the torch."
"I'm still hanging on to that torch," Biden quipped. Here's the moment:
As the moderators tried to move on to the next question for Sen. Kamala Harris, South Bend Mayor Pete Buttigieg asked to contribute to the generation question, "as the youngest guy on the stage," while Vermont Sen. Bernie Sanders argued that politicians from his and Biden's generation had the "guts" and acumen to solve the country's problems.

Harris's face said it all:
Harris then brought the stage to order before answering the question addressed to her. "America does not want a food fight," she told her fellow candidates. "They want to know how we'll put food on their table."
There was a LOT more about Trump than Wednesday night.
Here's a small sampling of comments from very early in the evening. Trump loomed large for the rest of the night.
Bernie: "American people understand that Trump is a phony. Trump is a pathological liar and a racist and that he lied to the American people during his campaign."

Biden: "Donald Trump thinks Wall Street built America. Ordinary middle-class Americans built America … I would be going about eliminating Donald Trump's tax cut for the wealthy."
Harris: "Republicans and Donald Trump passed a tax bill that benefits the top 1% and the biggest cover corporations contributing to the debt of America, which middle-class families will pay for one way or another. Working families need support and need to be lifted up, and frankly, this economy is not working for working people."
The self-help speaker and bestselling author — here's BuzzFeed News reporter Katherine Miller's definitive profile of her — had quite a night.
In her first answer, it appeared as though her health care plan is to not have a health care plan: "I'll tell you one thing, it's really nice if we have all these plans, but if you think we beat Donald Trump by having all these plans, you got another thing coming. He didn't win by having a plan. He just said, make America great again. We have to get deeper than superficial fixes, as important as they are."
But, later in the night, some of her comments about race ushered in the most consequential back-and-forth of the two nights of the debate, when Harris and Biden squared off.
"The underlying cause has to do with deep, deep rounds of racial injustice in the criminal justice system and economic system and the Democratic Party should be on the side of reparations for slavery for this very reason," Williamson said. "I do not believe that the average American is a racist, but the average American is woefully undereducated by the history of race in the united States."
And later, when directly addressing Trump: "I'm going to harness love for political purposes. I will meet you on that train, and sir, love will win."
In short: