This is The Royal Tea, BuzzFeed News' newsletter where you get royal family news and analysis, served piping hot. Sign up here.

Buckingham Palace has released never-before-seen photos of the Queen, Prince Philip, and their great-grandchildren. Philip, the Duke of Edinburgh, died Friday at the age of 99. In a photo posted to the Royal Family's Twitter account on Wednesday, the Queen and Philip are shown with seven of their great-grandchildren.

The image was taken in 2018 by Catherine, the Duchess of Cambridge (aka Kate Middleton). Philip and the Queen, his wife of 73 years, welcomed three new great-grandchildren in the three years since this photo was taken.
Here's who's seated in the photo, from left to right:
Prince George of Cambridge; the Queen, holding Prince Louis of Cambridge; Princess Charlotte of Cambridge; Philip; Mia Tindall, holding Isla Phillips Tindall; and Isla Phillips. Isla's sister Savannah Phillips is pictured standing behind the couch.
The official BuzzFeed News royal succession chart shows the Mountbatten-Windsor family tree, if you're curious about the extended royal family.
In another photo, posted by Kensington Palace, the royal great-grandparents are shown in 2015 with Prince William (aka the Duke of Cambridge), Kate, and their children Prince George and Princess Charlotte. Their third child, Prince Louis, was born April 23, 2018.
This isn't the first time we've seen pictures of the Queen with her great-grandchildren. In 2016, the monarch posed a series of pictures to mark her 90th birthday, shot by renowned photographer Annie Leibovitz.
In one of the three images released to the public, the Queen is shown with her then-five great-grandchildren and her two youngest grandchildren.
Here's who's who, from left to right:

James, Viscount Severn (grandchild); Lady Louise (grandchild); Mia Tindall, holding the Queen's purse; the Queen, holding Princess Charlotte of Cambridge; Savannah Phillips; Prince George of Cambridge; and Isla Phillips.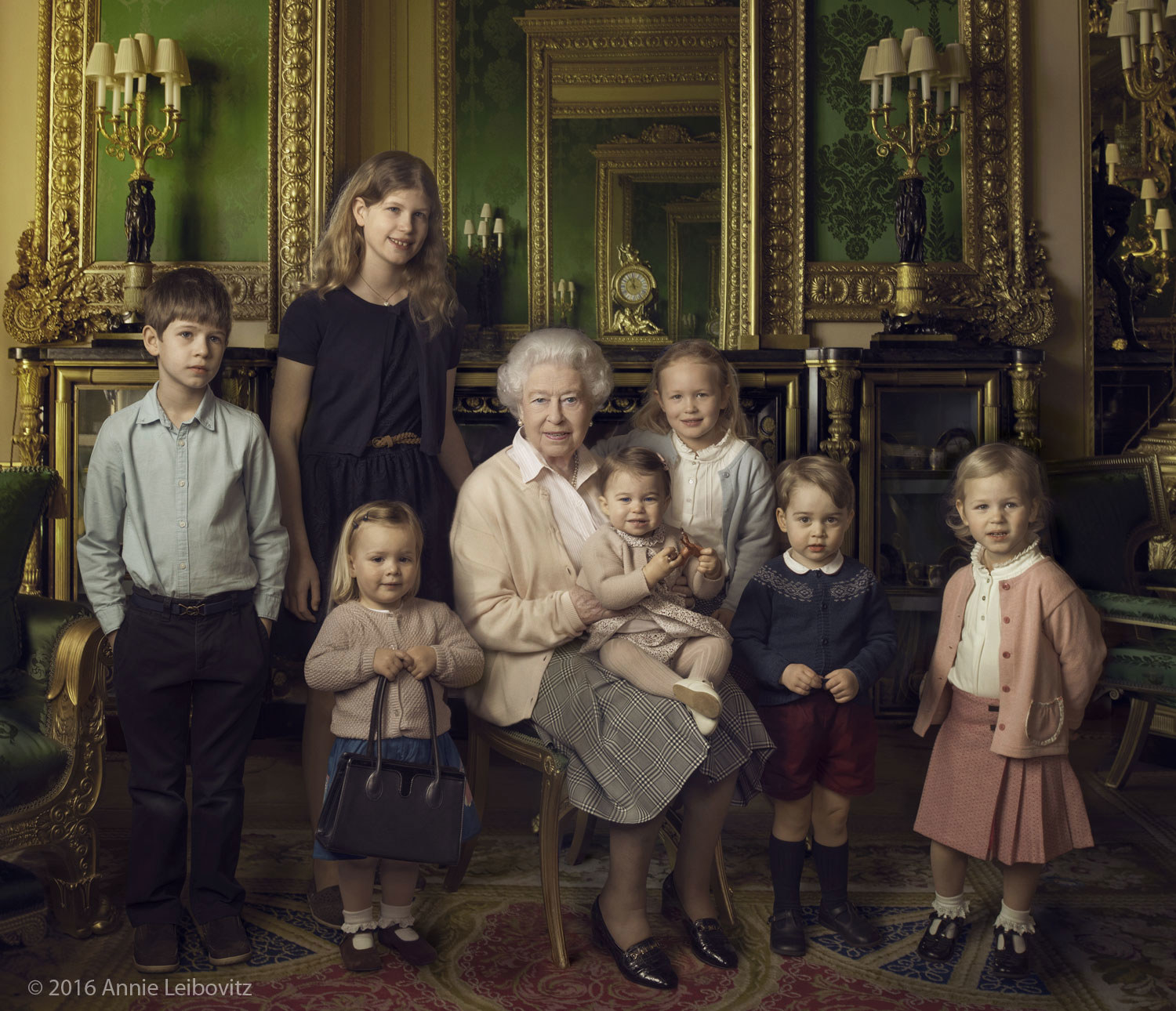 In 2019, the Palace released a photo of the Queen and Philip meeting their eighth great-grandchild, Archie Harrison Mountbatten-Windsor.
The picture shows Archie's mother, Meghan, the Duchess of Sussex, (aka Meghan Markle) showing her son to the royal couple. Meghan's mother, Doria Ragland, and husband Harry, Duke of Sussex (aka Prince Harry).
On Monday, alongside a statement from William about his grandfather's death, Kensington Palace released another never-before-seen photo of Philip and George seated together in a horse-drawn carriage.
"I will never take for granted the special memories my children will always have of their great-grandpa coming to collect them in his carriage and seeing for themselves his infectious sense of adventure as well as his mischievous sense of humor," William said.