In his memoir Spare, published Tuesday, Prince Harry accused his father, stepmother, and their press teams of being responsible for unfavorable — and inaccurate — stories about other members of the royal family making their way to the UK media.
Specifically, Harry blames Charles and Camilla for planting the story that his then–future wife Meghan Markle made Catherine, the Duchess of Cambridge, (aka Kate Middleton) cry in the days before their wedding in May 2018. (Both Harry and Meghan insist that it was the other way around — that Kate made Meghan cry but apologized the next day with a note and flowers.) Later in the book, however, he hints that his father and stepmother were responsible for feeding a far more damaging story to the UK press: the rumor that his brother Prince William was having an affair.
This backstabbing behavior among Mountbatten-Windsor family members and their staff is one of the book's constant themes, but the Duke of Sussex makes a point of singling out his father's longtime girlfriend-turned-wife Camilla Parker-Bowles as being the worst offender.
From her very first official meetings with Prince William (now the Prince of Wales) and Harry in 1998, he writes, Camilla was "play[ing] the long game, a campaign at marriage and eventually the Crown" — using friendly members of the press to further her cause.
"Stories began to appear everywhere, in all the papers, about her private conversation with Willy, stories that contained pinpoint accurate details, none of which had come from Willy, of course," Harry writes. "They could only have been leaked by the one other person present. And the leaking had obviously been abetted by the new spin doctor Camilla had talked Pa into hiring."
But later in Spare's pages, Harry hints that in addition to leaking conversations, his father and Camilla purposefully gave damaging false stories about the Sussexes and the Cambridges to favored members of the press.
The story about Meghan making Kate cry, first published in the Telegraph on Nov. 26, 2018, and quickly picked up by the British tabloids, was a turning point in the Sussexes' relationship with the Palace, Harry writes in Spare, because everyone knew it wasn't true and yet none of the royal family's press teams were willing to correct the record.
In Spare, the Duke of Sussex describes a meeting between himself, Meghan, William, and Kate, shortly after the story's publication, wherein they try to figure out who could have given the inaccurate story to the Telegraph.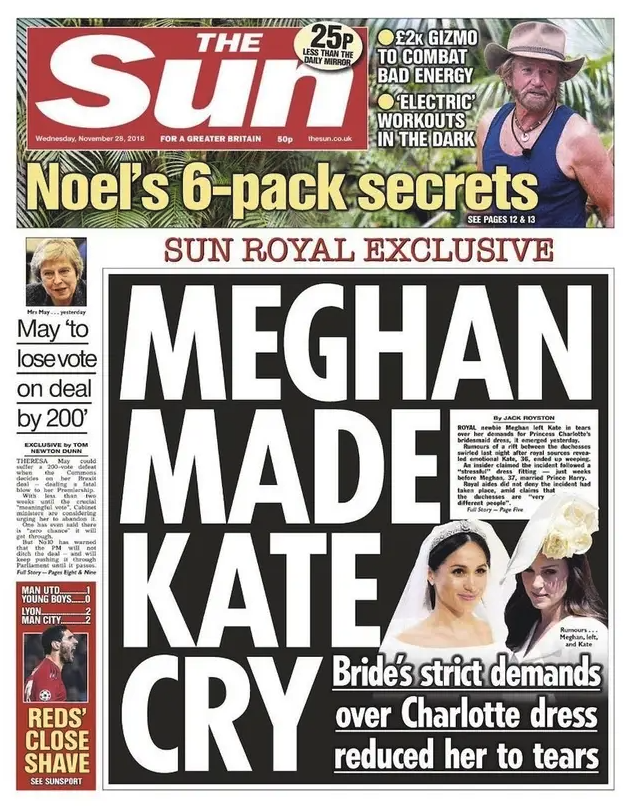 "Who could've planted such a thing? Who could've leaked it to the press in the first place? Who?" Harry writes. "We went around and around. The list of suspects became vanishingly small."
"Finally, finally, Willy leaned back and conceded that, ahem, while [Harry and Meghan] had been on tour in Australia, he and Kate had gone to dinner with Pa and Camilla… and, alas, he said sheepishly, he might've let it slip that there'd been strife between [the Sussexes and the Cambridges]…"
"I put a hand over my face. Meg froze. A heavy silence fell. So now we knew. I told Willy: You… of all people… should've known… He nodded. He knew."
A year later, Harry writes, it was William's turn to be the victim of a story that he and his brother believed originated in Charles and Camilla's press offices.
"Towards the end of April 2019, days before Meg was due to give birth, Willy rang," Harry writes. "Something had happened between him and Pa and Camilla. I couldn't get the whole story, he was talking too fast, and was way too upset. He was seething actually. I gathered that Pa and Camilla's people had planted a story or stories about him and Kate, and the kids, and he wasn't going to take it anymore. Give Pa and Camilla an inch, he said, they take a mile. They've done this to me for the last time. I got it. They'd done the same to me and Meg as well."
In April 2019, there was one particularly damaging story that was circulating on gossip blogs, and going viral on Twitter: William allegedly cheated on Kate. The rumor began with a story in the Sun, published March 22, 2019, claiming that Kate had a "falling out" with a "rural rival" named Rose Hanbury (aka the Marchioness of Cholmondeley). This story — which has now been scrubbed from Sun's website — was followed by a Daily Mail piece published two days later claiming that the piece was false and that both Rose and Kate were considering legal action. Reading between the lines, people began to suspect that this was the UK press's way of hinting that William and Rose had been romantically involved.
The American gossip magazine In Touch picked up the story and reported the alleged affair on its cover in an early April 2019 edition. And then, on April 9, 2019, the Daily Beast published a story titled "Prince William's Lawyer Tries to Suppress Rumors of Affair," reporting that William and his legal team were sending threatening letters to UK media outlets warning them against publishing the rumors.

In Spare, Harry specifies that he and William didn't suspect Charles and Camilla specifically of planting the story, but instead a member of their media team.
"It wasn't them, technically," Harry writes. "It was the most gung-ho member of Pa's comms team, a true believer who'd devised and launched a campaign of getting good press for Pa and Camilla at the expense of bad press for us. For some time this person had been peddling unflattering stories, fake stories, about the Heir and Spare, to all the papers."
Harry says that he and William confronted their father about this individual and her actions.
"Willy put it to Pa: How can you be letting a stranger do this to your sons? Pa instantly got upset. He began shouting that Willy was paranoid. We both were. Just because we were getting bad press, and he was getting good, that didn't mean his staff was behind it. But we had proof. Reporters, inside actual newsrooms, assuring us that this woman was selling us out. Pa refused to listen."