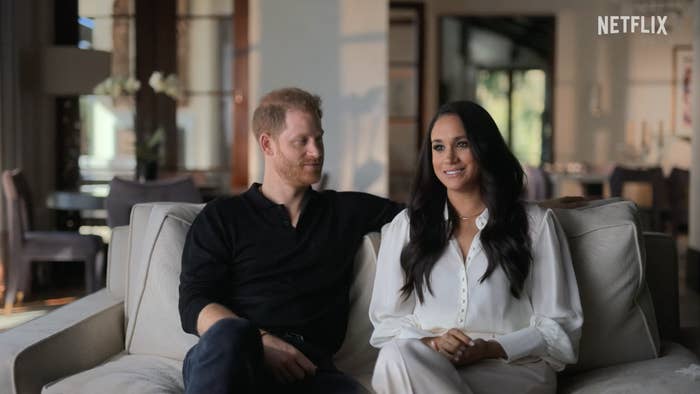 The upcoming Netflix docuseries about Prince Harry and Meghan, the Duke and Duchess of Sussex, has been criticized for including in its trailers stock footage of photographers in a way that suggests they're invading the couple's privacy.
The first full-length trailer for Harry & Meghan dropped on Monday (after a teaser was released on Dec. 1), and eagle-eyed Twitter users were quick to point out that some of the clips of photographers ostensibly taking photos of the Sussexes were in fact videos from unrelated news events where other individuals were the subject of the media's attention.
At 44 seconds into Monday's trailer, a video is shown of photographers swarming a vehicle — so many photographers that it's impossible to see who the person entering the car actually is. The clip comes right after Harry and Meghan are shown seated in a car, looking out the rear window, so the logical conclusion is that the Sussexes are the ones being mobbed by the paparazzi. Not so. The video footage was actually taken on May 6, 2019, and it shows Michael Cohen, onetime personal lawyer to former US president Donald Trump, getting into a car to be transported to prison. Footage of photographers trying to get a shot of Cohen is also shown at the trailer's 50-second mark, right before a video of Princess Diana covering her face from paparazzi.

At approximately 49 seconds into Monday's trailer, Harry and Meghan are shown walking in front of a barricade as cameras flash. The trailer then cuts to footage of a group of photographers rushing to take pictures. As it turns out, the video of the photographers wasn't from a royal event. A search of Getty Images confirms that the video in the Netflix clip was taken outside of a UK court as model Katie Price arrived to be sentenced for drunk driving on Dec. 15, 2021. Twitter user @Urban_Pictures also noted that the 2021 footage had been flipped horizontally.
A second look at the teaser released Dec. 1 reveals another example of footage from unrelated events being used to depict the press focus on the Sussexes. At 31 seconds into the teaser, a picture of dozens of photographers pointing their lenses at an unseen subject is shown. It was taken at the premiere of Harry Potter and the Deathly Hallows: Part 2 on July 7, 2011.
Excluding all of the footage from unrelated events, one particular clip from Monday's trailer was called out by multiple journalists for being misleading. The footage in question appears 22 seconds into the trailer and shows photographers leaning over a balcony to capture pictures of Harry, Meghan, and their baby son Archie, who is being held in his mother's arms.
In a tweet, Evening Standard royal reporter Robert Jobson attacked the trailer for seemingly using the footage as an example of press intrusion, stating that it was taken during an official royal event that a small group of reporters had been given permission to attend.
"We were covering an official visit where they had taxpayer funded protection and all the trappings," Jobson said in a follow-up tweet. "This is just nonsense. The palace was not part of some 'set up'. No conspiracy here, just lies, and misuse of photos taken from [official photographs]."
Chris Ship, a royal reporter for ITV, agreed with Jobson, retweeting his fellow journalist's remarks and adding that the access granted to the small media group was "highly controlled."
When a Twitter user replied to Jobson that "[the footage is] not meant to be literal, it just conveys the vibe, chill," Ship responded, "Truth is also important."
In fact, many royal family fans pointed out that neither trailer actually shows Harry or Meghan being targeted by the press, as they describe in the trailer's voiceovers. In fact, some pointed out the irony of Monday's trailer including two different shots of Catherine, the Princess of Wales, (then known as royal girlfriend Kate Middleton) being followed down a street by members of the press. It fails to show any video of Meghan or Harry in a similar situation.
Harry & Meghan consists of six episodes and will be released in two parts, Netflix said Monday. The first three episodes are out on Thursday; the final three will drop Dec. 15.