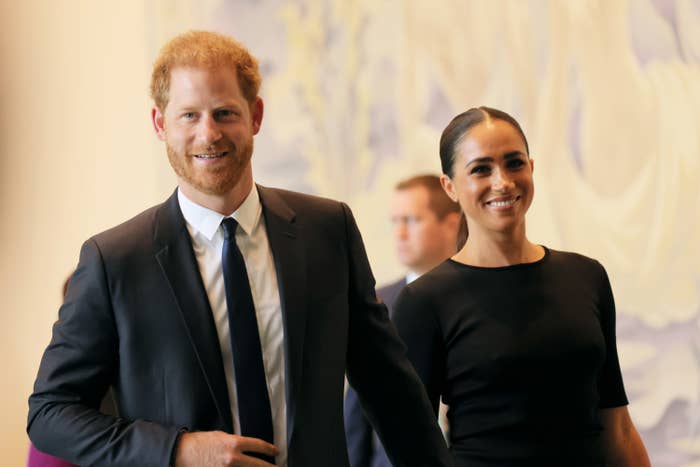 Prince Harry and Meghan, the Duchess of Sussex (aka Meghan Markle), were eager to give a home to a dog who was rescued from a breeding facility that shut down over alleged animal abuse and immediately connected with the 7-year-old beagle when they met her, a Los Angeles–based rescue organization told BuzzFeed News.
"[Harry and Meghan] really impressed me," said Shannon Keith, the president and founder of the Beagle Freedom Project, in an interview Thursday. "Their energy was so loving and sweet." She identified the Sussexes' new canine companion as a 7-year-old beagle named Mamma Mia, who was rescued alongside her eight puppies. (A spokesperson for the duke and duchess confirmed the adoption when BuzzFeed News reached out for comment.)
Keith said that, earlier this month, she received an email asking if she had time for a call with a "VIP donor," and she agreed without knowing the person to whom she'd be talking. The duchess called her personally, but only identified herself as "Meghan" — and Keith said that she had to Google "Meghan actress Montecito" after the call to figure out who she'd been talking to. Despite not knowing exactly who was on the phone, Keith told BuzzFeed News that she immediately connected with Meghan during that first conversation.
"I was enthralled by her," she said. "The entire time I was thinking, Whoever this person is, she's amazing, she's our people."
The Sussexes' new pup is one of 4,000 beagles rescued from an Envigo RMS LLC facility in Cumberland, Virginia. The Indianapolis-based company breeds and sells animals for use in biochemical and pharmaceutical scientific research, and the US government filed suit against it in May, alleging egregious violations of the Animal Welfare Act. The lawsuit was filed after five US Department of Agriculture inspections of the facility during the period from July 2021 to March 2022.
In July, the Justice Department secured a court order forcing the company to permanently shut down and turn over all of the canines housed at the breeding facility to the Humane Society, which then launched an interstate campaign to find homes in coordination with shelters and rescue organizations around the country. The Beagle Freedom Project is one of those organizations.
Keith said that although Meghan set up the call with the Beagle Freedom Project to talk about animals already listed as being available for adoption on the foundation's website, she was very interested when Keith told her that they were in the process of adopting nine dogs from the Envigo facility.
"She knew about Envigo, and when she heard about [Mia and her puppies] she said, 'Oh my goodness, we would love to adopt the mother,'" Keith told BuzzFeed News. "Nobody ever wants to adopt the mother."
"[Meghan] is somebody who wants to rescue those who are in the most need of care," she said.
The inspection reports from the Envigo facility — particularly the two from the first inspection in July 2021 — reveal the horrors of Mia's early life.
The USDA reported that in a seven-month period, more than 300 puppies died of unknown causes — and the facility took no steps to determine why these young dogs died in order to prevent future deaths. Records revealed that animals with easily treated conditions were often euthanized instead of being given care. Insects and insect larvae of all types were found living in food that was left out for the animals. The enclosures where the dogs were kept were overcrowded and in such horrible condition, the report said, that inspectors observed animals whose paws and legs were trapped in the cracked and damaged flooring of their pens. The inspection report also notes that the temperature within buildings where the dogs were kept nearly reached 90 degrees during the five hours that government officials were on the premises, causing the animals to experience "discomfort, lethargy, and stress." (Envigo employees said the air conditioning was broken, the report noted.)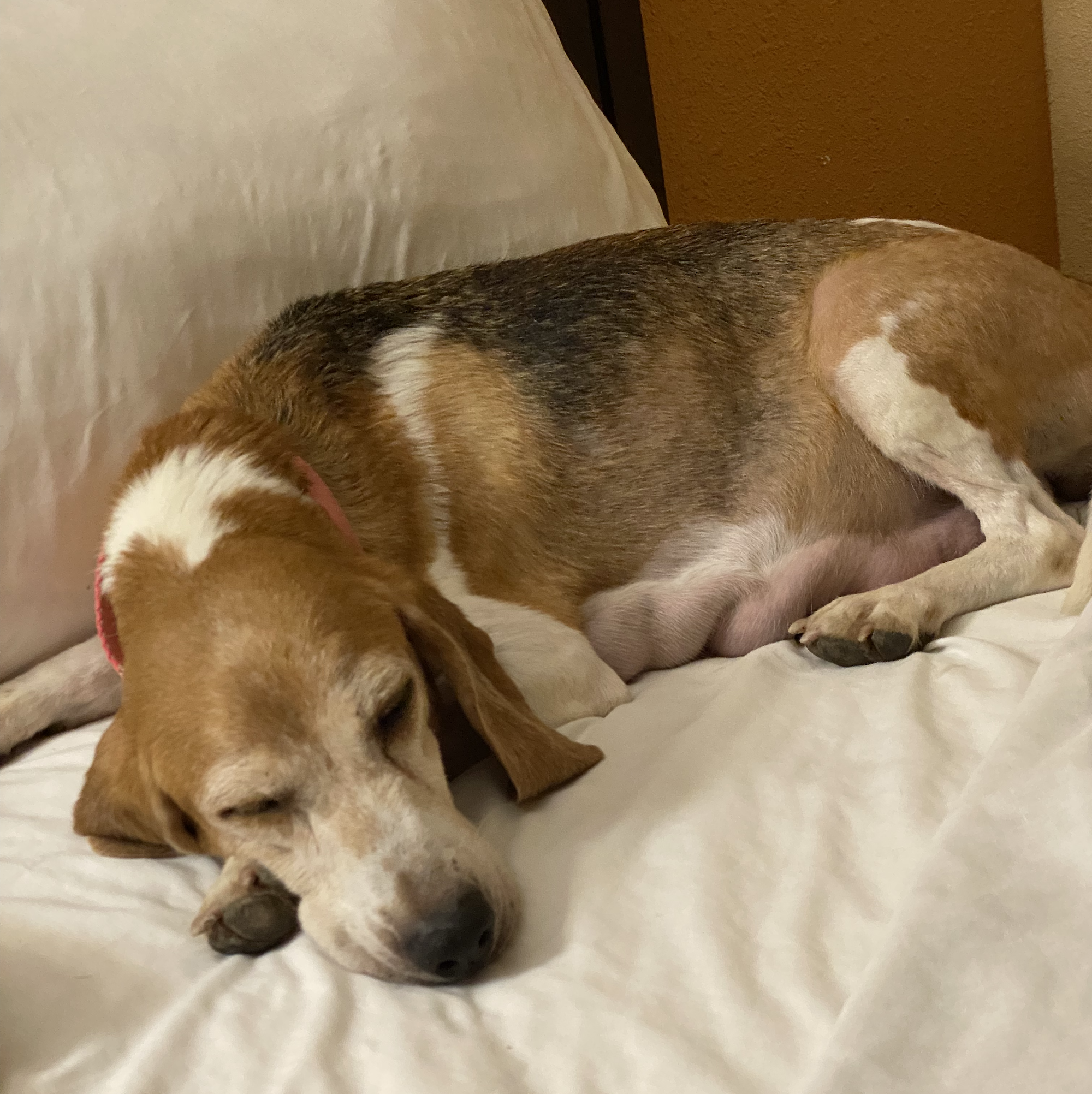 When Keith and Meghan spoke earlier this month, Keith said Meghan said her family felt "settled" in Montecito and wanted to bring another dog into their life. They talked about the family's other two rescue dogs (Guy, also a beagle, and Pula, a black Labrador retriever) and flock of chickens, which were rescued by Meghan from a slaughterhouse. In that first conversation, Keith said, she knew Meghan was "the real deal" and was "super stoked" at the possibility of her adopting from their organization.
"I've been doing this so long, I have a stringent process for fosters and adopters," Keith said. "I work off [my] gut as well. When I meet people, I just know. This is going to work out or not work out."
Her gut feeling proved right when the duke and duchess made a "low-key and casual" visit to LA on Aug. 11 to meet Mia, Keith said.
"I fell in love with them when they came here," she said.
There was an immediate connection between Mia and the Sussexes, she said, and, within seconds of walking in, the duchess passed one of Keith's potential adopter "tests" by getting down on the floor to greet the dog.
"Mia just ran to them, something she'd never done — she's pretty subdued, she's been traumatized — and Meghan immediately just got on the floor with her and was giving her love," Keith said.
When Harry sat down on a couch, she added, "Mia ran right over to him, put her paws on his knees, and looked into his eyes." Keith said that Harry had done his research and peppered her and fellow volunteer Malina Shirley, who drove Mia and her puppies from the East Coast to California, with questions.
"He asked about the lump on her chin, if it needed a biopsy, her loves, her dislikes," Keith said. "It was really heartwarming, it was everything you'd want [a potential adopter] to ask and then some."
Shirley told BuzzFeed News that she knew it was "something special" and "meant to be" as soon as Harry and Meghan walked into the house. "Mamma Mia was so super excited, just so happy."
The Sussexes spent some time in the yard with Mia on her own, Keith said, and when Meghan came back into the house, she was carrying the dog in her arms. "That was it," Keith said.
After finalizing the adoption, the couple were about to leave with Mia when Harry stopped because the dog was sniffing around the building in the backyard where the rescue dogs are housed.
"He said, 'We can't leave yet, there's something [in there] that she wants, does she have a favorite toy or something?'" Keith said. "He was so adamant that Mamma Mia [wanted] something in that back house," Shirley added.
They all entered the building and Mia immediately went to a container full of dog toys. "I tipped the toy box and she dug her little nose in," Shirley said. She rooted around until she found a fox toy that Shirley had given her on their cross-country trip to California. "She walked outside, and she was so proud of herself," she said.
Harry was delighted, Keith said. "He said, 'I knew it, I knew she wanted something in this room. Now we can go home because she has her toy.'"
"It was so sensitive and intuitive," she said. "At that point, I knew she's going to have the best home."