In an interview with Italian newspaper La Stampa, Pope Francis addressed recent criticisms of his first apostolic exhortation, "Evangelii Gaudium," in which he criticized capitalism and other trickle-down economic theories, saying they do not actually help the poor.
"Some of the passages in the 'Evangelii Gaudium' attracted the criticism of ultraconservatives in the USA," the interviewer said. "As a Pope, what does it feel like to be called a 'Marxist'?" The leader of the Catholic Church responded, "The Marxist ideology is wrong. But I have met many Marxists in my life who are good people, so I don't feel offended."
When asked about his description of a economy that "kills," Pope Francis clarified that, surprisingly enough, nothing he had said in 'Evangelii Gaudium' deviated from Church teaching. "There is nothing in the Exhortation that cannot be found in the social Doctrine of the Church," he said. "I wasn't speaking from a technical point of view, what I was trying to do was to give a picture of what is going on. The only specific quote I used was the one regarding the 'trickle-down theories' which assume that economic growth, encouraged by a free market, will inevitably succeed in bringing about greater justice and social inclusiveness in the world."
"The promise was that when the glass was full, it would overflow, benefitting the poor," he continued. "But what happens instead, is that when the glass is full, it magically gets bigger, nothing ever comes out for the poor. This was the only reference to a specific theory. I was not, I repeat, speaking from a technical point of view but according to the Church's social doctrine. This does not mean being a Marxist."
For reference, here are the passages from the pope's "Evangelii Gaudium" that reference what he describes as an "economy of exclusion":
Just as the commandment "Thou shalt not kill" sets a clear limit in order to safeguard the value of human life, today we also have to say "thou shalt not" to an economy of exclusion and inequality. Such an economy kills. How can it be that it is not a news item when an elderly homeless person dies of exposure, but it is news when the stock market loses two points? This is a case of exclusion. Can we continue to stand by when food is thrown away while people are starving? This is a case of inequality. Today everything comes under the laws of competition and the survival of the fittest, where the powerful feed upon the powerless. As a consequence, masses of people find themselves excluded and marginalized: without work, without possibilities, without any means of escape.

Human beings are themselves considered consumer goods to be used and then discarded. We have created a "throw away" culture which is now spreading. It is no longer simply about exploitation and oppression, but something new. Exclusion ultimately has to do with what it means to be a part of the society in which we live; those excluded are no longer society's underside or its fringes or its disenfranchised – they are no longer even a part of it. The excluded are not the "exploited" but the outcast, the "leftovers".

In this context, some people continue to defend trickle-down theories which assume that economic growth, encouraged by a free market, will inevitably succeed in bringing about greater justice and inclusiveness in the world. This opinion, which has never been confirmed by the facts, expresses a crude and naïve trust in the goodness of those wielding economic power and in the sacralized workings of the prevailing economic system. Meanwhile, the excluded are still waiting. To sustain a lifestyle which excludes others, or to sustain enthusiasm for that selfish ideal, a globalization of indifference has developed. Almost without being aware of it, we end up being incapable of feeling compassion at the outcry of the poor, weeping for other people's pain, and feeling a need to help them, as though all this were someone else's responsibility and not our own. The culture of prosperity deadens us; we are thrilled if the market offers us something new to purchase. In the meantime all those lives stunted for lack of opportunity seem a mere spectacle; they fail to move us.
And here's an example of criticism from an "ultraconservative in the USA," to quote the La Stampa interviewer, via Rush Limbaugh: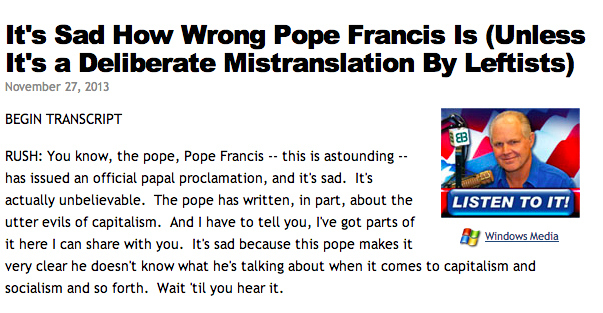 "If it weren't for capitalism, I don't know where the Catholic Church would be. Now, as I mentioned before, I'm not Catholic. I admire it profoundly, and I've been tempted a number of times to delve deeper into it. But the pope here has now gone beyond Catholicism here, and this is pure political...

I gotta be very careful. I have been numerous times to the Vatican. It wouldn't exist without tons of money. But regardless, what this is, somebody has either written this for him or gotten to him. This is just pure Marxism coming out of the mouth of the pope."
lastampa.it
In this exclusive interview, Pope Francis speaks about Christmas, hunger in the world, the suffering of children, the reform of the Roman Curia, women cardinals, the Institute for the Works of Religion (IOR), and the upcoming visit to the Holy Land.