Pope Francis Meets With Sudanese Woman Who Escaped Execution For Her Christian Faith
Mariam Ibrahim and her children — including her infant daughter, who was born in a Sudanese jail — were blessed by the pontiff after fleeing Sudan.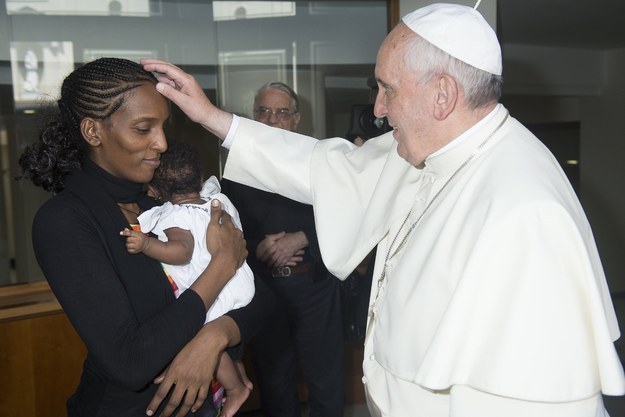 Miriam Ibrahim, a Christian Sudanese woman who was spared a death sentence for apostasy after international outcry, met with Pope Francis Friday after arriving safely in Italy with her family.
Vatican spokesperson Father Federico Lombardi said that the 30-minute audience in the pope's residence was marked by "affection" and "great serenity and joy." Lombardi told Catholic News Service that Ibrahim and Pope Francis had "a beautiful conversation." The pope thanked the 26-year-old woman — who is Catholic — for "her steadfast witness of faith," and Ibrahim thanked the pontiff for the church's prayers and support during her ordeal.
Ibrahim was convicted of apostasy in Sudan and sentenced to death by hanging after she refused to renounce her Christian faith. She was also sentenced to 100 lashes for adultery as a result of marrying a Christian man.
The conviction was based on a Sudanese law that requires children to follow their father's faith. Although Ibrahim's father was Muslim, her mother, who predominantly raised her, is an Orthodox Christian. Ibrahim converted to Catholicism in 2011 shortly before she married Daniel Bicensio Wani.