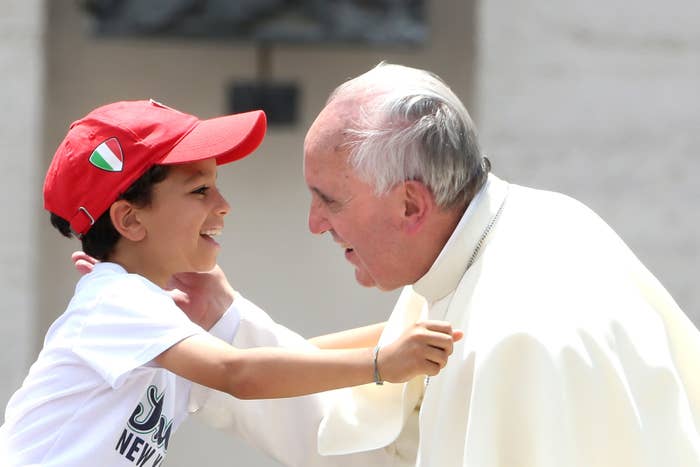 Pope Francis added his voice to those criticizing the Trump administration for its "zero tolerance" immigration policy, which has resulted in children being separated from their families at the United States border.

In an interview with Reuters published Wednesday, the leader of the Catholic church said that "populism" and "creating psychosis" is not the answer to the world's immigration problem.

"It's not easy, but populism is not the solution," he said.

The pope also said that he stands behind the United States Conference of Catholic Bishops, which has released two statements this month condemning the practice of separating immigrant families.

"I am on the side of the bishops conference," he said. "Let it be clear that in these things, I respect [the position of] the bishops conference."

In a statement released June 1, Rev. Joe Vásquez, the chair of the USCCB Committee on Migration and bishop of Austin said that separating families goes against Catholic values and the teachings of the Bible.

"Forcibly separating children from their mothers and fathers is ineffective to the goals of deterrence and safety and contrary to our Catholic values. Family unity is a cornerstone of our American immigration system and a foundational element of Catholic teaching," he said.

"My brother bishops and I understand the need for the security of our borders and country, but separating arriving families at the U.S./Mexico border does not allay security concerns."

Twelve days later, the USCCB released a more strongly worded statement by Cardinal Daniel DiNardo, the organization's president and archbishop of Galveston-Houston, specifically condemning the "continued use of family separation at the US/Mexico border as an implementation of the Administration's zero tolerance policy."

"Our government has the discretion in our laws to ensure that young children are not separated from their parents and exposed to irreparable harm and trauma," he said.

"While protecting our borders is important, we can and must do better as a government, and as a society, to find other ways to ensure that safety. Separating babies from their mothers is not the answer and is immoral."
The pope also tweeted messages with the hashtag #WithRefugees early Wednesday morning.