Pope Francis Criticizes Catholic Church's Past Focus On Social Issues
Warns that the church must "find a new balance" or fall.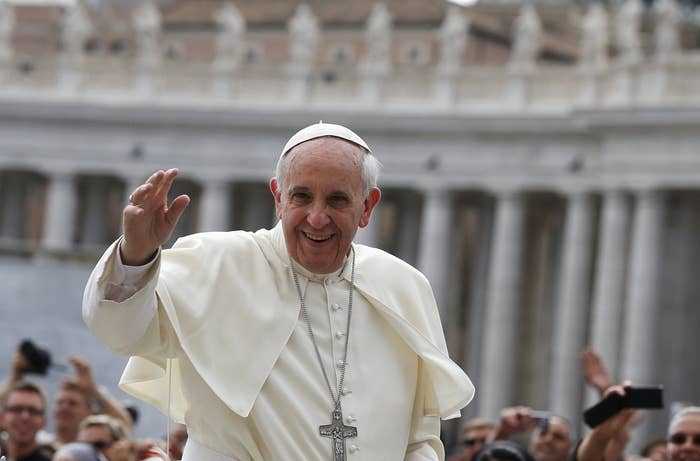 In his first in-depth interview, Pope Francis addressed why, unlike his predecessor, he has chosen to focus on social justice in his first year, instead of social issues such as abortion, birth control, and same-sex marriage.
"We cannot insist only on issues related to abortion, gay marriage, and the use of contraceptive methods," the pope said. "This is not possible. I have not spoken much about these things, and I was reprimanded for that. But when we speak about these issues, we have to talk about them in a context. The teaching of the church, for that matter, is clear and I am a son of the church, but it is not necessary to talk about these issues all the time. The dogmatic and moral teachings of the church are not all equivalent. The church's pastoral ministry cannot be obsessed with the transmission of a disjointed multitude of doctrines to be imposed insistently. Proclamation in a missionary style focuses on the essentials, on the necessary things: This is also what fascinates and attracts more, what makes the heart burn, as it did for the disciples at Emmaus. We have to find a new balance; otherwise even the moral edifice of the church is likely to fall like a house of cards, losing the freshness and fragrance of the Gospel."
The pope also spoke candidly about the church's stance on homosexuality. "In Buenos Aires I used to receive letters from homosexual persons who are 'socially wounded' because they tell me that they feel like the church has always condemned them," Pope Francis said. "But the church does not want to do this. During the return flight from Rio de Janeiro I said that if a homosexual person is of good will and is in search of God, I am no one to judge. By saying this, I said what the catechism says. Religion has the right to express its opinion in the service of the people, but God in creation has set us free: It is not possible to interfere spiritually in the life of a person. A person once asked me, in a provocative manner, if I approved of homosexuality. I replied with another question: 'Tell me: When God looks at a gay person, does he endorse the existence of this person with love, or reject and condemn this person?' We must always consider the person."
"The proclamation of the saving love of God comes before moral and religious imperatives," he said. "Today sometimes it seems that the opposite order is prevailing... The message of the Gospel, therefore, is not to be reduced to some aspects that, although relevant, on their own do not show the heart of the message of Jesus Christ."