Pope Calls On Catholics Not To Judge Gay Men And Women
"A gay person who is seeking God, who is of good will -- well, who am I to judge him?"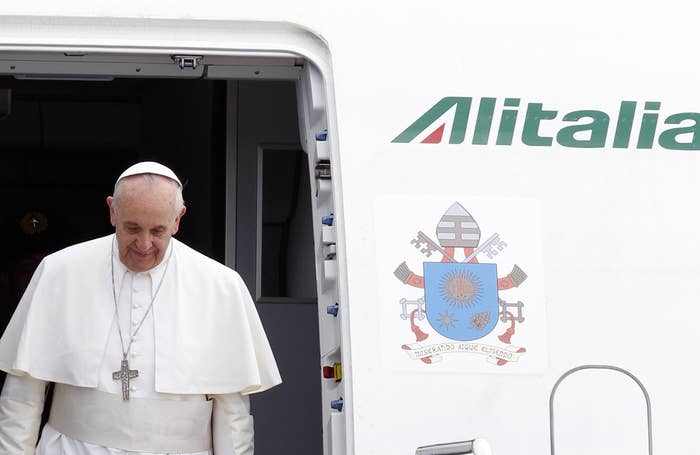 In a press conference aboard the papal aircraft, Pope Francis candidly answered questions about the scandal-ridden Vatican bank, his planned reforms within the church bureaucracy, and the rumored "gay lobby" within the Vatican.
Pope Francis said it was important to "distinguish between a person who is gay and someone who makes a gay lobby," for the purposes of using personal information to blackmail others, Catholic News Service reports. "A gay lobby isn't good."
"A gay person who is seeking God, who is of good will — well, who am I to judge him?" Pope Francis said. "The Catechism of the Catholic Church explains this very well. It says one must not marginalize these persons, they must be integrated into society."
According to media reports, the pope indicated that he would not judge priests for their sexual orientation in these "nuanced" remarks (which were delivered in Italian).The Wall Street Journal writes that, "the pope carefully drew a distinction between the possibility of pressure groups existing inside the Vatican—which he defined as a "problem"--and the potential presence of gay priests within Vatican ranks."
"You have to distinguish between the fact of a person being gay, and the fact of a lobby," the pope said. "The problem isn't having this orientation. The problem is making a lobby."
Pope Francis was also asked about allegations that the priest whom he recently named interim prelate of the Vatican bank had kept male lovers while serving in the Holy See's diplomatic corps.
The pope told reporters, "I did what canon law said must be done, I ordered an 'investigation brevia,' and this investigation found nothing."
Pope Francis continued by talking about how "many times in the church, outside this case, but also in this one, we go searching for the sins — of one's youth, for example — for publicity. I'm not talking about crimes here — the abuse of a minor is a crime — but of sins."
"But if a person, whether a layperson, priest, or sister, goes to confession and converts, the Lord forgives. And when the Lord forgives, he forgets. This is important," he said, because those who want God to forget their sins should forget the sins of others.
"St. Peter committed one of the biggest sins ever — he denied Christ — and he made him pope," Pope Francis said.
The pope's remarks Monday are consistent with the Catechism of the Catholic Church, which states that gay men and women must be treated with "respect" and "compassion."
The number of men and women who have deep-seated homosexual tendencies is not negligible. They do not choose their homosexual condition; for most of them it is a trial. They must be accepted with respect, compassion, and sensitivity. Every sign of unjust discrimination in their regard should be avoided. These persons are called to fulfill God's will in their lives and, if they are Christians, to unite to the sacrifice of the Lord's Cross the difficulties they may encounter from their condition.