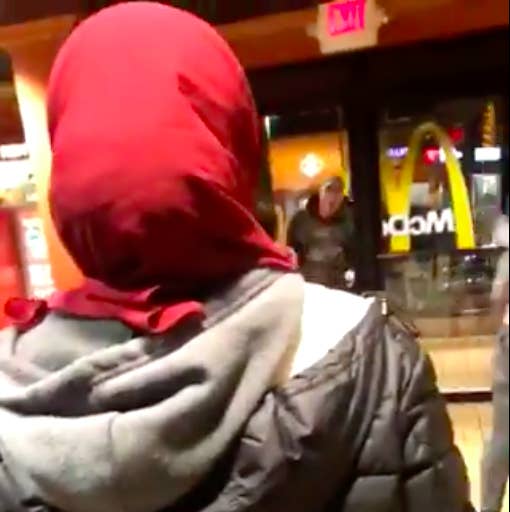 Police have launched an investigation into a man who allegedly pulled a gun on a group of teenagers who were mostly black and Somali inside a Minnesota McDonald's, footage of which went viral Tuesday on social media.
A McDonald's manager can also be seen yelling at the teens to "get the fuck out of my store" despite having just been threatened with a gun.
Farida Osman, 16, who recorded and uploaded the video, told BuzzFeed News that she believes the fact that she and her friends were black, including three other young women who were wearing hijab, was at the core of the confrontation and the way McDonald's employees responded.

"I think it's because we were black and Muslim," Farida said. "I've had people being racist towards me before, but I've never had a gun pulled on me until now."


The video of the incident went viral on Twitter after being posted Monday, racking up nearly 650,000 views by Tuesday night.
Eden Prairie, Minnesota, police said in a statement to BuzzFeed News Tuesday that they were investigating the circumstances surrounding the incident to determine if a crime was committed.
The owner-operator of the Eden Prairie McDonald's, Paul Ostergaard, also said in a statement that they are taking the matter seriously and are working with local law enforcement.
"Nothing is more important than the safety and security of our customers and employees," he said.
Farida said that she and a group of friends — three girls besides herself and about 10 boys — were at a library down the street from the McDonald's on Monday night when they decided to get some food. The boys then seated themselves while the girls got in line to order.

When one member of the group, Jihan Abdullahi, reached the front of the line, she attempted to pay for her food using Apple Pay and was unable to complete the transaction after several attempts, effectively holding up the line. In an interview with BuzzFeed News, another member of the group, 17-year-old Amal Mohammed, said that she attempted to help her friend pay using her own Apple Pay, but was also unsuccessful, and a white man wearing a camouflage hooded sweatshirt in line behind them began to complain.

Amal — whose red hijab is seen in the viral video — said the man started to complain about being hungry and how long it was taking for the two young women to pay.
"He was being kind of aggressive," she said, adding that the person directly behind them — in front of the complainer — turned around to tell the other man, "Sir, we're all waiting for our dinner."

"After that, the manager who was taking our order said, 'If you guys can't pay with Apple Pay, we'll have to cancel it and move on to the next person,' and we stepped back in line," Amal said.

As they got back in the line, the man who had been complaining made a comment about how the two young women must have been using EBT, or Electronic Benefit Transfer, a program that allows welfare recipients to purchase items using food stamps via a card or phone app.

Farida told BuzzFeed News that the comment angered her friend, who had been trying to make the original purchase.

"Jihan said, 'Just because I'm black does not mean I use EBT.' Basically after that, he was trying to say, 'You do use EBT,' and Jihan was saying, 'No I don't,' and telling him to stop being racist."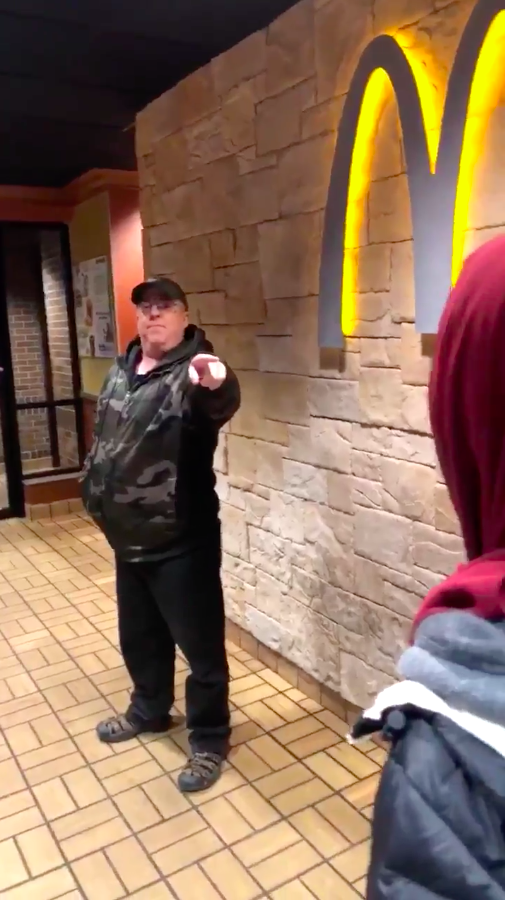 The two began yelling at each other and Amal said that she stepped between the man and her friend in an attempt to defend her.

"He was basically saying, 'Shut the fuck up, don't fucking talk to me,'" she said. "I started getting in between the argument, saying, 'You shouldn't be saying that.'"

Farida said that she got scared when the man began to approach her two friends.
"He started walking towards Amal and Jihan and started screaming at her and at this point when I tried to get my phone out to start recording, he backed away," she said.
As she tried to get the video app to begin recording, and the man realized that he was not being filmed, he approached Amal again, Farida said.
"The guy got close to my face and his fists were kinda balled up and I felt threatened," Amal told BuzzFeed News. At this point, she added, she remembered "all my guy friends were around the corner," and she asked for their help.
"Once he saw a big group of Somali boys, he felt even more threatened, even though nobody made threats or touched him," she said.
As can be seen in one video Farida posted to Twitter — taken before the gun was allegedly pulled — the man is shown standing apart from the group and yelling, "Don't touch me."
Farida can be heard saying, "Nobody touched you," and other members of the group make similar comments.
Right after this moment, Farida began recording the video.
"He walked toward the door and pushed one of my friends," she said.

In the video, another male friend, whom she and Amal identified as "Amin," can be seen approaching the man.

"Amin was like, 'Why are you being physical?' and the man pulled a gun and laughed and ran out the store," Farida said.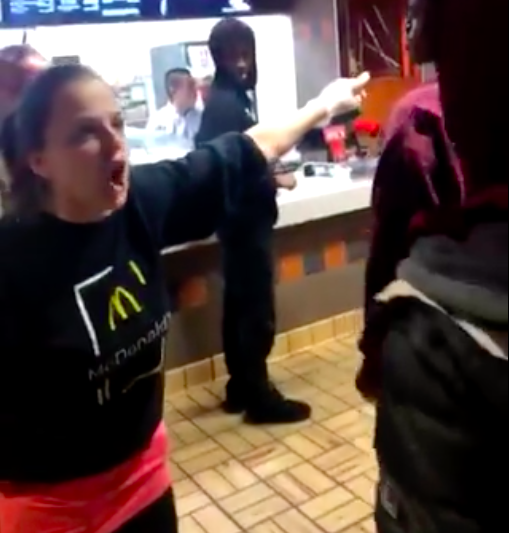 In the video, as the group of teenagers run away from the armed man, a McDonald's manager is shown telling them to leave the store. When someone yells, "He has a gun," she responds, "I don't care — get the fuck out of my store."

Farida told BuzzFeed News that being ordered to leave the building after being threatened with a gun was "the worst part."

"They said, 'You guys all have to leave right now.' When he's waiting for us to leave. When he is outside," she said.

In another video Farida uploaded, a McDonald's employee is seen telling the group that the man "pulled out a gun for a reason" while trying to force them to leave the store.
Amal and Farida told BuzzFeed News they believe they would've been forced to leave the McDonald's while the armed man was still outside if it wasn't for another white man waiting in line who confronted the manager.

In the video, the man, who did not identify himself to the teenagers and left before police arrived, is seen yelling at the manager, "Don't send them out there when the dude just pulled a fucking gun on them. You better fucking call the cops."

"I'm so thankful that one man was there," Farida said. "I feel like if he wasn't there, we would have had to leave; they would've called the cops on us."

"We're children," she added. "If the good guy who helped us wasn't there to help us, we would've been kicked out and we could've been shot."

Amal agreed.

"It was very scary — when he was still standing outside, the manager tried to kick us out. We didn't know if he was going to hurt us."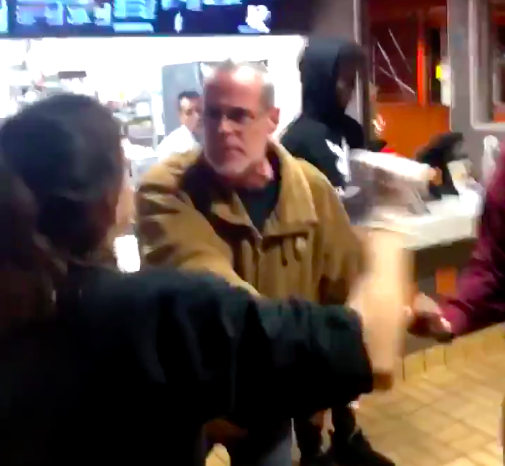 "That guy was just a bystander, he saw everything that happened. He basically talked to the manager when the manager was trying to kick us out," she said. "Once the guy starts talking to her, she starts to calm down. I shook his hand and thanked him for the help."

A McDonald's employee eventually called the police, they said.

Farida told BuzzFeed News that she shared her videos with Eden Prairie police, since she had to leave before they arrived, and Amal and other members of the group gave statements to officers.

"At the end of the day, it's a group of black people against the managers," Farida said. "That's why I took the video, so if something happened, we could be taken seriously."

Both young women told BuzzFeed News that this was far from the first time they and their friends had been targeted because of their race and their faith.

"I think you should know that this isn't unusual," Amal said. "Not the gun situation — all these assumptions. I can say that many of my friends have experienced stuff like this. It happens to too many Somalis in Minnesota."

"Usually people brush it aside," Farida said. "They look at our skin color and the hijab and say, 'What does that matter?'"