An Ohio couple obsessed with mass shootings — traveling to Columbine High School and corresponding with the Charleston church shooter — were indicted in federal court Thursday for conspiring to use explosives and firearms to launch a massacre to kill and injure others.
Elizabeth "Bee" Lecron, 23, and Vincent Armstrong, 23, were arrested in December after an unnamed tipster contacted Toledo police on June 11 and said Lecron "had recently expressed a desire to conduct a violent attack and was in possession of multiple firearms and the beginning elements of a pipe bomb."
An FBI agent testified that, in posts dating back months, Lecron posted "voluminous" photographs and comments glorifying mass murderers on her Tumblr account, titled Ligature Markings. Her posts particularly celebrated Dylann Roof, who killed nine people in a Charleston, South Carolina, church in 2015, and the Columbine High School shooters.

In July, Lecron wrote a letter to Roof in prison introducing herself and asking him for any book recommendations. He replied shortly after and asked her to mail him books about civil uprisings and the Nazis.
"According to the Bureau of Prisons, Roof has only responded to four individuals, including Lecron, during the course of his incarceration," the affidavit stated.
On Oct. 17, Lecron replied and sent him a book about a Belgian who fought for the Nazis. "I've been thinking about you a lot and decided to send you books every 2 weeks," she wrote. "Stay strong, Storm. You have a lot of people that care for you beyond those walls."
The tipster also directed police to Lecron's Tumblr page as evidence of her fixation on mass murder and said that Lecron wrote in her diary that she was planning a mass attack.

Toledo police referred the case to the Joint Terrorism Task Force and the FBI, who began to monitor the couple's social media accounts.

In August, Lecron and Armstrong traveled to Columbine, Colorado, for a pilgrimage of sorts to honor the school shooters. "We're gonna try to hit Rampart Range, the memorial, the gas station, the bowling alley and such. It's gonna be a lot of fun and I can't wait to post pictures," she wrote on her Tumblr before the trip.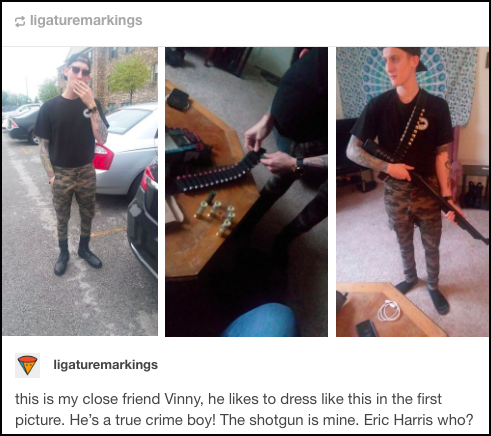 On Aug. 18, one day after the couple left for Colorado, a federal judge authorized a search warrant for the home they shared.
US Attorney for the Northern District of Ohio Justin Herdman said in a statement Thursday that "law enforcement found an AK-47, shotgun, multiple handguns, ammunition and end caps purchased by Armstrong, which can be used in the manufacture of pipe bombs."
Authorities also found journal entries by Lecron and Armstrong discussing a violent attack. "On June 8, Armstrong wrote: 'Now I have these thoughts…These memories. They haunt me. I have a vision. A vision to kill. To hunt the unwilling...'"
On her now-deleted Tumblr, Lecron posted pictures from outside Columbine High School with the caption that the experience made her "tear up."

Soon after returning from Columbine, Lecron's Tumblr was removed from the site for violating its code of conduct, and Lecron created a new profile with the username "CharlestonChurchMiracle," a reference to Roof's mass murder.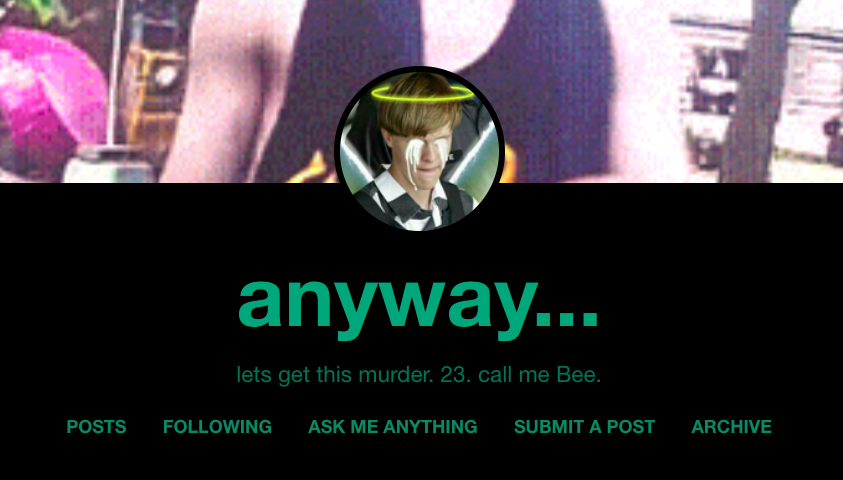 Around this time, a Joint Terrorism Task Force source contacted Lecron under the guise of being a fellow fan of mass murderers. After exchanging messages, they agreed to meet at a bar in Toledo, where Lecron told the source that she and Armstrong had been formulating a plan to commit "an upscale mass murder."
"Lecron stated that her master plan was to commit an attack at an identified second-floor bar in Toledo. She stated that she knows there are only two ways in and out, and therefore, they could be at a better tactical advantage when the police arrived."
In September, the source arranged for Lecron to meet with undercover FBI agents. During this meeting, she stated that she and Armstrong had started to make a pipe bomb and that she "definitely want[ed] to make a statement up here." She said that she thought the place where she worked would be a good target because she believed they were polluting a nearby river.
In early December, after conversations with undercover FBI agents, Lecron bought supplies to construct a pipe bomb from two different retailers.
On Dec. 10, authorities searched the couple's house. In the trunk of Armstrong's car, they found "a duffel bag that contained a tactical vest with two loaded magazines for an AK-47, two loaded magazines for a pistol, a gas mask, printouts of instructions how to construct various bombs, and other items."
Inside the house, they found and removed "a shotgun, a handgun and an AK-47 with the stock removed."
Charging documents said that same day, before the search, Armstrong was brought in for questioning — although he was told that he was not under arrest and that he was free to leave at any time.
"The agents asked a series of questions in which Armstrong initially provided false or misleading information," an FBI agent wrote in an affidavit submitted with the complaint against Armstrong. When asked if he and his girlfriend had ever discussed any plans to commit mass murder, or had purchased bombmaking items, he said that although they sometimes role-played such scenarios, it was never serious or enacted in real life.
After the agents told him that they had searched his residence, Armstrong changed his story. He said that he and Lecron had discussed an attack on a specific second-floor bar in Toledo and "that it had crossed over from fantasy to reality sometime in June of this year." He also admitted to buying parts for the bomb and downloading bombmaking instructions.
Lecron and Armstrong were each indicted on one count of conspiracy to transport or receive an explosive with intent to kill, injure, or intimidate any individual and maliciously damage or destroy by fire or explosive; conspiracy to use a destructive device during and in relation to a crime of violence; conspiracy to use firearms during and in relation to a crime of violence; and possession of a firearm in furtherance of a crime of violence.
They both were also indicted on additional individual charges — Lecron for transporting explosives in interstate commerce and Armstrong for making false statements to law enforcement.
If convicted, they will each face life in prison.