Obama To Visit Pope Francis
Secretary Kerry told reporters that the president is "looking forward" to meeting the pope at the Vatican.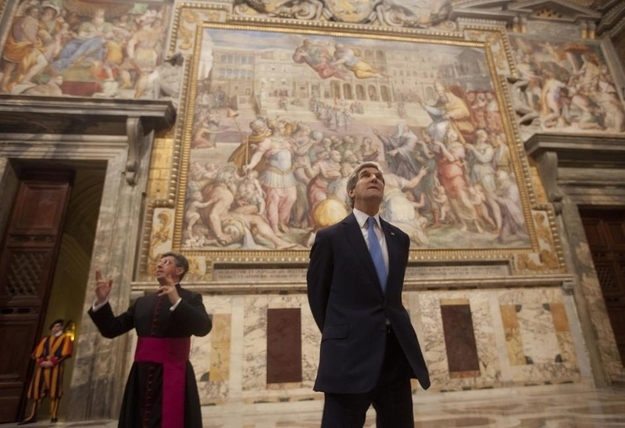 Plans are underway for President Obama to pay a visit to Pope Francis, Secretary of State John Kerry confirmed Tuesday. Kerry met with Cardinal-designate Pietro Parolin, Vatican secretary of state, and other church leaders in Vatican City to discuss foreign policy and economic issues.
"I know that the Holy Father is anticipating the visit of President Obama here, and the president is looking forward to coming here to meet with him," Kerry told reporters after the 40-minute meeting. "So much was agreed on as a mutual agenda this morning." When asked for comment, the White House said that although they had no specific travel announcements to make, President Obama "very much looks forward to meeting Pope Francis in the near future." Kerry did not meet with the pope on this visit.
Vatican spokesman Federico Lombardi said that the two secretaries of state and various officials discussed everything from the crisises in Syria and Sudan to the U.S. bishops' concerns about healthcare and religious freedom. "There was a positive atmosphere and it was a fruitful encounter," Lombardi said.
"It was a privilege for me as the first Catholic secretary of state in about 32 or 33 years ... to talk with the new secretary of state there about the broad array of issues that we face together across the world," Kerry said. "And on a personal level, it was a thrill for me to be able to do that; as an altar boy as a young kid, I would never have imagined that I would have been crossing the threshold of the Vatican to meet, as secretary of state, with the secretary of state of the Holy See."
President Obama and First Lady Michelle Obama met with Pope Benedict XVI in July 2009.