New Mexico's State Police Chief Allegedly "Mooned" Subordinates And Sexually Harassed Others
Chief Pete Kassetas is accused in a lawsuit of "discriminatory and retaliatory treatment" and lewd behavior toward coworkers and women state officials.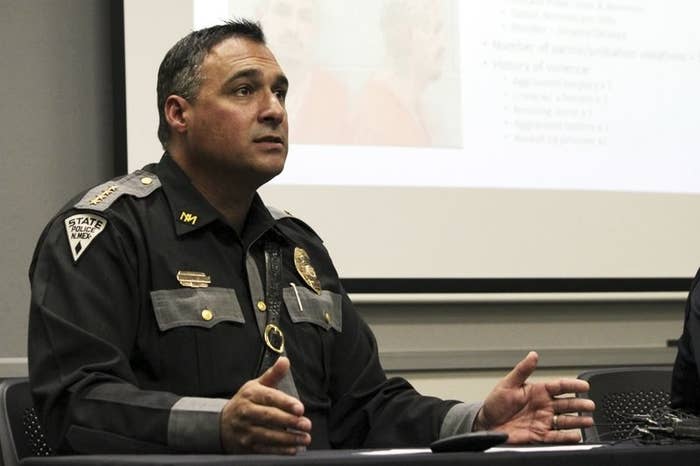 New Mexico's state police chief is being accused of rampant sexual harassment and inappropriate behavior, including pulling his pants down to "moon" subordinates and sending a picture of a man's testicles blocking out the sun to a woman official.
In a lawsuit filed this week against police Chief Pete Kassetas, two retired officers and a current sergeant with the department accused him of "blatant, ongoing, and systematic discrimination against NMSP officers based on gender and sexual orientation" and "retaliation against those who oppose his unlawful, discriminatory and improper conduct."
Sgt. Monica Martinez-Jones, former Deputy Chief Michael Ryan Suggs, and former Lt. Julia Armendariz claim that Kassetas created a hostile work environment where male employees were held to a lower standard than their female counterparts, and people were punished for speaking out against what they deemed inappropriate behavior.

The plaintiffs also claim that despite many employees filing formal complaints against Kassetas, the chief was not disciplined because he is being "protected" by Gov. Susana Martinez, "making him untouchable and above the law he is commissioned to enforce." Martinez oversees the New Mexico Department of Public Safety.

In a statement to the Albuquerque Journal, Ben Cloutier, spokesperson for the governor, said that the lawsuit contained, "many ridiculous allegations that are completely removed from the truth." However, he confirmed to the newspaper that there is currently an open investigation into "allegations brought forward at DPS," although he declined to provide additional details.
Martinez-Jones and Armendariz alleged that they were subjected to gender and sexual orientation discrimination that affected their careers and made the work environment "a living hell."

Martinez-Jones, who is still at the department, alleged that she has been passed over for promotion eight times since 2013 because she is a woman. The accusation is supported by Suggs, who said Kassetas once told him that he was never going to promote "that bitch" Martinez-Jones.
Armendariz, who identifies as a lesbian, alleged that she was also subjected to extra hostility because of her sexual orientation. Fellow officers would use "gay" as a pejorative in her presence, she said, and when she complained to Kassetas, he allegedly dismissed the behavior. He also "made inappropriate comments about [her] relationships, by making objectifying remarks about the women [she] was dating," the lawsuit states.
In the lawsuit, Kassetas is also accused of removing his pants and "mooning" his employees following a police commanders meeting.
He also allegedly said DPS General Counsel Amy Orlando's boots made him "feel all hot and bothered." And during the solar eclipse in August 2017, he allegedly sent her "a picture of a man's testicles blocking out the sun."
BuzzFeed News has reached out to the New Mexico State Police Department for comment.