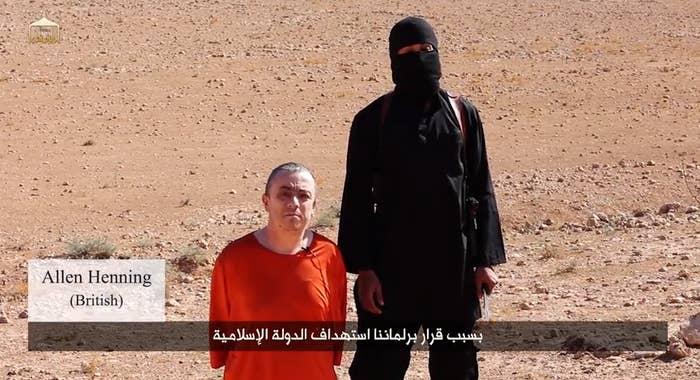 A new video released Friday afternoon purports to show British hostage Alan Henning beheaded by an ISIS militant.
The video begins with a clip from Russia Today on the British parliament's decision to approve airstrikes on ISIS and cuts to Henning kneeling in a desert with a militant known as "Jihadi John." He addresses the camera, "Hi, I'm Alan Henning. Because of our Parliament's decision to attack the Islamic State, I as a member of the British public will now pay the price for that decision."
Henning was an aid worker who was captured while working for a Muslim NGO.
At the end of the video, the ISIS member displays another hostage, former U.S. soldier Peter Kassig, and threatens that he will be the next victim.
"Obama, you have started your aerial bombardment in Sham, which keeps on striking our people," the executioner says. "So it's only right we keep on striking the necks of your people."
The video is titled "Another Message to America and its Allies" and is more graphic than previous videos showing the militant group's execution of American and British hostages.
Henning's wife had previously made a heartfelt plea to ISIS leaders, begging them to release her husband. Muslims across the world joined her in calling for his release, saying that Henning was an aid worker and humanitarian, and no threat.
The White House released a statement condemning the "brutal murder."
"Mr. Henning worked to help improve the lives of the Syrian people and his death is a great loss for them, for his family and the people of the United Kingdom. Standing together with our UK friends and allies, we will work to bring the perpetrators of Alan's murder – as well as the murders of Jim Foley, Steven Sotloff and David Haines – to justice. Standing together with a broad coalition of allies and partners, we will continue taking decisive action to degrade and ultimately destroy ISIL."
Kassig, the American hostage, is a former Army Ranger turned Syrian refugee aid worker. He founded his own relief organization, Special Emergency Response and Assistance, or SERA, in 2011.
U.S. National Security Council Spokesperson Caitlin Hayden said, "we have no reason to doubt the authenticity of the video" and confirmed Kassig is being held by ISIS. The White House pledged to "use every tool at our disposal — military, diplomatic, law enforcement and intelligence — to try to bring Peter home to his family."
According to the organization's website, SERA is "focused on providing acute logistical support and assistance in areas too difficult for other humanitarian organizations to effectively operate. Typically, this means conflict zones." The website indicates that the group's operations have ceased due to the security situation in Syria.
Hours after the video was released, the Kassig family released a statement:
"The Kassig family extends our concern for the family of Alan Henning. We have read about his work and his generous character with great respect and admiration. We ask everyone around the world to pray for the Henning family, for our son, and for the release of all innocent people being held hostage in the Middle East and around the globe."

The Kassigs confirm that their son, who was doing humanitarian work in Syria, is being held captive. They will make no further statement at this time and ask that you respect their privacy.
A representative of the family also released information saying that Kassig had converted to Islam while being held hostage and had changed his name to Abdul-Rahman.
Kassig was profiled by CNN in June 2012 for helping those wounded in Syria's brutal war:
Via cnn.com
U.K. Prime Minister David Cameron tweeted about the "brutal murder" and vowed to bring Henning's killers to justice.
Henning, 47, was a "taxi driver from Eccles, Greater Manchester," The Guardian reported.
He was kidnapped in Syria late last year, after helping to raise money for ambulances and medical equipment and then joining a convoy delivering them into Syria, it said.