Woman Sets World Record For Climbing Everest, Is Generally Badass
"I was determined that the record should be held by a Nepalese woman and I'm proud to be one." (via AFP )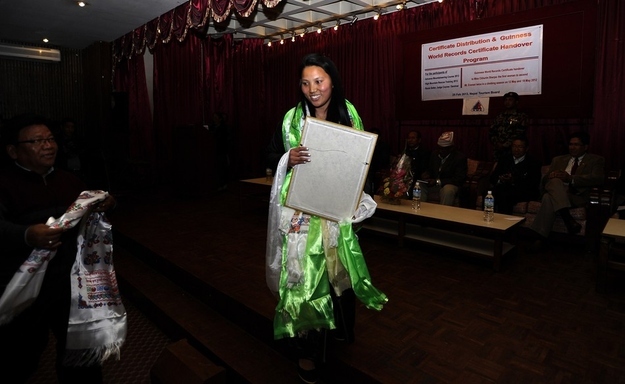 A Nepalese climber has become the first woman to scale Mount Everest twice in a single season, Guinness World Records confirmed at a ceremony in Kathmandu on Monday.
The organization certified that Chhurim Sherpa, 29, reached the 29,028-feet peak on May 12 last year, returned to base camp and then repeated the climb to the summit a mere week later. She completed both climbs within a period of 11 days.
"I was determined that the record should be held by a Nepalese woman and I'm proud to be one," said Chhurim Sherpa as she received her Guinness World Records certificate.
The first Nepalese woman to scale Everest, Pasang Lhamu, died during her descent from the summit in 1993. Since then, 21 Nepalese women have made the climb but Chhurim Sherpa is the first to complete two ascents in one season.
The summit season on Everest begins in late April, AFP reports, when a small window between spring and the summer monsoon offers the best conditions for making the ascent. The jet stream is pushed northward during this time and the average wind speeds on the mountain decrease for a few weeks.
Sir Edmund Hillary and his Nepalese guide Tenzing Norgay became the first two people known to have reached the top of Mount Everest on May 29, 1953. Twenty-two years later, Junko Tabei of Japan became the first woman to climb to the summit on May 16, 1975.
Chhurim Sherpa with her certificate.