Stop What You're Doing And Watch Paul Ryan's Official D.C. Snowfall Livestream
People came for the visuals of snow falling on Capitol Hill, but stayed for THE INCREDIBLE MUSIC.
In what is easily the best political move of 2016 so far, Speaker Paul Ryan on Friday set up a livestream of the historic snowfall in Washington, D.C.
Viewers had a lot of theories about how it got set up and what's actually going on.


But it is the silky smooth music playing in the background that really makes the livestream a work of art, setting off a frenzy to identify the song.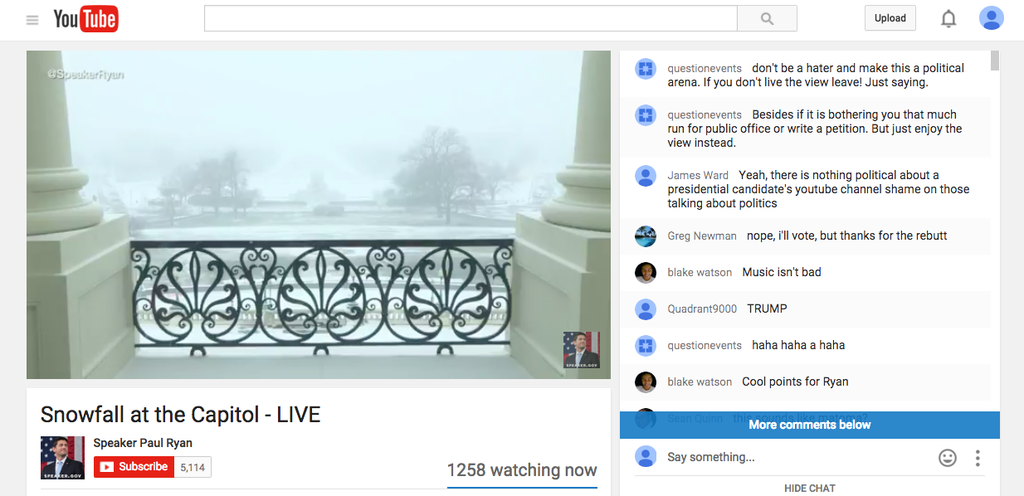 IT'S SO GOOD.
GQ even declared it the song of the year, opening its post with this line: "What is this gorgeous piece of tropical sex jam perfection?"
BUT WHAT IS IT?




Ryan's spokeswoman eventually responded to the mass appeal.
Thankfully, an intrepid reader found it: "Golden Skies" by Liam Aiden!
It was tracked down by Josh Goldman, who alerted the folks over at Motherboard.
The song is available on the site PremiumBeat, where it can be licensed for $40.
Well done, Mr. Speaker. Well done.