Missouri Could Lose Its Final Abortion Clinic This Week. Planned Parenthood Is Suing.
"This is not a drill. This is not a warning. This is a real public health crisis."
The last remaining abortion clinic in Missouri could lose its license and be forced to close by the end of the week, Planned Parenthood said Tuesday.
In a teleconference from St. Louis, the group's leaders said that the state government is threatening not to renew the clinic's license, which expires Friday. If the facility is closed, Missouri will be the first state without an abortion services provider since the Supreme Court ruled on Roe v. Wade in 1973.
Planned Parenthood officials said they were told that government officials were investigating "a large number of possible deficiencies" at the state's sole abortion clinic and that the Missouri Department of Health and Senior Services (DHSS) planned to interview the clinic's two staff physicians Tuesday afternoon.
Colleen McNicholas, an OB-GYN at the St. Louis Planned Parenthood clinic, said Tuesday the government was attempting to intimidate her and her colleagues.
"In the past days, officials from the Department of Health and Senior Services have demanded me, my colleagues and, most egregiously, medical trainers to submit to interrogation with no explanation and making clear that we could be opened up to criminal proceedings or board review. Let me be clear, this is harassment — an attempted intimidation of doctors at the highest level of government in order to stop us from providing the legal, necessary and exceptional care that we have always provided our patients."
BuzzFeed News has reached out to DHSS for comment.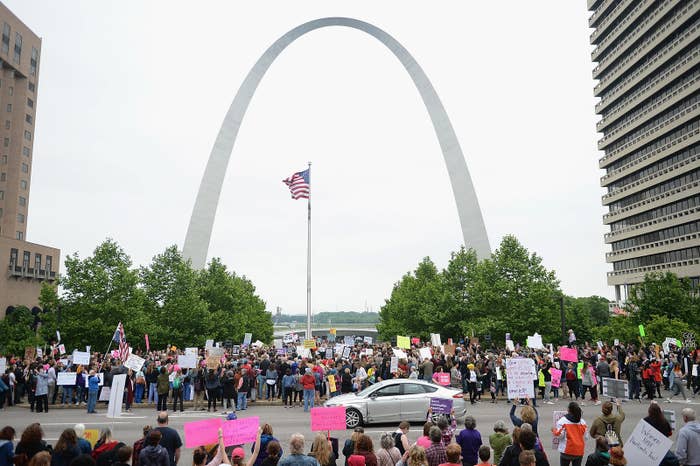 In an official statement, Planned Parenthood said that it is filing a lawsuit in St. Louis Circuit Court on Tuesday to keep the clinic open.
"This is not a drill. This is not a warning. This is a real public health crisis," Dr. Leana Wen, president and CEO of Planned Parenthood, said during Tuesday's teleconference.
"This has nothing to do with medicine and everything to do with politics," Wen said, calling the current situation "a weaponization of the licensing process" that "takes politicization of medical care to a new level."
On Friday, Missouri Gov. Mike Parson signed into law a bill banning abortion after eight weeks of pregnancy, with no exception for rape or incest. The law is scheduled to go into effect in August, but is likely to be blocked in court before then. Under this law, doctors who perform abortion procedures after eight weeks could face between 5 and 15 years in prison.
In Tuesday's teleconference, McNicholas said that she was not surprised by the state's use of the licensing process to try to force the closure of its single remaining abortion clinic.
"This is the natural consequence of several decades worth of restriction after restriction that has eroded access to reproductive health care in our state," she said. "Make no mistake — it is the poorest, the sickest and the most disadvantaged who will suffer the most. Missouri women are dying on Gov. Parson's watch."