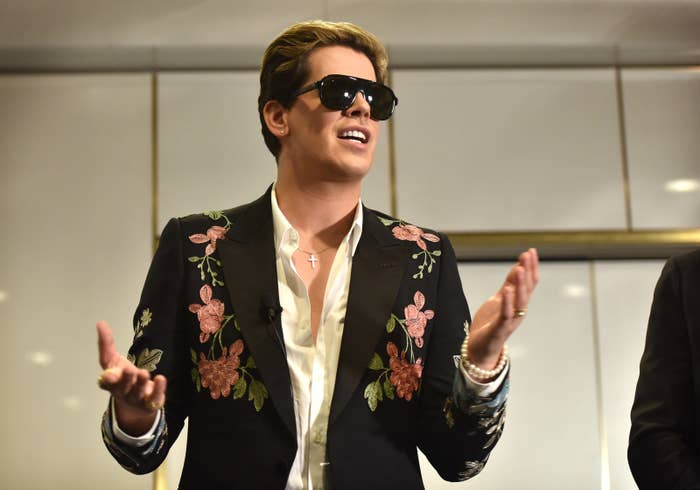 Alt-right provocateur Milo Yiannopoulos will be representing himself in his lawsuit against Simon & Schuster, a spokesperson confirmed to BuzzFeed News.
Yiannopoulos filed suit for breach of contract action against the book publisher in July after the cancellation of his book, Dangerous. He claimed Simon & Schuster violated the terms of their deal to publish his book following public outrage and negative publicity.

On Friday, attorney Jeffrey P. Weingart of Meister Seelig & Fein filed an emergency motion with New York County Court requesting a withdraw as counsel, citing "a breakdown in the relationship" that made "continued and effective representation of [Yiannopoulos] impossible."

In a statement forwarded to BuzzFeed News, Yiannopoulos said, "The lawyers at Meister Seelig & Fein were excellent litigators on my behalf. The source of the disagreement between me and them arises from Simon & Schuster's discovery tactics."
In the statement, Yiannopoulos said that he will be representing himself pro se in order to get access to information that had been classified "attorney's eyes only."

In the emergency request to withdraw as counsel, Weingart said there were "irreconcilable differences" between Yiannopoulos and the law firm.

"Plaintiff has insisted on pursuing actions with which MSF has a fundamental disagreement; Plaintiff's lack of cooperation in this regard has rendered MSF's representation of Plaintiff unreasonably difficult to carry out effectively."

The next court date, per New York County Court online records, is Jan. 18 at 2:15 p.m. Yiannopoulos will be appearing and representing himself over the telephone.

BuzzFeed News has reached out to Meister Seelig & Fein for comment.