Mexican Super Priest Fights Sin With Batman And Holy Water Gun
He's the priest Mexico deserves.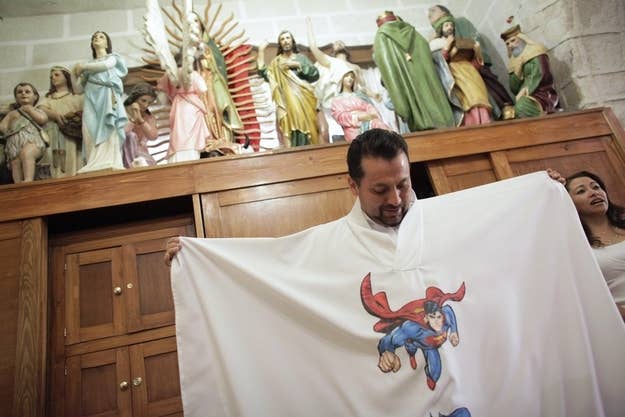 Each Sunday, Father Humberto Alvarez dons a special chasuble, or outer robe, decorated with images of superheroes, grabs a plastic gun full of holy water and celebrates a special mass for the children of Ojo de Agua parish in Saltillo, Mexico.
The Catholic priest's robe bears images of Superman, Batman and Spider-Man, superheroes who were chosen, Alvarez explains, because of their "struggle and effort to overcome fear and find peace and forgiveness." He began using a water gun to bless the congregation after a series of fatal shootings in Salitillo spooked the members of his parish last year. Alvarez's unconventional style of worship has attracted young and old Catholics to Ojo de Agua for the weekly children's mass. Afterwards, the priest puts away the water gun and comic book chasuble and officiates all of the other services without deviating from tradition.
The 40-year-old priest, who wears jeans and sneakers under his vestments, has been criticized for his playful approach to the Eucharist and has earned the disapproval of traditional parishioners and the Bishop of Saltillo alike. Alvarez continues his services because he believes that children can be led to Jesus through Batman, Superman and Spider-Man. Like the superheroes, Alvarez explains, "Jesus was different and always sought justice. We should follow their example."