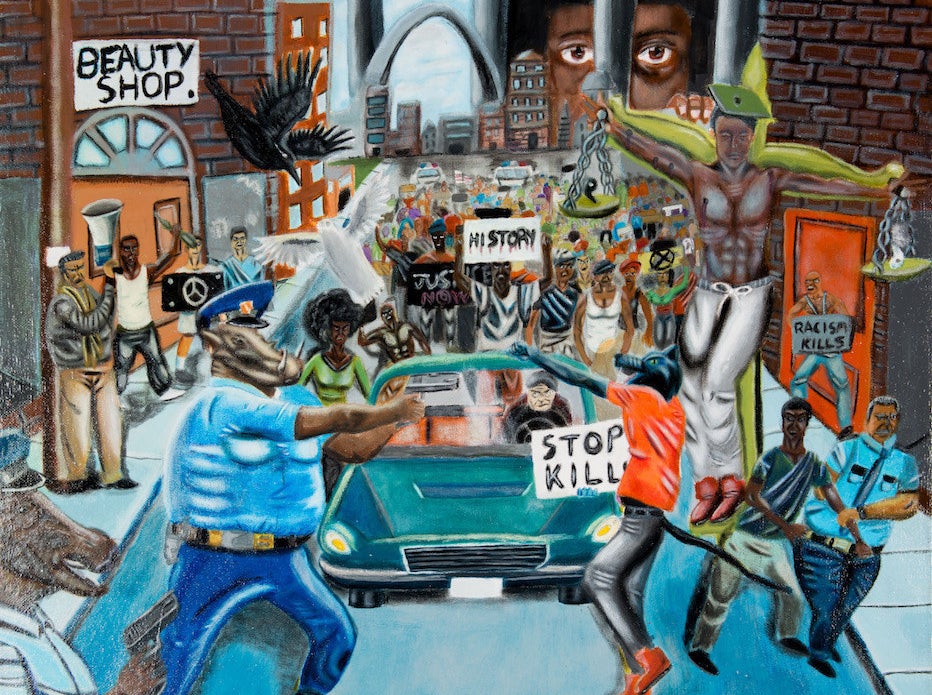 A Republican congressman removed a painting depicting police officers as pigs from a display in the U.S. Capitol featuring artwork from high school students around the country.
The painting, hung as part of the Congressional Art Competition, was named the winner from Missouri's First Congressional District, whose residents are represented by Rep. Lacy Clay. It was painted by high school senior David Pulphus (who has since graduated from Cardinal Ritter College Prep in St. Louis) and has been hanging in the US Capitol complex since June. In a May 2016 press release naming Pulphus as the winner, Clay's office described the painting as "a colorful landscape of symbolic characters representing social injustice, the tragic events in Ferguson, Missouri and the lingering elements of inequality in modern American society."
Rep. Duncan Hunter (R-Calif) told FoxNews.com that he and a group of colleagues unscrewed the painting on Friday morning and delivered it to Clay's office.
"There's nothing appropriate about a painting that depicts police officers at pigs. Representative Hunter removed the painting and returned it, but as easy as it came down, it can go back up, of course," Joe Kasper, Hunter's chief of staff, told BuzzFeed News in a statement. "There's a massive outpouring from law enforcement and other members — and even Capitol Hill police officers are coming by to say thank you."
Clay was unavailable for comment.
The painting had been on display with other Congressional Art Competition winners in the Cannon Tunnel, which connects the Cannon House Office Building to the Capitol.
The Congressional Art Competition, according to its page on the official House.gov website, is "a nationwide high school visual art competition to recognize and encourage artistic talent in the nation and in each congressional district."
"Students submit entries to their representative's office, and panels of district artists select the winning entries. Winners are recognized both in their district and at an annual awards ceremony in Washington, DC. The winning works are displayed for one year at the US Capitol."