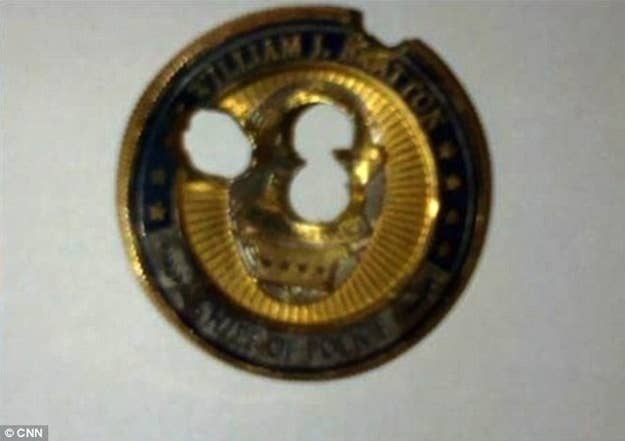 CNN reports:
Shooting suspect Christopher Dorner sent a DVD, letter, and bullet-riddled coin to Anderson Cooper. He is accused of shooting three police officers and threatening more harm.

A note on the DVD says, in part, "I never lied! Here is my vindication," which is apparently referencing his dismissal from the LAPD in 2009. The video on the DVD is testimony from a man who says he was kicked by an officer. That confirms the story Dorner told the LAPD, which he says resulted in him losing his job.

The police coin marked by three bullet holes was wrapped in duct-tape with the handwritten inscription "Thanks, but no thanks Will Bratton." Bratton is the former LAPD Chief who was in charge when Dorner served on the force. The "challenge coin" bears Bratton's name because he gave them out on certain occasions, like for good luck when an officer in the military was going overseas for duty.

Anderson Cooper asked Bratton what he makes of the package from Dorner, the message on the tape that mentions him, and the coin. "What you've shown me is, to be quite frank with you, very disturbing," he said.

Bratton, along with many others, was also included in a long manifesto posted on Dorner's Facebook page. "I was the Chief of Police that signed off on his discharge from the LAPD, so in terms of his grievances, I could understand his grievance directed toward me in my capacity as Chief of Police," said Bratton. "A lot of police officers get discharged and none of them resort to the actions that this young man has taken."

Bratton doesn't remember Dorner's case out of the hundreds he oversaw in 2009. "In the course of a year in the LAPD, I would probably handle anywhere from 200 to 400 disciplinary cases, major cases, and in a 10,000 person department over the space of seven years, I don't recall him...and I don't recall the specific set of circumstances for which I fired him," he said.