Kayla Mueller, the American aid worker killed in February while being held hostage by ISIS, was sexually assaulted by the group's leader, Abu Bakr Al-Baghdadi, the Mueller family confirmed Friday to BuzzFeed News.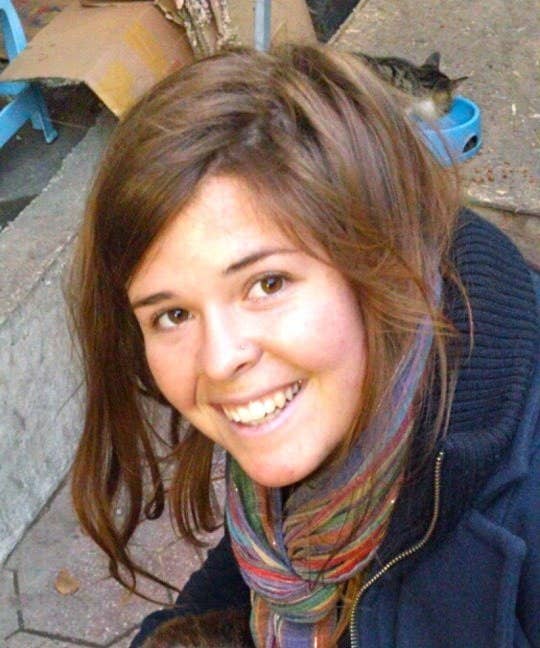 A representative for the Mueller family said they were told that the 26-year-old was enslaved by the the self-proclaimed caliph of the Islamic State and was the victim of his repeated sexual assaults.
Kayla's parents, Carl and Marsha Mueller, told ABC News that the government told them in June that their daughter "was tortured, that she was the property of al-Baghdadi."
ABC News, citing counterterrorism officials, reported Mueller was held prisoner inside the home of Abu Sayyaf, a senior ISIS leader who directed the organization's illicit gas and oil trade. Al-Baghdadi would regularly visit Sayaff's compound to meet with him and assault Mueller, according to the ABC news report.
Abu Sayyaf was killed during a raid on his compound in May. His wife, Umm Sayyaf, was captured in the raid, and allegedly told U.S. officials these new details of Mueller's horrific captivity during interrogations.
ABC News reported several teenage Yezidi girls who had been held as sex slaves inside Sayyaf's compound also confirmed al-Baghdadi's role in Mueller's sexual assault. U.S. officials confirmed that they rescued a Yezidi woman during the raid on Sayyaf's compound in May.
The White House declined to comment when asked by BuzzFeed News about this new information.
The news about Mueller follows a searing New York Times investigation published Thursday on how members of ISIS use theology to encourage and justify the rape of non-Muslim women.
The Times interviewed more than 20 victims, including a 12-year-old Yezidi girl who was repeatedly raped by an ISIS fighter who she said would pray before and after he sexually assaulted her. "He told me that according to Islam he is allowed to rape an unbeliever," the girl told the Times' Rukmini Callimachi. "He said that by raping me he is drawing closer to God."
ISIS has established a codified system of sex slavery comprising women and girls from the minority Yezidi ethnic group.
There had been suspicions that Kayla Mueller had been forced to marry an ISIS commander.