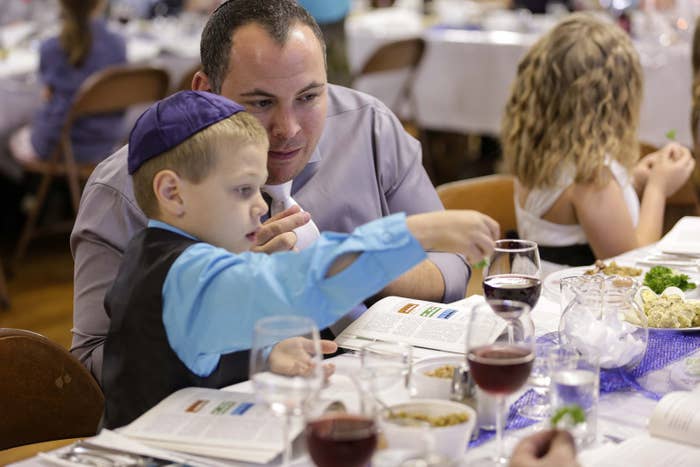 There aren't a lot of Jews in Sioux City, Iowa, but the ones who do live there were pleased when the chair of the National Republican Campaign Committee, Rep. Steve Stivers, unexpectedly denounced their member of Congress, Steve King.
"Thank God someone finally stepped forward with some balls," said David Bernstein, a business leader who is prominent in the community of about 200 people, and two synagogues in the western Iowa meatpacking city. "People in northwest Iowa are respectful, considerate people, they show respect for others — and Steve King does not espouse that."
The state's Jews have lived for years with a lawmaker who flirted, and worse, with anti-Semitism, but their leaders spoke out in earnest two days after 11 were killed at a Pittsburgh synagogue in the deadliest attack on American Jews in the country's history. The presidents of two Iowa Jewish communities decided they'd had enough with their racist representative.
"We feel we must speak out because our congressional representative, Steve King, is an enthusiastic crusader for the same types of abhorrent beliefs held by the Pittsburgh shooter," Alan Steckman, president of Adas Israel synagogue in Mason City and John Pleasants, president of the Ames Jewish Congregation in Ames, wrote in a letter to the editor of the Des Moines Register.
One day later, Stivers, condemned King and his history of white supremacy. King, for seemingly the first time, is genuinely shaken by the backlash. Donors are starting to move away from him, polls have suddenly tightened, and the former minor league pitcher running against him says he feels the "bump" in attention.
King, who has won his district by wide margins since 2002, has distanced himself from the Pittsburgh shooter.
Some Jewish Iowans in King's district hope that the Republican establishment — as well as their friends and neighbors who have supported King in the past — will follow Stivers' example.
"It's very gratifying," Pleasants told BuzzFeed News. "For us, he crossed the line way back when and what needs to happen — and one of the reasons we wrote this was — to try to talk to his supporters and open their eyes and say, 'Don't you think he's gone a little far?'"
"The event in Pittsburgh shows that words matter and rhetoric has consequences. We're not trying to directly link him to [the attack], but he consorts with groups that put that rhetoric out there that crazies can see and act on," he added.
In their letter, Steckman and Pleasants told their fellow Iowans that they could no longer allow King's history of white supremacist remarks and leanings go unchecked.
In particular, they cited King's recent trip to Austria to visit concentration camps — a trip funded by a Holocaust memorial nonprofit — where he met with a far-right political party founded by a former Nazi SS officer and which is associated with neo-Nazi movements.
"When King promoted white supremacist ideology, many of us we were silent. We will not be silent now. Stand with us in denouncing Steve King and the ideology he promotes," they wrote.
Steckman in an interview said that he wants the country to face the facts about King's history of anti-Semitism and his hatred of immigrants and minorities.
"One of the things that King has is a flag on his desk, a Confederate flag, and that's a sign of hatred," Steckman said.
In a phone interview Thursday, Steckman told BuzzFeed News that over a period of months in the spring of 2017, the Adas Israel synagogue received threatening calls from a local number.

"Get your shitty synagogue out of my town," Steckman recalled the caller saying. "My town."

He said that police were unable to find the caller, but the Muslim and Christian communities of Mason City rallied around the synagogue and held an ecumenical community service of support and love at Adas Israel.

They never heard from their congressional representative, Steve King.
Ben Smith contributed reporting.