How The Internet Reacted To The Batshit Crazy Night Three Of The RNC
Buckle up, folks, because a whole lot went down Wednesday night.
On Tuesday, the GOP Convention brought us many things.
Which left a lot of people wondering how Wednesday was going to stand out, particularly compared to past conventions.
And past speakers.
And noticeably missing speakers.
And a most unusual lineup.
Florida Governor Rick Scott started the night off.
Followed by conservative talk show host Laura Ingraham, who fired up the crowd but really needs to work on her waving game.
No, but seriously.
NOTE: Yes, these photos are amusing, but it's obvious that neither Trump nor Ingraham were purposefully giving the Nazi salute, and it's silly to act like this was anything other than a chance of photographic timing.
Next up was former astronaut Eileen Collins.
Which, as some pointed out, may have been a pretty big step for the party.
(Although it turned out to be only one small step for Trumpkind.)
Wisconsin Gov. Scott Walker then took the stage.
And he came prepared.
Sadly, nobody else in the audience got the memo.
And to make matters worse, Donald Trump initially tagged THE WRONG Scott Walker in his tweet thanking the Wisconsin governor for his remarks.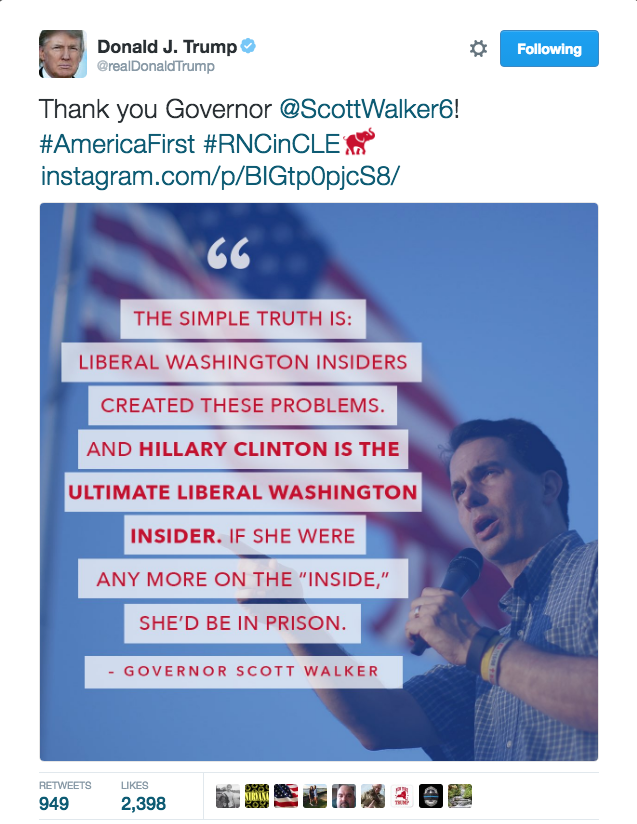 But this brave reporter rose to the call...
And cheerfully made the best of the sudden interest in his Twitter feed.
Next was Florida Sen. Marco Rubio.
Who delivered his speech with a certain lack of emotion.
BUT THEN it was time for Texas Sen. Ted Cruz.
And, uh, in case you forgot, Cruz and Trump have a bit of history.
Quite a lot of history, actually.
And Cruz actually delivered one hell of a speech — and the RNC audience agreed!
Until it became very clear that he wasn't going to use the platform to endorse Donald Trump.
Welp.
#StayWoke
But Cruz seemed to roll with it.
Hey, at least the Democrat nominee liked the speech!
Next up was the spare of the Trump dynasty, Eric.
And he tried his best.
(Bless his heart.)
Then it was time for Newt Gingrich.
Who heroically tried to take back everything that had happened in Cruz's speech.
And then, VP nominee Mike Pence had his moment.
As Chris Christie watched on from the audience.
But, hey! At least Trump seemed to like it.
Sort of.
Maybe?
At the end of the night, even Jerry Springer had to weigh in.
(Friendly reminder that tomorrow's theme is "Make America One Again.")
See y'all tomorrow!