In February, three teenage girls left their homes and families in London to travel to Syria and join ISIS.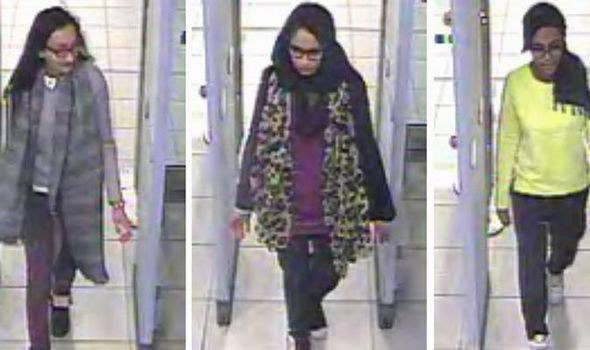 Images of Shamima Begum, 15, Kadiza Sultana, 16, and Amira Abase, 15, were captured on CCTV at London's Gatwick airport Feb. 18, before the girls boarded a flight to Istanbul, Turkey, Metropolitan Police said. They were later seen leaving a Turkish bus stop, likely en route to the Syrian border and ISIS-controlled territory.
Days before the girls' departure, a Twitter account appearing to belong to 15-year-old Shamima Begum tweeted to an account associated with a female ISIS member known online as Umm Layth.

Umm Layth is the name used online by Aqsa Mahmood, a 20-year-old woman who ran away from her home in Glasgow in November 2013 to join ISIS and marry a militant.
Mahmood used her account (which has since been deleted) to tweet about her willingness to help women who wished to leave their homes and travel to ISIS-controlled territory.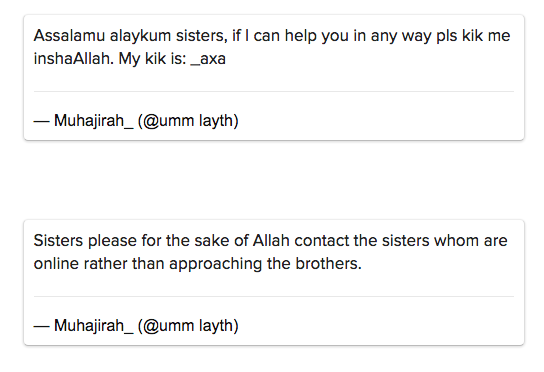 Mahmood's page indicates that she followed Begum's Twitter account after seeing the girl's tweet, possibly to message her tips about her journey to Syria.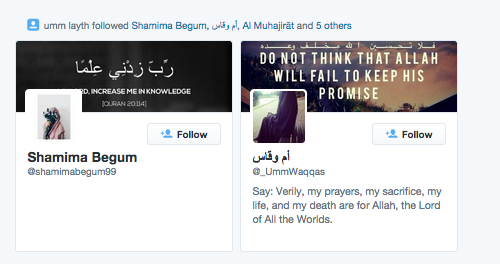 Mahmood is part of a small clique of ISIS women with active — and publicly visible — Twitter profiles. They use the platform to share "the truth" about their lives in Syria and Iraq and make themselves available to potential "recruits."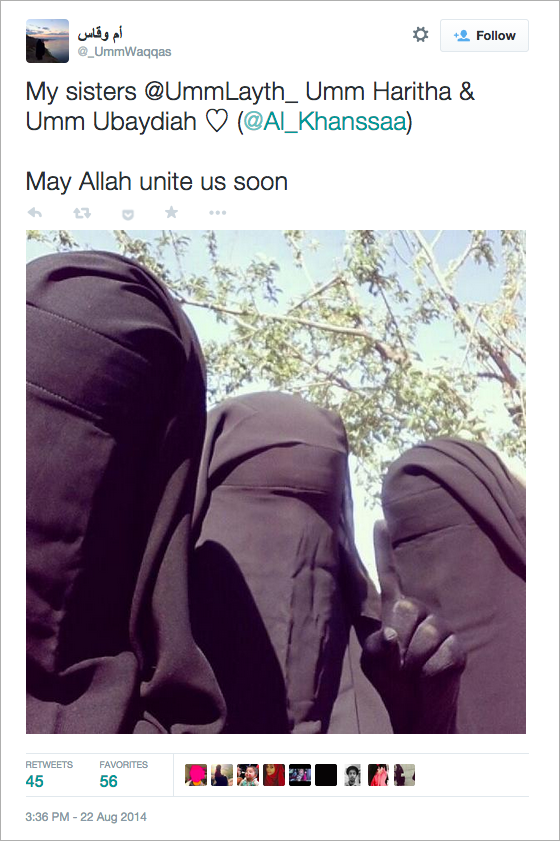 These accounts actively encourage interested parties to reach out to them using messaging apps like Kik and SureSpot for advice on how to "make hijrah," or migrate, to the "Islamic State."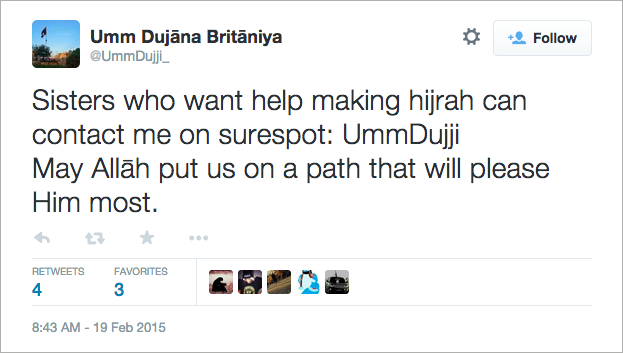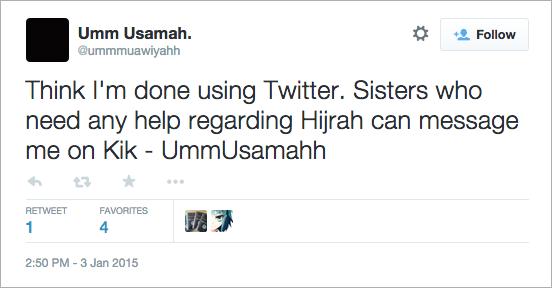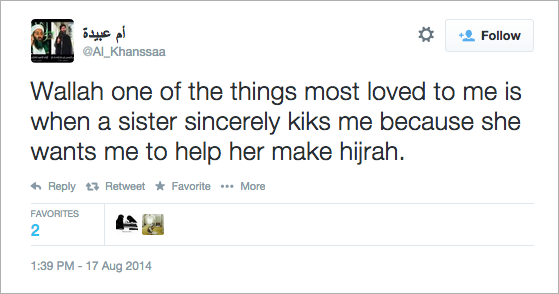 In addition to offering one-on-one advice, these accounts also continually tweet reasons why women should leave their countries and join the militant group.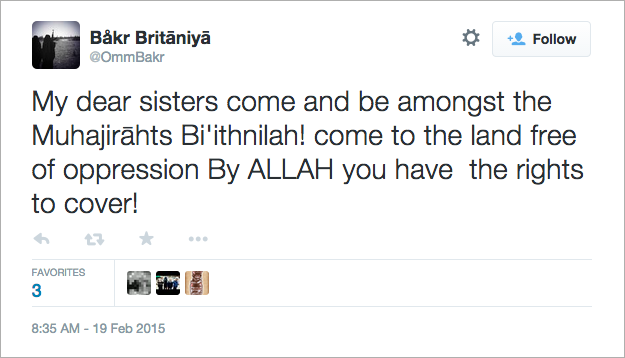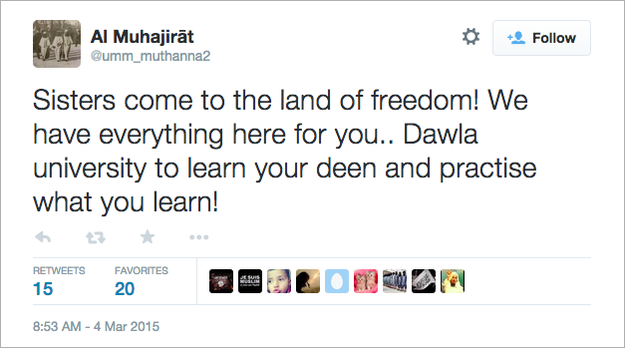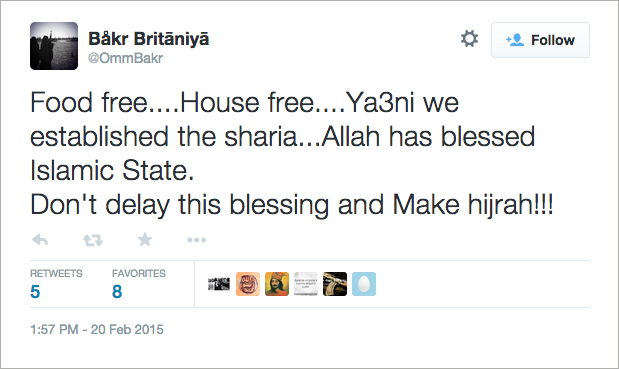 Many accounts, like this, belonging to a woman who claims to have left Australia and travelled to ISIS-controlled territory, dismiss the dangerous living conditions.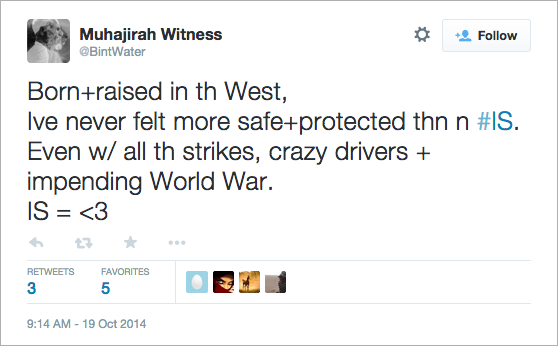 Although the media likes to paint the women who join ISIS as brainwashed romantics looking for husbands, the women of ISIS dismiss these reports.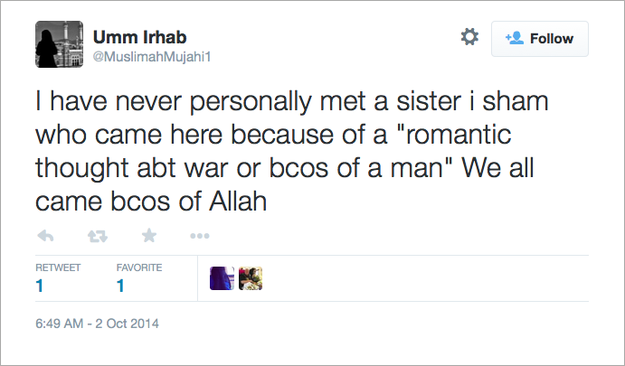 In addition to encouragement, ISIS members post provocative, somewhat taunting, messages asking their followers why they haven't joined the group yet.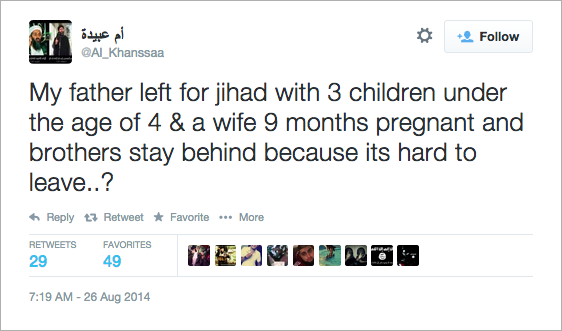 Or post examples of others who have made the journey as "inspiration."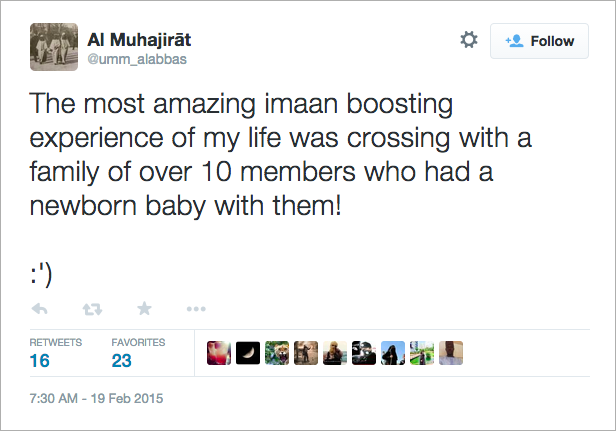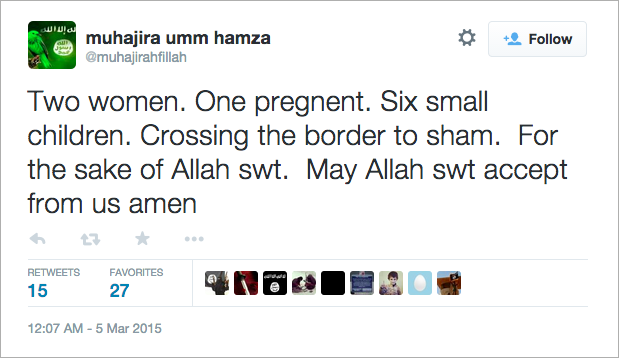 Accounts claiming to belong to ISIS fighters also applaud the women who have joined the group.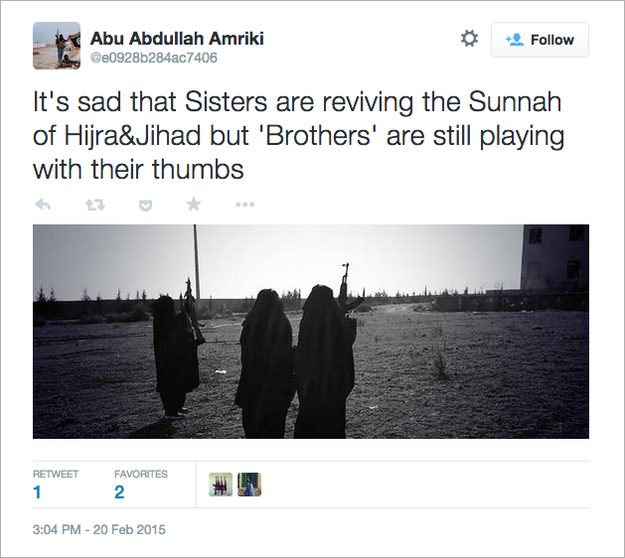 One of the much-touted selling points of living in ISIS-controlled territory, according to these accounts, is its diverse membership.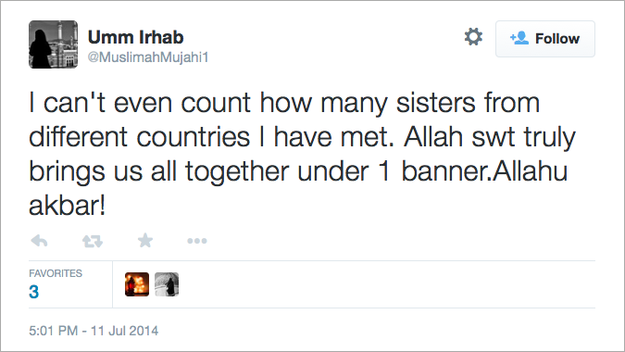 These outreach methods appear to be effective. An account of a woman who claimed to have arrived in Syria in November mentioned her excitement at meeting one of the "Akhawhat," or sisters, from Twitter upon her arrival.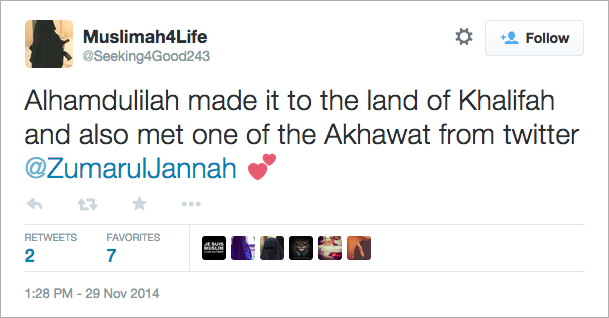 The tweet came after two days of posting messages asking her followers to "make dua," or pray, for her — a message that pro-ISIS Twitter users normally post before leaving their homes for Syria.

In January, an account purportedly belonging to an 18-year-old girl using the handle @YaManYarah live-tweeted her journey to ISIS-controlled territory.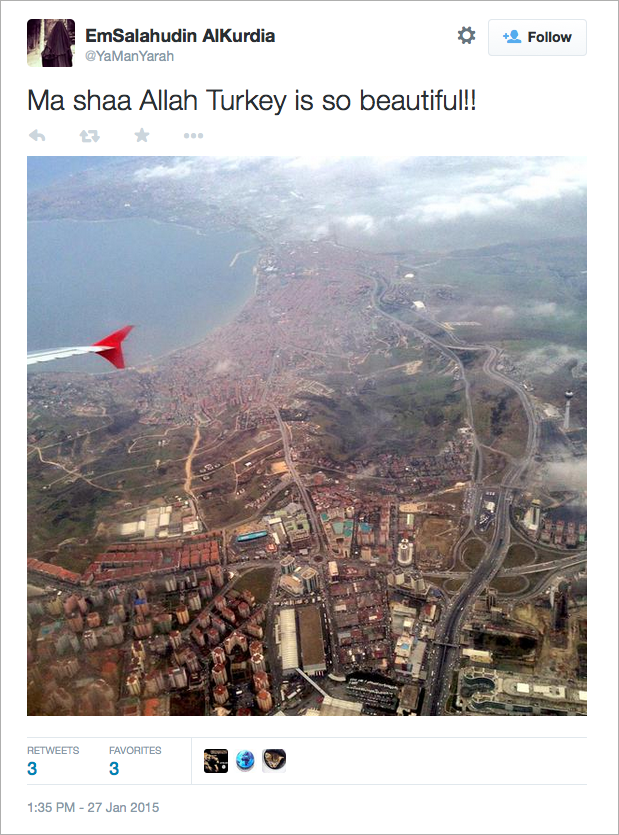 Her tweets indicate that after she landed in Turkey, she took a bus to "Dawlah" (ISIS-controlled territory).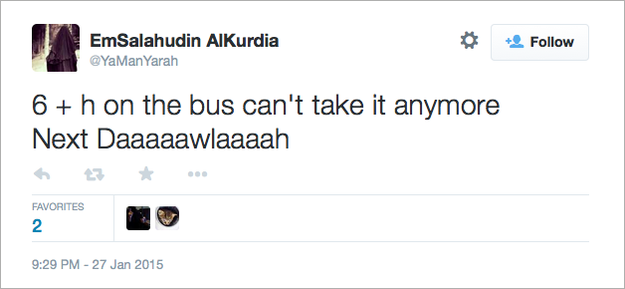 During this time, known ISIS accounts retweeted her and urged their followers to follow her.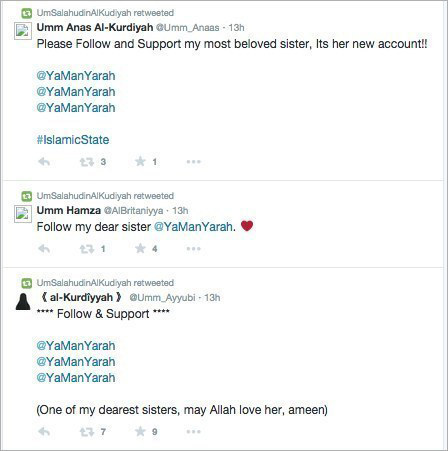 According to her profile and interactions on her Twitter feed, @YaManYarah has recently married.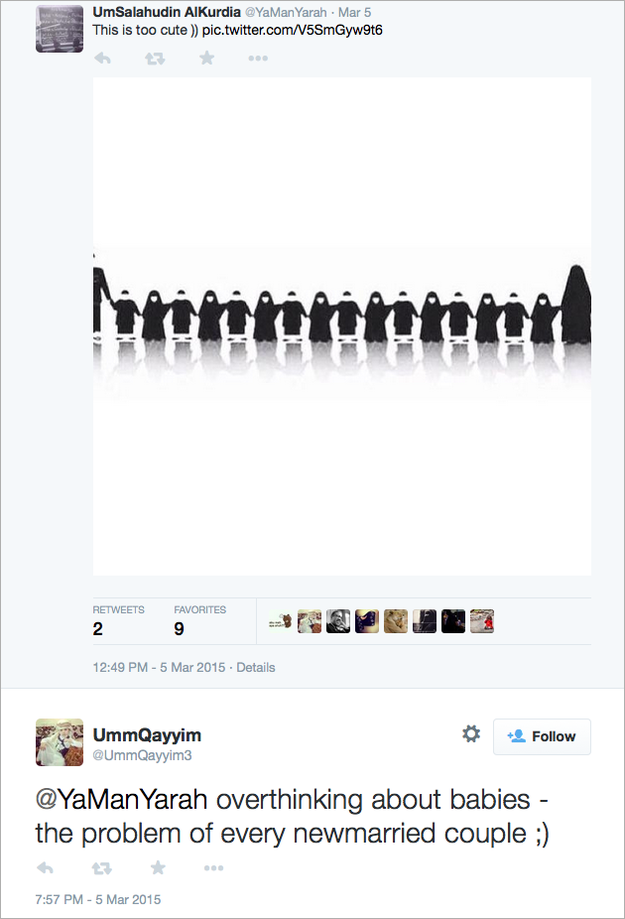 Before her account was suspended, @YaManYarah said on Ask.fm that her parents "went crazy" and begged her to come home after she left.

She has no plans to return.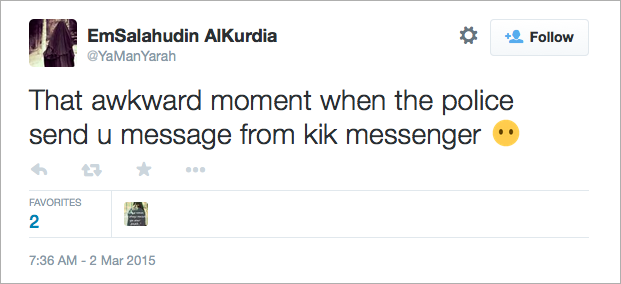 buzzfeed.com
Conversations between young women who claim to be ISIS members living in Syria provide a disturbing insight into the everyday lives of female militants.
buzzfeed.com
BuzzFeed News examines the social media accounts of three Colorado girls who officials say tried to join a terrorist group.
buzzfeed.com
How a 26-year-old Malaysian doctor traveled to Syria, entered into an arranged marriage with an ISIS fighter, and began to wage war on the Western world, as told through her social media accounts.