1.
The UK's Queen Victoria is largely responsible for beginning the tradition of brides wearing white wedding dresses.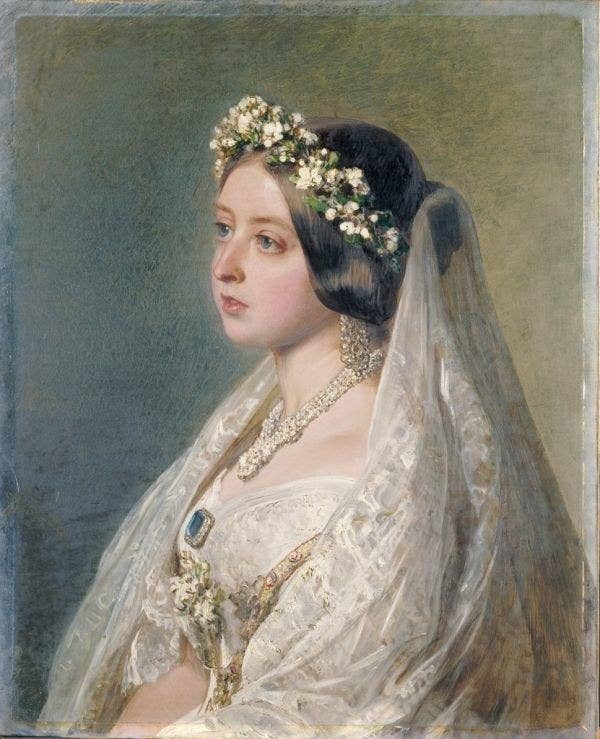 When Queen Victoria married Prince Albert of Saxe-Coburg and Gotha on Feb. 10, 1840, she sparked a bridal fashion revolution. Her white silk satin gown, trimmed with lace and embroidered with orange flower blossoms, was a huge departure from the ornate, colorful dresses that were the current trend among brides rich and poor. The image of the young, innocent, adoring queen in her all-white dress — which was widely disseminated by the burgeoning print media — captured the public imagination.
"Newspaper reports, affordable prints and souvenirs ensured that all levels of society were exposed to this model of romantic propriety," writes fashion historian Susanna Cordner. "While coloured wedding dresses were still common, the majority of the illustrations of blushing brides on fashion plates, Valentines cards and sheet music from then on were depicted wearing white. As a result, if a bride was marrying for the first time, and could afford it, a white wedding dress became the norm."
2.
One of the largest royal weddings was that of Lesotho's King Letsie III and Anna Karabo Motšoeneng in 2000 — the ceremony took place in the country's national football stadium, which was filled to capacity with 40,000 spectators.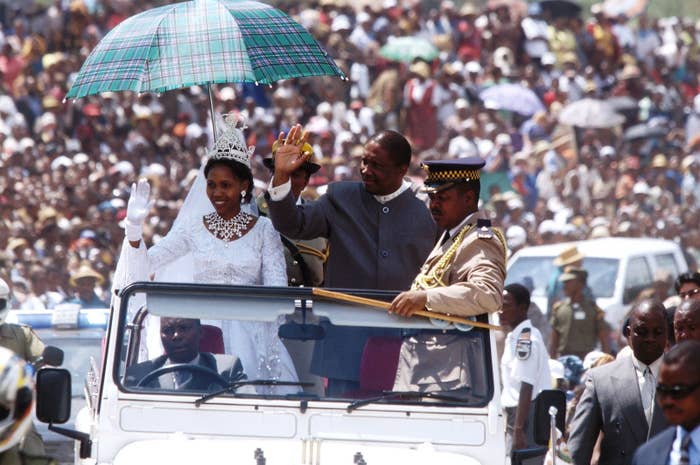 King Letsie III, 36, married South Africa's Karabo Motsoeneng, 23, in a Catholic ceremony performed in the national sports stadium on Feb. 18, 2000. Motšoeneng, who became known as Queen 'Masenate Mohato Seeiso after her wedding, was the first commoner to ever marry into Lesotho's royal family. The wedding reportedly cost more than $1.5 million at the time.
3.
For more than 100 years, Russian tsars picked their brides in a process pretty similar to The Bachelor.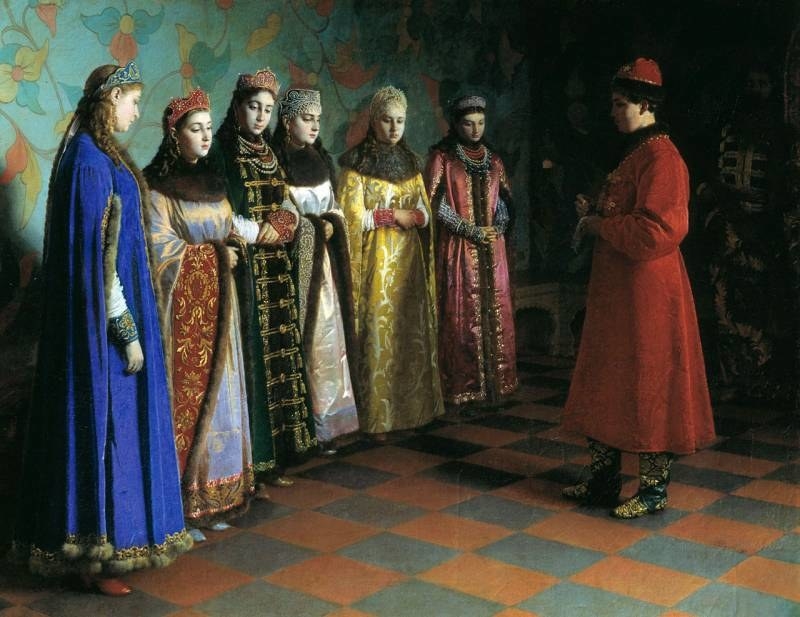 From 1505 to 1689, the wives of the rulers of Muscovy (later Russia) were chosen using "bride-shows," where eligible young women were rounded up, inspected, and eventually one would be chosen as a royal bride.
This process came about for several reasons, among them the fact royal families of Europe were reluctant to send their daughters to the far-off land. Bride-shows also allowed rulers to pacify warring court factions with the appearance of political impartiality, even if the "winner" had been chosen in advance.
Behind-the-scenes sabotage was common. In 1616, the chosen bride of Tsar Michael I of Russia was poisoned to make her appear ill and unable to bear children — the disappointed ruler exiled her to Siberia and married a runner-up his mother had approved.
4.
The future Queen Elizabeth II used clothing ration coupons to pay for the wedding dress she wore when she married Philip Mountbatten in the UK in 1947.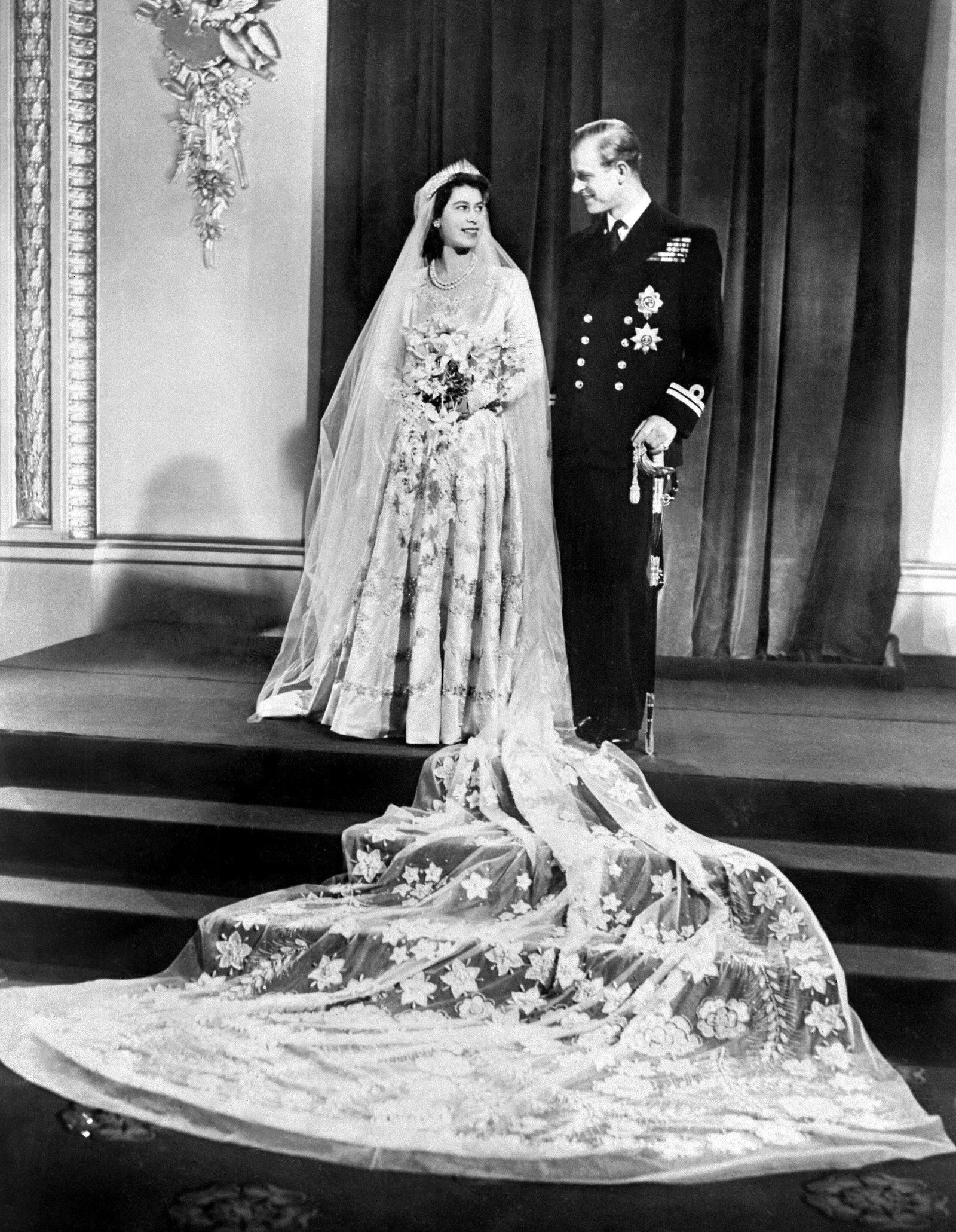 When Princess Elizabeth married Philip Mountbatten on Nov. 20, 1947, post–World War II Britain was still subject to austerity measures. To buy cloth or new clothes, people had to use clothing ration coupons. Each citizen was given a coupon book with a certain number of coupons based on their age and other factors — growing children were allocated more coupons, for example — for the year.
Princess Elizabeth saved her coupons to purchase the ivory silk and other materials that court dressmaker Sir Norman Hartnell used to create her wedding gown. When people found out that the princess was saving clothes coupons for her wedding, many reportedly sent their own coupons to Buckingham Palace for her to use. (They were returned with a kind note, as it was illegal to use someone else's coupons.)
Of course, being a princess and heir to the throne had its perks — the government gave her an extra 200 coupons for her wedding dress.
5.
The traditional kira worn by Jetsun Pema on the day of her wedding to Bhutan's King Jigme Khesar in 2011 took three years to make.
The kira, an ankle-length wrapped dress, is the national garb for Bhutanese women. On her wedding day, Pema wore a particular type of kira known as a kushutara, made of raw silk. The 21-year-old bride reportedly ordered elaborate wedding outfits from several of the country's prominent weavers.
6.
When 24-year-old Salma Bennani married Morocco's King Mohamed VI in 2002, she became the first consort in the country's history to be given an official royal title.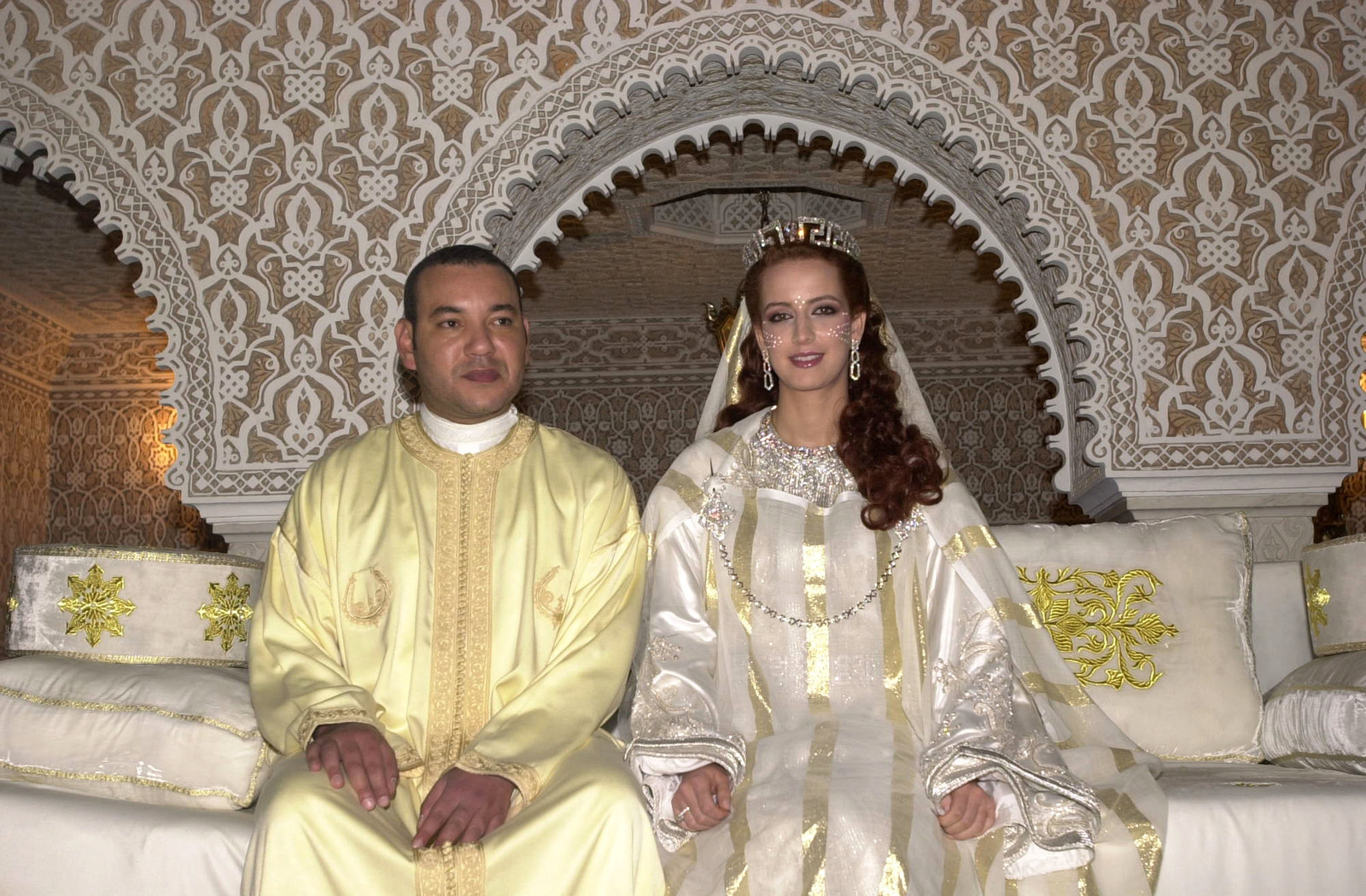 The wedding of King Mohammed VI and Salma Bennani on March 21, 2002, marked a huge change in Moroccan royal family history. The bride, now known as Her Royal Highness Princess Lalla Salma, became the first consort in the royal family's history to be given an official title. Wives of previous Moroccan kings, including Mohammed VI's mother, were simply referred to as "mothers of the royal children."
7.
Since 1923, the wedding rings of all the future UK kings and queens have been made out of rare Welsh gold.
When Elizabeth Bowes Lyon married the future King George VI in 1923, her wedding ring was made from a portion of a nugget of pure Welsh gold from the Clogau St. David's gold mine that had been given to the couple as a wedding gift.
It must have been a pretty big lump of gold — according to the BBC, "the Queen's in 1947, Princess Margaret's in 1960, the Princess Royal's in 1973 and that of Diana, Princess of Wales in 1981 were all made from the same nugget."
Queen Elizabeth II was gifted with a new nugget of Welsh gold in 1981 for future royal wedding rings. Gold from this metal lump has been used for the wedding rings of Prince Charles and Camilla, Duchess of Cornwall, in 2005 and the wedding ring Prince William gave to Kate Middleton in 2011.
8.
Royal brides of the Swedish royal family traditionally wear a specific family heirloom tiara on their wedding day.
The "cameo tiara," originally a gift from Napoleon to his wife, Empress Josephine, has been worn by brides of the Swedish royal family since 1932. Its most recent appearance was at the wedding of Crown Princess Victoria to Daniel Westling on June 19, 2010.
9.
American actor Grace Kelly's "wedding of the century" to Prince Rainier III of Monaco in 1956 was televised live to 30 million people and made into a documentary as part of a deal the royal couple struck with MGM studios.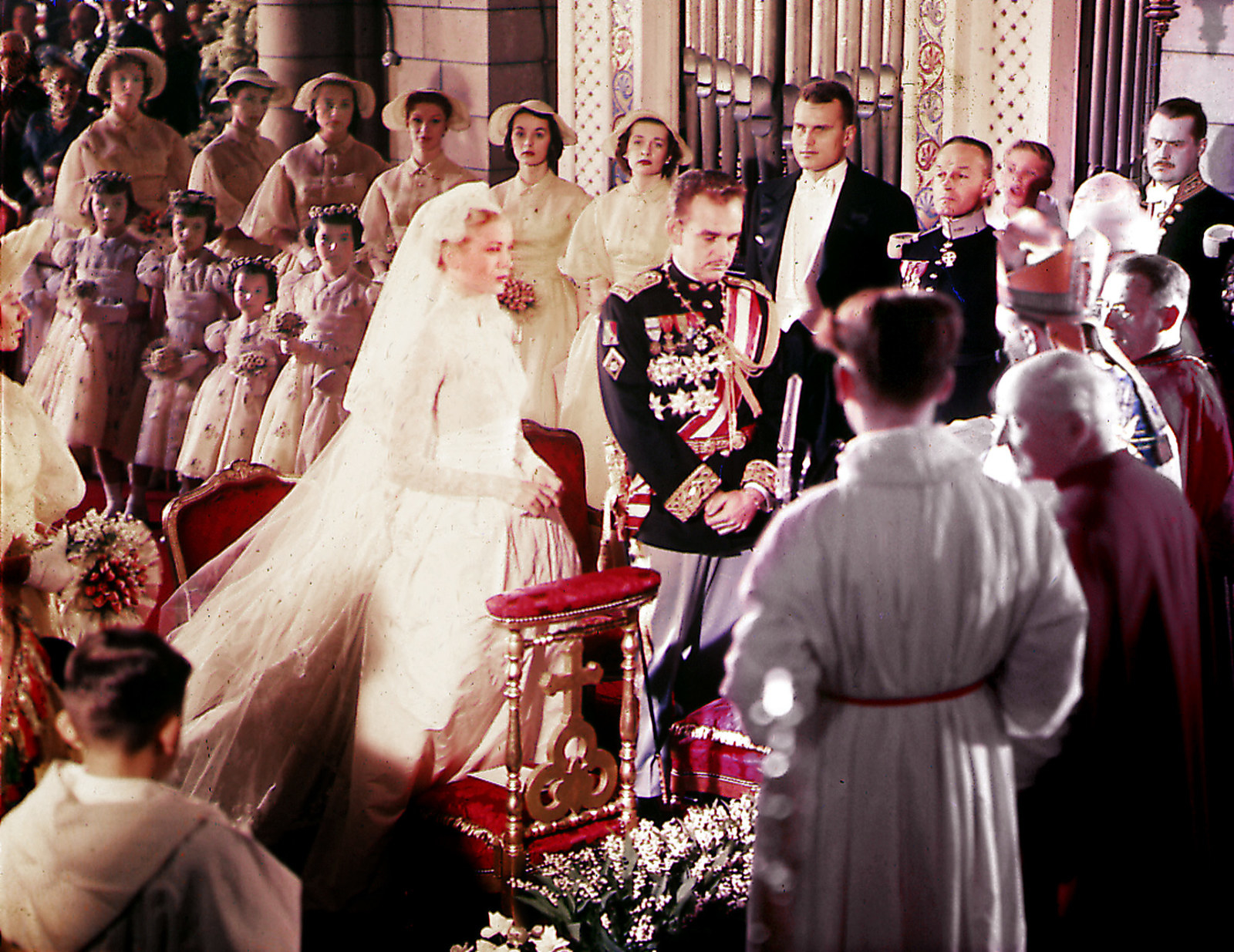 When Grace Kelly became engaged to Prince Rainier III of Monaco in January 1956, she still had three years left on her seven-year contract with MGM. The studio agreed to release her from her contract — and throw in what would prove to be an iconic wedding dress as a gift — if she and her fiancé gave them the rights to film their wedding ceremony for a documentary and a live televised broadcast. The royal couple agreed, but would later describe their wedding day as exhausting — Kelly was known to refer to it as "the carnival of the century."
MGM dispatched teams of professionals to Monaco to ensure that everything — from the lighting to the position of the cameras that would capture the couple taking their vows — was perfect. Years later, one of Kelly's bridesmaids joked, "the day, like the bride-to-be herself, was a creation brought to us through the joint production efforts of enormous willpower, Metro-Goldwyn-Mayer and God."
10.
Under Japanese law, if a princess marries a commoner, she loses her royal status and is removed from the Imperial Family.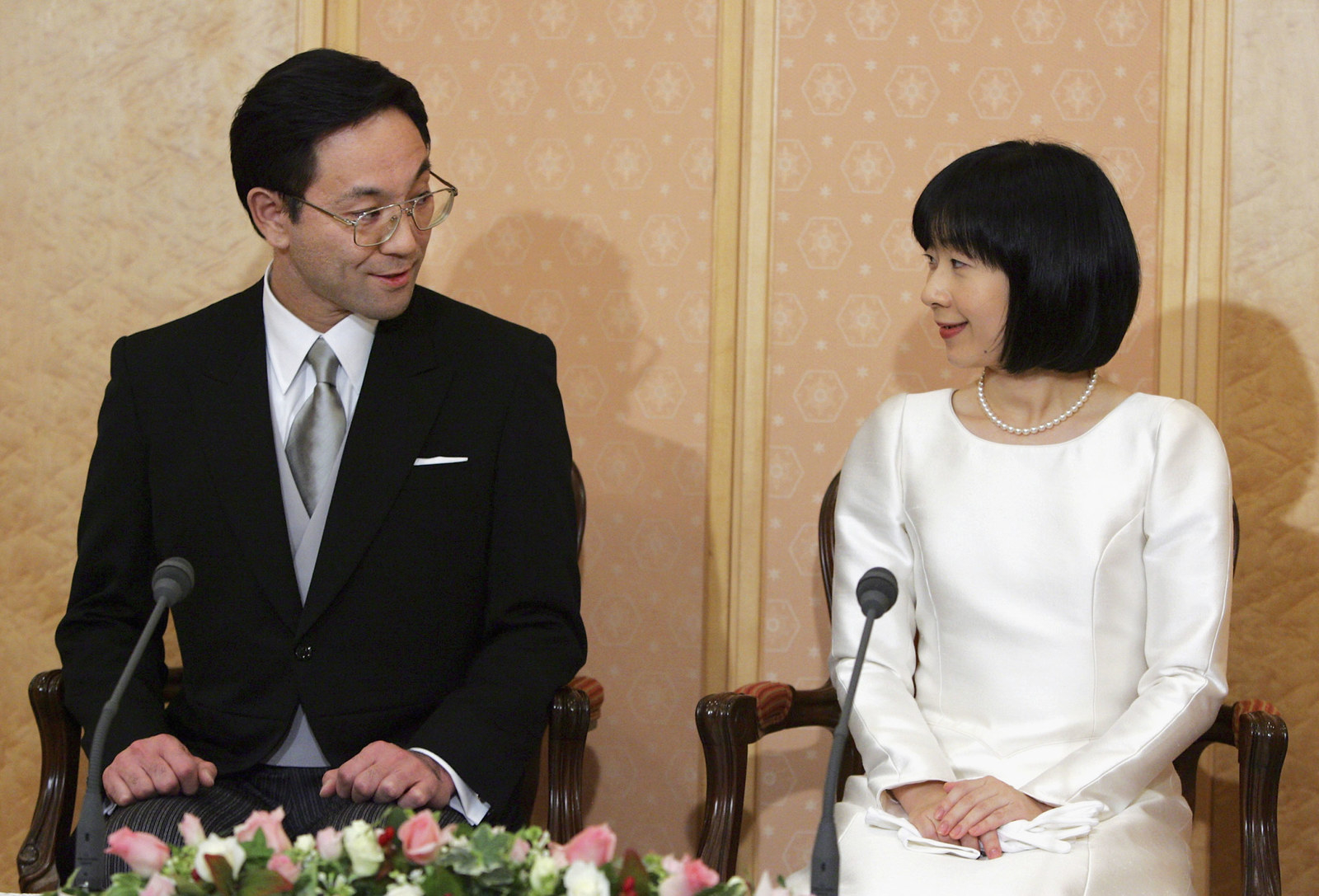 The most prominent example of this was the marriage of Sayako, Princess Nori, the youngest daughter of Emperor Akihito and Empress Michiko, to a government official named Yoshiki Kuroda in 2005.
On her wedding day, the 36-year-old lost her title and royal allowance to become Mrs. Sayako Kuroda. She reportedly had to learn how to drive and practiced shopping before her wedding. Princesses who leave the Imperial Family to become ordinary citizens also gain the ability to vote and pay taxes.
In 2014, Princess Noriko of Takamado, a member of the extended Imperial Family, gave up her title to marry Kunimaro Senge.
CORRECTION
Princess Noriko of Takamado was the most recent female member of the Imperial Family of Japan to marry and lose her royal title. An earlier version of this post misstated the latest princess to marry a commoner.