Police said Friday that Micah Xavier Johnson, 25, launched an attack on police officers that left five officers dead and 7 wounded. Two civilians were also injured.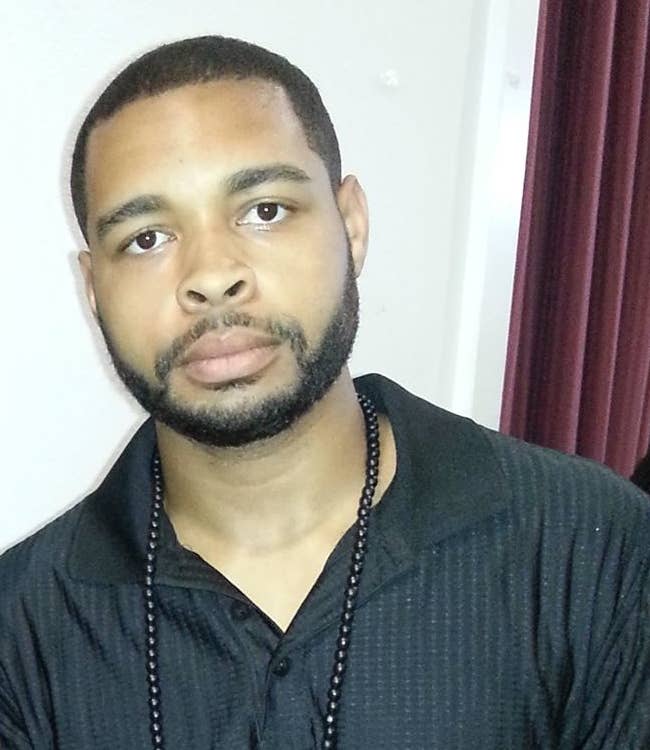 Citing law enforcement officials, CBS News reported Friday that Johnson carried a SKS semi-automatic assault rifle and handgun, and wore body armor while carrying out the attacks.
Police said the suspect's home, detectives found bomb making materials, ballistic vests, rifles, ammunition, and a personal journal of combat tactics, which law enforcement officials are analyzing.
In a press conference Friday, Dallas Police Chief David Brown said that, before his death, Johnson told officers that he was upset about the recent killings of black people by the police.
"The suspect said he was upset about Black Lives Matter," Brown said. "He was upset about the recent shootings. The suspect said he was upset at white people. The suspect stated he wanted to kill white people, especially white officers."
BuzzFeed News confirmed that Johnson was a member of the Army Reserves and served one tour in Afghanistan.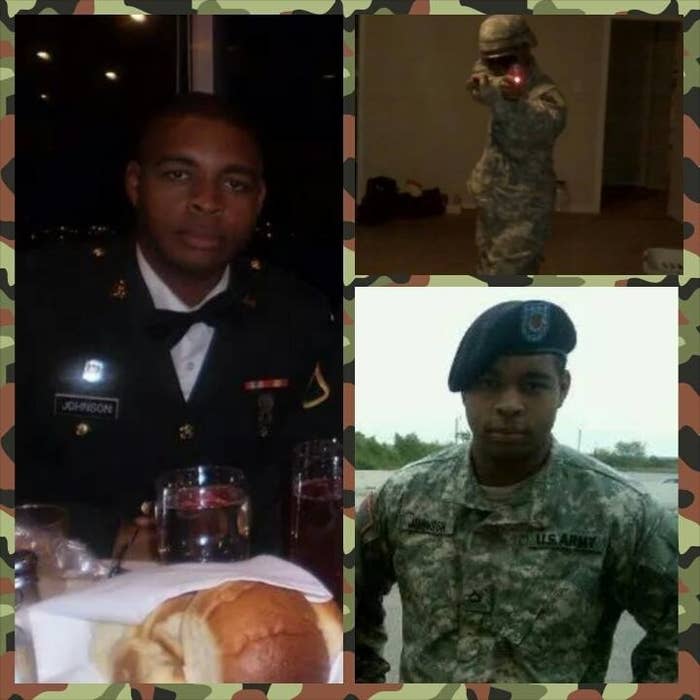 In a statement to BuzzFeed News, the Army said that Johnson, from Mesquite, Texas, served between March 2009 and April 2015.
He was a carpentry and masonry specialist in the 420th Engineer Brigade, based out of Seagoville, Texas. Johnson achieved the rank of a Private First Class (E3).
He was deployed to Afghanistan between November 2013 and July 2014. He was awarded several medals for his service, including the Afghanistan Campaign Medal, the Army Achievement Medal, the National Defense Service Medal, and the Global War on Terrorism Service Medal, though he never saw combat.
The "combat journal" found in his home detailed studies of "shoot and move tactics," despite never having seen combat as a soldier, Dallas County's chief executive Judge Clay Jenkins said.
"It's a concept of wanting to move from vantage point to vantage point, without being pinned down in one location, to inflict as much damage as possible," Jenkins said.
The journal was the strongest evidence that Johnson acted alone, independent from any organization or group, Jenkins added.
The Department of Homeland Security on Friday confirmed that Johnson was the lone shooter and had no known links to any international terrorist organization.
Johnson was accused of sexually harassing a female solider while serving a tour of duty in Afghanistan, attorney Bradford Glendening told the Associated Press.
Glendening represented Johnson and said he was accused in May 2014. Johnson was sent back to the U.S., according to Glendening, with a recommendation that he receive something other than an honorable discharge.
He told the New York Times that the female soldier who accused Johnson of sexual harassment suggested he receive "mental help" and sought a protective order against him.
Johnson was going to be removed from the Army in September 2014, Glendening told the AP, but that didn't end up happening. Instead, he was honorably discharged in April 2015.
Glendening said he did not know why Johnson was ultimately given an honorable discharge.
"They didn't like him, that was very clear from talking to his commander," Glendening told the Times.
His mother, Delphine Johnson, said she could not think of a specific event that changed her son, but that after he was discharged from the military he turned from a happy, out-going person, to a "hermit."
"The military was not what Micah thought it would be," Delphine said. "He was very disappointed, very disappointed. But it may be that the ideal that he thought of our government, what he thought the military represented, it just didn't live up to his expectations."
A Facebook page appearing to belong to the suspect was taken down shortly after Johnson's name began to circulate.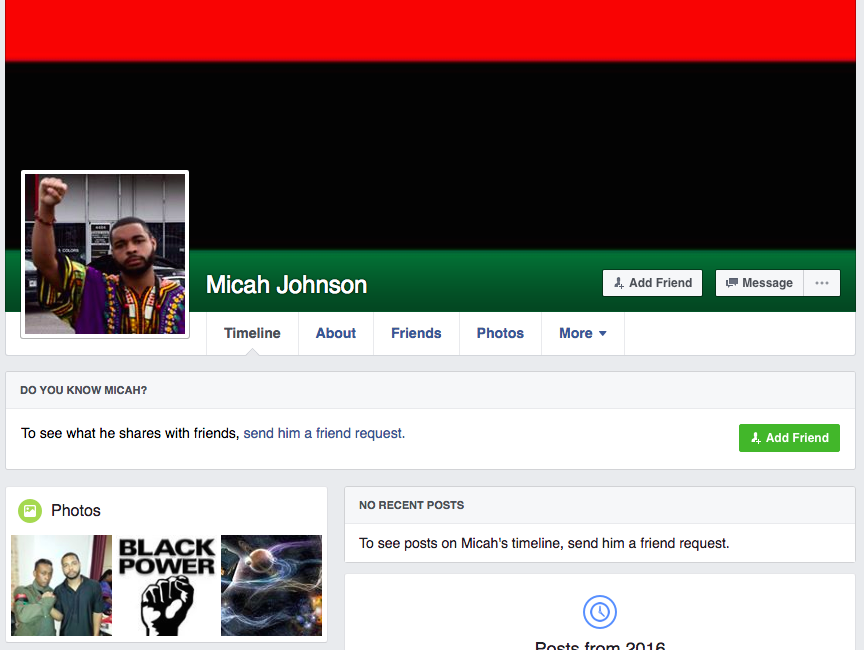 The now-deleted Facebook page displayed only five public images, two of which were a stock image of a raised fist in the "Black Power" salute and a picture of the TARDIS from the BBC television show Doctor Who.
The profile picture shows Johnson raising his fist outside of a Dallas beauty salon and the header image is the Pan-African flag.
In April, Johnson uploaded a picture of himself with Richard "Professor Griff" Griffin of the hip-hop group Public Enemy.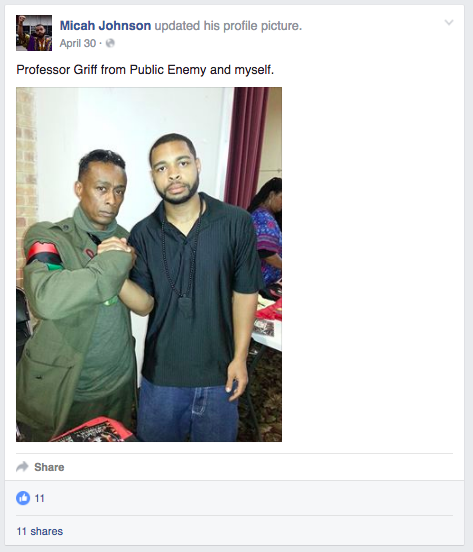 Acquaintances of Johnson's told the Washington Post that Johnson had attended several meetings with the People's New Black Panther Party, but had never attended the group's armed gatherings.
The co-founder of the Dallas chapter Baby Omowale said that his Black Panther group "had no idea what the brother's mentality was," adding he believed Johnson was just another lost, young man "searching for knowledge about himself."
It turns out that Johnson may have been blacklisted from joining such organizations due to the circumstances of his Army discharge, the Daily Beast reported.
Ken Moore of the Collective Black People's Movement said he had labelled Johnson as "unfit for recruitment" after looking into his background, according to the Daily Beast. Once Moore denied his membership, it pretty much blocked him from joining any other black nationalist and black liberation groups.
Micah's sister Nicole uploaded multiple posts to Facebook Friday, seemingly confirming that her brother was the suspect.

The day before the shootings, Nicole shared the video of Alton Sterling's death and posted that she thought "cops need to get a taste of the life we now fear."
Live Updates: Dallas Suspect Told Cops He Was Upset About Recent Police Shootings
None