Mourners in Charlottesville gathered Wednesday to hold a memorial service for Heather Heyer, the woman killed when a car was driven into a crowd during the violent riots last weekend during a white supremacists march.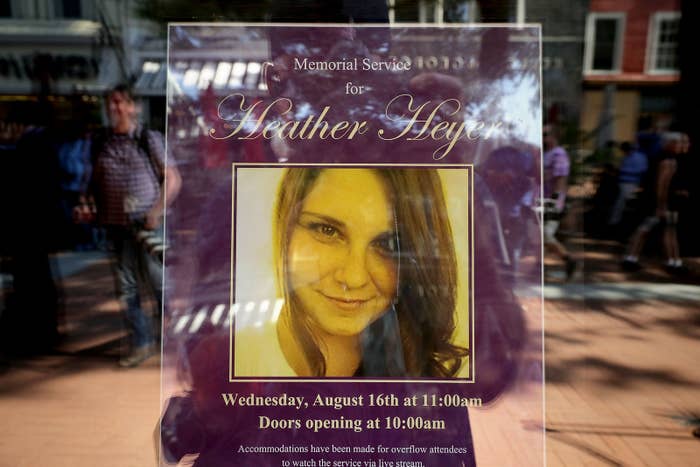 During the memorial service Heyer's family, friends, and coworkers spoke about how passionate she was about the things she believed in. She wanted equality, her father said, as well as "to put down hate."
Heyer's mother Susan Bro asked the people in attendance to carry on her daughter's mission of caring and speaking out about their beliefs, urging people to "make her death worthwhile."
"I'd rather have my child, but if I've got to give her up, by golly, we're gonna make it count," she said.
Bro's speech was followed by a standing ovation from the people inside the congregation.
"I want this to spread, I don't want this to die," she said. "This is just the beginning of Heather's legacy."
"She wanted to put down hate," Heyer's father Mark said during the memorial service. "And for my part, we just need to stop all this stuff and just forgive each other."
Mark Heyer went on to say that he felt overwhlemed by the number of people in the room who loved his daughter.
"That's how Heather was," he said. "It didn't matter who you were or where you're from. If she loved you, that was it. You were stuck."
Heyer's mother brought up her daughter's now famous Facebook post in which after the 2016 election she wrote, "if you're not outraged you're not paying attention."
In the wake of her killing, that post had been shared more than 25,000 times as of Wednesday afternoon.
Bro spoke about her daughter's passions, saying how caring and compassionate she was.
"I think the reason that what happened to Heather has struck a cord, is because we know what she did was achievable," she said. "They tried to kill my child to shut her up. Well guess what, you just magnified her."
President Trump — who has yet to call Heyer's family and who defended the white supremacists on Tuesday — tweeted that she was "will be long remembered by all."