You Can Admit To Raping Someone At UVA And Not Be Expelled
In an interview with a student-run media organization, Dean Nicole Eramo said the University of Virginia hasn't expelled a student accused of rape during her tenure, even when individuals have confessed. The school's handling of sexual assault has been in the spotlight following the publication of a Rolling Stone article last week.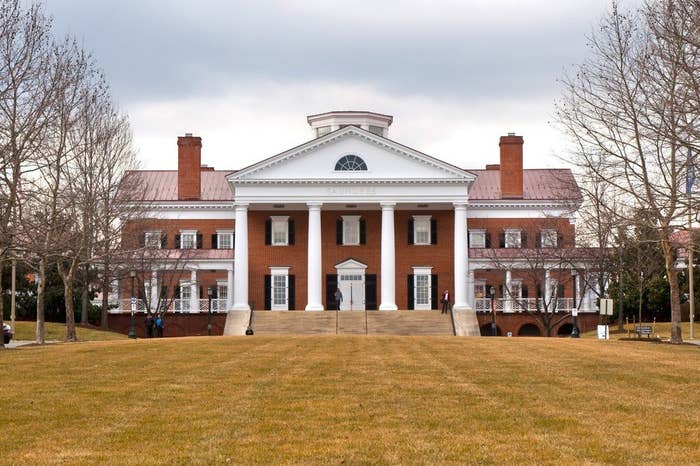 University of Virginia Dean Nicole Eramo, the head of the school's Sexual Misconduct Board, said no student had been expelled for sexual assault during her tenure and that the harshest punishment received so far has been a two-year suspension.
Eramo made those comments in October during an interview with student-run media organization WUVA. The complete interview was released on Sunday following the publication of a scathing Rolling Stone article on the school's handling of sexual assault cases.
During the interview, Eramo is asked why students who have confessed to sexual assault have not been expelled from the school. In contrast, students who violate the school's honor code by lying, cheating, or stealing are immediately ousted.
"I feel like, in the context of an informal resolution meeting, there's really no advantage to admitting guilt, there's no need to admit guilt, they're not actually in a hearing proceeding, and I feel like if a person is willing to come forward in that setting, and admit that they violated the policy when there's absolutely no advantage to do so, that those do deserve some consideration," Eramo said in the interview.
"I do feel like that person, admitting [guilt] in that context, shows a recognition that what they've done is wrong and a willingness to improve in a way that going through a hearing and sitting there the entire time and saying, 'I didn't do anything,' doesn't," Eramo said in the interview.
The University of Virginia's handling of sexual assault allegations has received national attention following the publication of a Rolling Stone story that follows a student named "Jackie" who says she was violently raped by seven men at a fraternity party in her first year.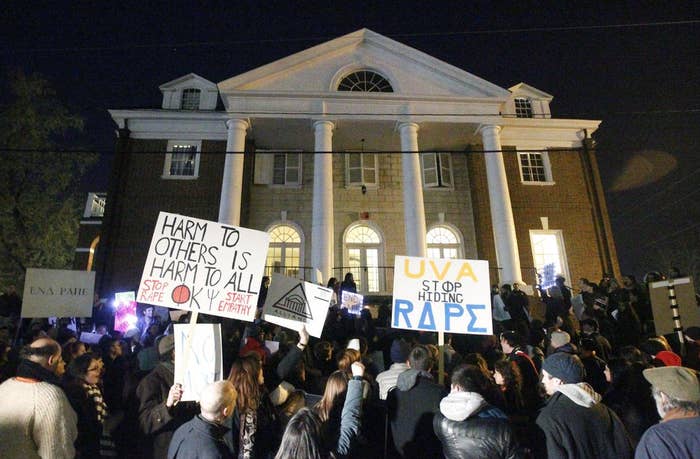 According to UVA's "Policy and Procedures for Student Sexual Misconduct Complaints," formal accusations of sexual assault are put before the Sexual Misconduct Board, a group of faculty, students, and staff who review evidence and testimonies and deliver a verdict. But not all victims choose to report their assault to the board.
"I spoke to 38 sexual assault survivors last year," Eramo said. "Nine of them brought some form of complaint to the board, five of those were formal, four were informal. The formal complaints went through an investigation and a hearing."
Eramo was asked about the difference between the punishment for admitting rape and violations of the school's honor code and if laxer sanctions for admitted abusers might discourage victims from coming forward, because of the likelihood that they'd see their abusers on campus. Eramo replied that often victims "have a personal connection to this other person and they don't want to see them punished."
"I think you would be surprised to see the number of survivors I've worked with who don't even want to file a complaint because they don't want to get the accused person in trouble," Eramo said.
WUVA: The university has decided that expulsion is again the appropriate punishment for lying, cheating and stealing and by setting such a standard has inevitably set itself up to have its punishments for other offenses compared to this standard. By not expelling students who have been found guilty or have admitted guilt in sexual assault cases, the school is tacitly making a statement that sexual assault cases are less punitive than cases of —.

ER: I don't believe that at all.

WUVA: Why not?

ER: Well first of all, let's be honest. People find the fact that we expel people for cheating quite controversial and have difficulties with that fact, and as you know, the reporting rates [to the Honor Committee] are quite low and many people attribute that to the fact that expulsion is the only sanction. So I think the expulsion for honor is fraught with issues in and of itself so I don't think the university is necessarily saying, 'oh sexual assault's not as important as honor because we don't expel in every single case,' I don't buy that at all.

WUVA: So the university is not making the statement that sexual assault cases are less punitive than lying, cheating or stealing when the punishment for sexual assault is suspension —

ER: I think I've already answered your question.
On Saturday, UVA President Teresa Sullivan said that all fraternities and associated activities would be suspended until Jan. 9, and the school has asked police to investigative a gang rape alleged in the article.
While Eramo's role in handling "Jackie"'s case is described in the article, she denied Rolling Stone's request for an interview.
WUVA President Maddalena Richards told BuzzFeed News in an email she does not "feel Dean Eramo is the only person to blame for this institution's failings," but it was important to release the full interview.
"We were shocked by some of her responses and felt her position on these matters should be made public," Richards said.
Richards told BuzzFeed News, "We hope our interview might be used to advance an important community conversation about the role university administrators play in the handling of sexual assault cases and their inability to effectively put a stop to this horrifying trend."
Email the reporter: ellie.hall@buzzfeed.com.